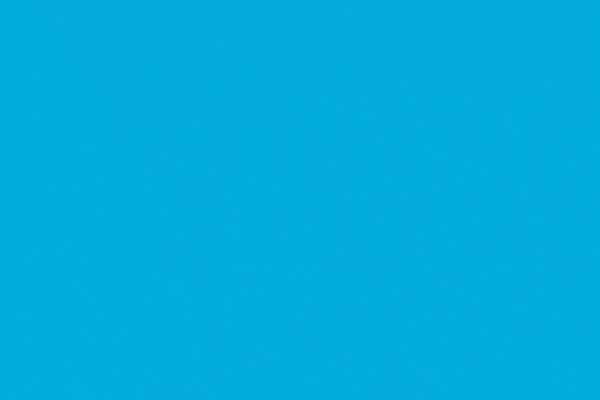 In today's news:
2 AI Truths and a Lie
The Giants Get in on the AI Race
AI Has Learned to Read Minds
NextTech Mergers, Funding, and Acquisitions
Latest NextTech reads from LXA Stories
This week's NextTech newsletter is camera ready.
Aileen is the new face of the revolutionary Deep Agency. But it's far from your typical modelling job.
It has no photographers, no locations, and no real people. So, how does it work?

Danny Postma, the founder of this dystopian agency, took to Twitter to boast about his new project, declaring that "these models don't exist" but that you can still hire them. Long story short - everything is "100% AI-generated".
Deep Agency is targeting marketing agencies and e-commerce projects, but hey, if you're just looking for a good scare, this might be the place for you.

Did I mention the creepy AI-generated hands? So, don't worry and models, your jobs are safe for now.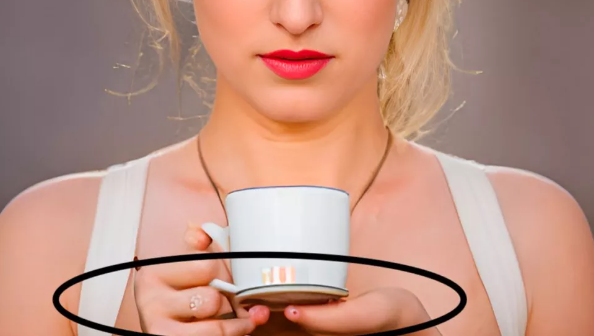 🤫 One AI Project and Two Lies
Play along at home. Out of these three wacky AI projects, two are fake, and one is real. So, which of these new AI projects is unreal, and which is ugh, for real?! (Check at the bottom of the newsletter for the reveal!)
AI Bakers Baking
From the proving to the rise to the glaze, an AI has found the perfect way to bake. This has led to a bakery in Portland automating every step of its process, based on the current weather, humidity, and products available.
AI Farmers Farming
A tech startup has developed a deep learning algorithm-based application that can identify defects and nutrient deficiencies in the soil. Their algorithms correlate foliage patterns with soil defects, plant pests, and diseases.
We've seen a bunch of high-profile companies get in on their own AI offerings over the past week alone. So, who's the who's who of who's doing AI?
Microsoft – Bing Image Creator
Microsoft has announced the launch of a new tool called "Bing Image Creator" which allows users to generate images using their own words. Powered by OpenAI's DALL-E, the feature lets users ask for a picture of anything they can describe, such as "an astronaut walking through a galaxy of sunflowers."
According to a press release from the company, Bing Image Creator will be available to Bing and Microsoft Edge users in preview and will first roll out in the search engine's "Creative Mode." Eventually, the tool will become fully integrated into the Bing chat experience.
Microsoft's blog post announcing the tool noted that it was part of a broader push towards integrating AI technology into its business apps, including Word, PowerPoint, and Excel. The goal is to make it easier for users to create content by leveraging AI to generate images, text, and other media elements.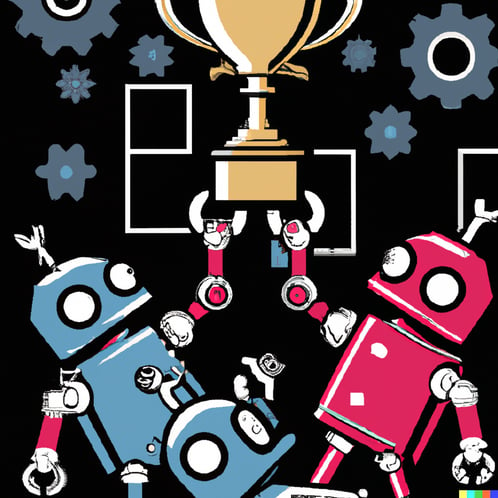 Dall.e prompt: Three robots fighting over a trophy, in the style of vector artwork
Adobe is another company that's looking to leverage the power of generative AI with its approach called "Firefly." According to CEO Shantanu Narayen, the company sees AI as a way to "reimagine every aspect of marketing" and has been incorporating AI technology into its creative products for over a decade.
Firefly is made up of multiple AI models working across a variety of different use cases, and the first tools are already available in beta. Narayen emphasized that the company is committed to protecting human creators and is developing a model for compensating them for the use of their work.
Additionally, Adobe is working towards a global standard "Do not train" metadata tag that creators can use to ward off AI infringements on their content.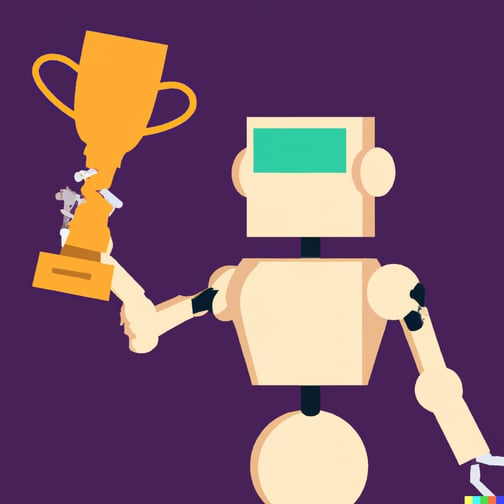 Dall.e prompt: a robot holding a trophy above its head, in the style of flat art
Google has also been working on its own generative AI chatbot called "Bard." Unlike Microsoft's Bing Image Creator and Adobe's Firefly, Bard is designed to be a complementary tool to the company's search engine rather than a replacement.
The bot offers users a blank text box and an invitation to ask questions about any topic they like, but Google stresses that Bard is not meant to replace search. Instead, it's intended as a tool for users to bounce ideas off of, generate writing drafts, or just chat about life.
Bard has been in early access, and users can join a waitlist to try it out. In our brief tests, the bot appeared to be faster than Microsoft's Bing chatbot and OpenAI's ChatGPT. Bard also seemed to have potentially broad capabilities and was able to generate lines of code in our tests. However, it lacked Bing's clearly labelled footnotes and appeared more constrained in its answers.
For years, AI models have been employed by researchers to decipher information from the human brain. Generally, most techniques use pre-existing fMRI images as input to a generative AI model for producing text or images.

Recently, scientists from Osaka University's Graduate School of Frontier Biosciences and CiNet, NICT, Japan, have adopted a diffusion model called "Stable Diffusion" to reconstruct visual experiences from fMRI data. So, how did they go about it?

First, they connected a group of individuals to a brain scanner, specifically the part of their brain that creates images. Next, they showed them some pictures, and while the subjects were watching, the brain scanner translated their brain activity into a code. Finally, the code was entered into Stable Diffusion, which recreated the images.
With this AI breakthrough in mind-reading, medical professionals might soon be diagnosing patients by simply scanning their brains. But it might also mean leaving magicians out of a job.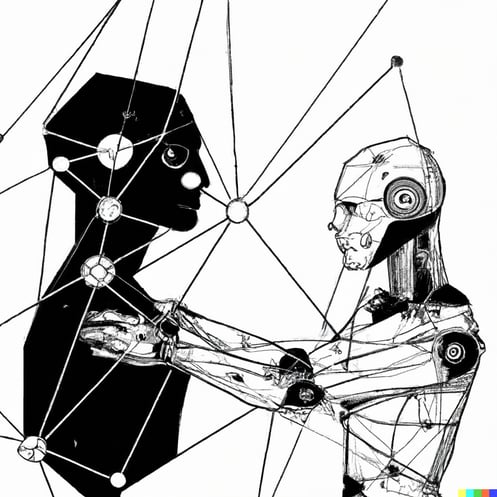 Dall.e prompt: A robot and a human bound by a neural link, in a geometric style
30+
Certain CryptoPunks have been traded 30+ times in 1 week
12
Coinbase Stock Surges 12% on Brazil Expansion News
50
BTC has seen an almost 50% increase in just a couple weeks

💰Graph Of The Week
NFT wash trading across the top 6 marketplaces totalled $580M last month. It's the fourth straight month wash trading has increased and a 126% rise from January.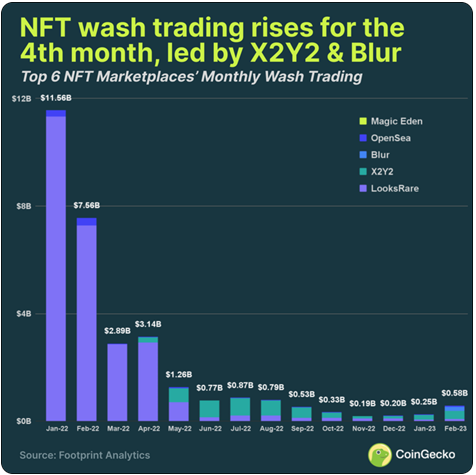 ✍️
NextTech Mergers, Funding, and Acquisitions
Who's making dough, who's laying low, and who's in a constant state of "Oh, God, no"? It's time to find out, with LXA's NextTech News Round.
🗣️
Final Word
With all the chaos going on with the banks this week and last, we've been keeping an eye on all things de-fi.
Bitcoin has seen a 70% increase since the beginning of the year. But why?
Well, part of the effort to support liquidity in the US banking sector has been pretty good for risk assets, and helped crypto and gold, according to researcher Chris Weston.
Basically, people are seeing it as a way to protect themselves from the banking system, and to mitigate the consequences of these problems. So, are we seeing the fulfillment of the de-fi philosophy in real time?
- Sarah O.

🤫 One AI Project and Two Lie Reveal:
Taking the "lies" outta "fertiliser" - the farmer AI is real!
✒️ The Latest NextTech Reads from LXA