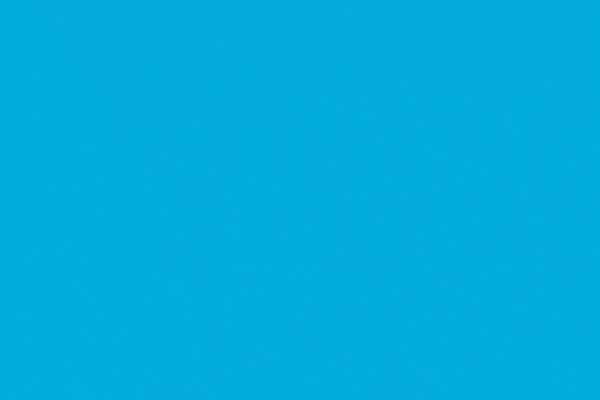 In today's news:
On this day
2 AI Truths and a Lie
73% Of Marketers Are Now Using Generative AI Tools
Mastercard, Paypal and Robinhood Jump Into Crypto As Industry Shows 'Promise'
Warren Buffet Compares AI To The Atom Bomb
More Stories on NextTech
NextTech Mergers, Funding, and Acquisitions
The Latest NextTech reads from LXA
This week's NextTech newsletter is

dropping it like it's hot.
Right now, there's an AI-generated song going around of Michael Jackson covering one of C-Murder's 90's hits. But I know what you're asking. What does Snoop Dogg think about this?
The star has worn many masks in his life: rapper, singer, actor, NFT fanatic, and now AI pundit.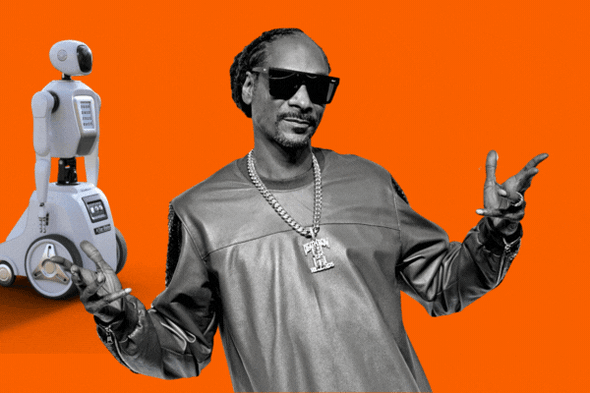 The rapper from Long Beach took to Instagram to express his opinion on AI-generated music covers. He shared a video of the audio on his profile, and wrote "Wow" as the caption for the post, and commented that this has gotten "outta hand".
The most popular comment from a fan read: "I've done a lot of things in my life I'm not proud of. But I ain't done nothing bad enough to deserve hearing this."
🤫 One AI Project and Two Lies
Play along at home. Out of these three wacky AI projects, two are fake, and one is real. So, which of these new AI projects is unreal, and which is ugh, for real?! (Check at the bottom of the newsletter for the reveal!)
AI writes...fanfiction
A comic writing enterprise that uses machines to make content, created an algorithm that learned to write based on J.K. Rowling's books. From this came "Harry Potter and the portrait of what looked like a large pile of ash"
AI writes...short story scripts
A group of students struggling to finish their script for university used AI to write a crime thriller. They received 0 marks.
AI writes...short story scripts
A group of students struggling to finish their script for university used AI to write a crime thriller. They received 0 marks.

📰73% Of Marketers Are Now Using Generative AI Tools
According to a recent survey by Botco.AI, 73% of B2B and B2C marketing executives report that their companies are utilising generative AI to aid in creating various types of content such as text, images, and videos.
Additionally, the report indicates that 31% of those not yet using AI expect to do so within a year, and 46% within two years.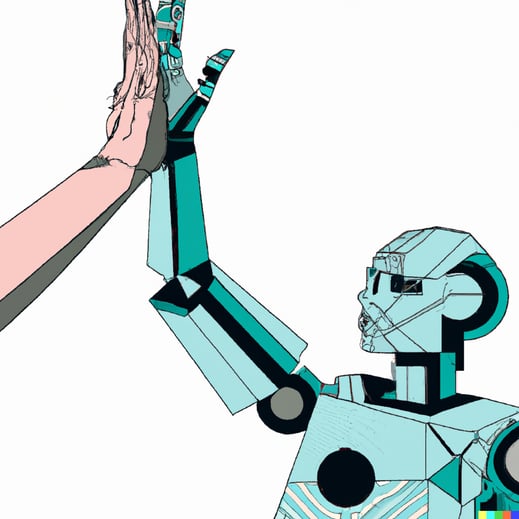 Dall.e Prompt: a robot and human high-fiving, geometric style

While AI has been part of marketing technology for years, the proliferation of generative AI and chatbots has exploded since the release of OpenAI's ChatGPT last year. Many AI-powered products, features, and platforms are being launched, leading to a weekly roundup.
Surveyed executives have also reported using AI for brainstorming sessions, initial drafts, and outlines, with 49% relying on it for final content production.


📰

Mastercard, Paypal and Robinhood Jump Into Crypto As Industry Shows 'Promise'
Over the past few weeks, well-known mainstream financial institutions have been introducing new crypto products and services to increase accessibility to the space.
At Consensus 2023, Mastercard, PayPal, and Robinhood separately discussed their efforts in this regard and how they are expanding their presence in the crypto ecosystem.
Jose Fernandez da Ponte, SVP and GM of blockchain, crypto and digital currencies at PayPal, stated that despite market fluctuations, the industry is on the verge of mainstream adoption.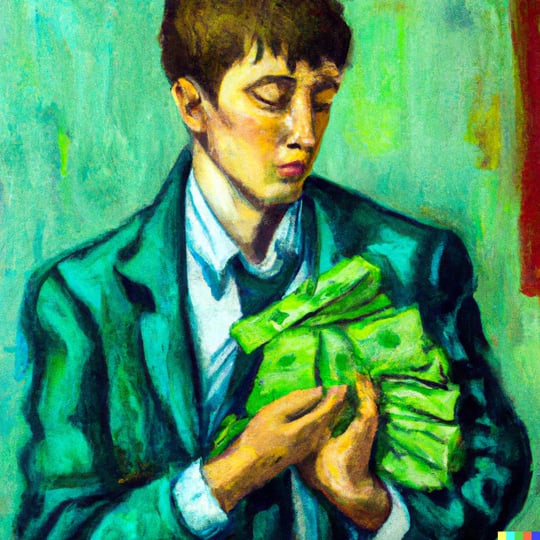 Dall.e Prompt: finance guy with a bunch of money, oil painting
He explained that PayPal entered the technology to contribute to a faster and more inclusive financial services environment.
According to Raj Dhamodharan, EVP of blockchain and digital currencies at Mastercard, the crypto ecosystem is in a transitional phase.
The industry is exploring the technology and its potential use cases, with a significant focus on discovering the next big thing.
Newcomers to crypto are likely to prefer a familiar and trustworthy platform to invest in web3 products and services.
The involvement of household financial names in the ecosystem could be the catalyst that propels crypto from a niche to a more widely accepted asset class.

📰 Warren Buffet Compares AI To The Atom Bomb
During Berkshire Hathaway's annual meeting, Warren Buffett, the "Oracle of Omaha", compared AI to the atomic bomb and said that it could change everything in the world.
When asked if AI could replace humans, he replied, "Don't be silly, AI couldn't even replace my flip phone."
Okay, maybe that's not true. But he did say some interesting stuff.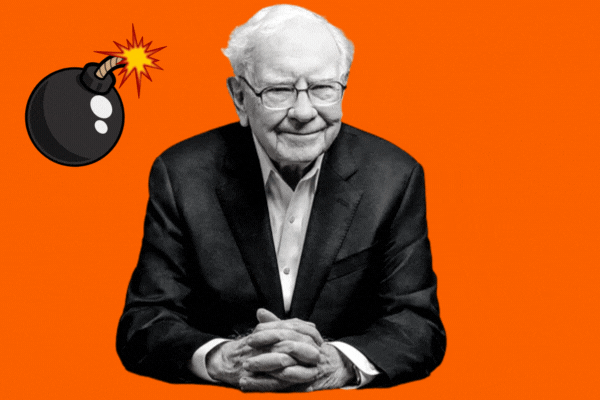 In reference to Albert Einstein's famous quote about the bomb, Buffett acknowledged that AI has the potential to drastically change the world, but it cannot change how humans think and behave.
He questioned whether it is wise to unleash such power, just as he has long been fearful of nuclear war.
While he joked about the limitations of AI in response to a shareholder question, he nonetheless conveyed his unease about the limitless capabilities of AI, stating that "when something can do all kinds of things, I get a little bit worried."
📰 IBM's Launch of WatsonX
During its annual Think event, IBM announced its belief that AI will eventually replace workers and unveiled its plan to assist enterprise managers in doing so.
This plan centres around the newly revealed Watsonx product suite, which includes machine learning tools, hardware, models, data storage, and consulting services designed to facilitate the integration of AI within customers' existing product stacks.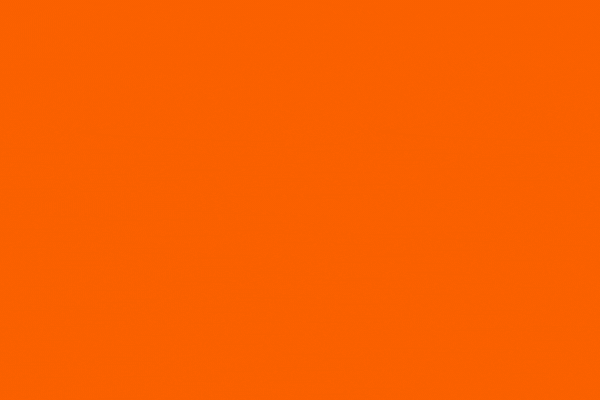 IBM claims that this suite offers a complete technology stack for training, tuning, and deploying AI models, including foundation and large language models while maintaining strict data governance controls.

📰 CEOs Visited the White House To Chat About AI With POTUS.
CEOs of major AI companies, including Google, Microsoft, OpenAI, and Anthropic, met with President Joe Biden at the White House to discuss the need to ensure the safety of AI products before deployment.
While Biden urged the executives to address the risks posed by AI during the meeting, some AI experts criticized the exclusion of ethics researchers who have long warned about the dangers of AI.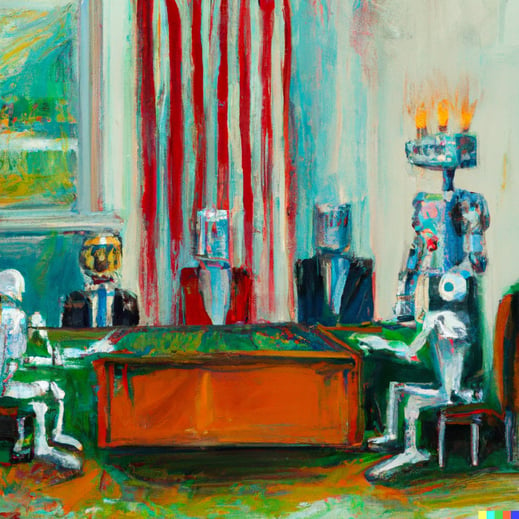 Dall.e Prompt: a meeting at the oval office with robots and the president, oil painting

In recent months, generative AI models such as ChatGPT have gained immense popularity, leading to concerns about privacy, employment bias, and the potential for misinformation campaigns.
The White House called for greater transparency, safety evaluations, and protection against malicious attacks during a "frank and constructive discussion" with the executives.
The meeting's high-profile attendees included Sundar Pichai of Google, Satya Nadella of Microsoft, Sam Altman of OpenAI, and Dario Amodei of Anthropic.
0.75
Researchers have found a very strong correlation (0.75) between the expansion of the M2 money supply and crypto prices.
$18B
President Joe Biden claimed that closing "tax loopholes that help wealthy crypto investors" would generate $18 billion for the government.
$1.5B
PEPE, the meme coin that has taken the space by storm, entered the top 100 largest cryptos on Monday with a $582 million market cap

💰Graph Of The Week
Statista insights suggest 15% of the digital economy has already shifted to the metaverse. Its reach is projected to be 700 million people worldwide by the end of the decade.
This chart shows several possible scenarios for metaverse market growth between now and 2030.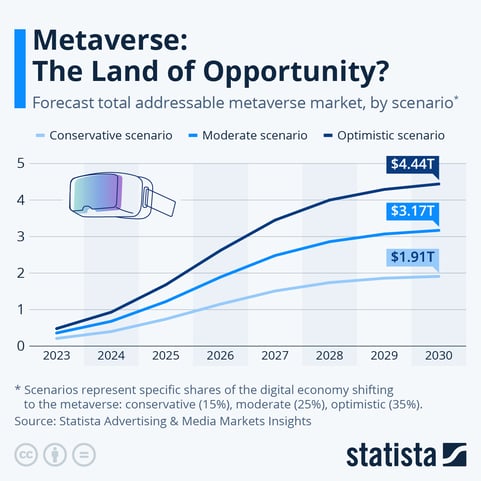 ✍️
NextTech Mergers, Funding, and Acquisitions
Who's making dough, who's laying low, and who's in a constant state of "Oh, God, no"? It's time to find out, with LXA's NextTech News Round.
💰Binance US Terminates $1B Voyager Acquisition Deal
⚙️ Venom To Launch A Blockchain Hub With Kenyan Government
👥NFT-TiX Strikes Partnership with Unum Festival
⚙️Google Launches PaLM 2, its Next-gen Large Language Model
✍️ Flexport is buying Deliverr from Shopify
🤫 One AI Project and Two Lie Reveal:
It's truth, not fiction: the fanfiction AI is real!
✒️ The Latest NextTech Reads from LXA