Customer service is one of the most important parts of any company. You could have a wonderful product or service that people are blown away by, but if you have horrible customer service, then they won't bother with you.
To explain, 90% of Americans use customer service as a factor in deciding whether or not to do business with a company, according to Microsoft, who also claim 58% of Americans will switch companies after a poor customer service experience.
What I'm trying to say is that it's important, so naturally you want to make sure that you're doing it right. Luckily, we're living in 2021, and there's a load of tech floating about to help you achieve that.
Use your social platforms to communicate solutions
Customers want to trust a brand, and generally speaking, if they have some sort of issue or question, one of the first places they'll go to is one of the brand's social media channels.
When companies have issues that mean they're at the centre of some sort of controversy, they'll often resort to posting on all of their social media channels to clear the air, apologise if necessary, issue product recalls and generally keep customers up to date.
Even if it's not statements being released on Twitter and the like, social media platforms are one of the best places to converse with consumers.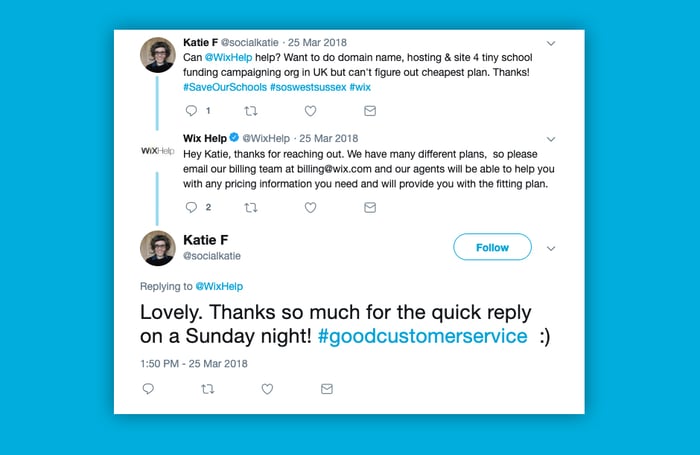 Essentially, monitor your mentions - even if you're not being specifically tagged in something. Social media tools like Hootsuite and Mention can do that for you, and you can choose certain keywords to include in your mentions if you want to stay on top of certain topics.
Be proactive about your social media and customers will take notice.
It's also important to set expectations around service on social media. Not every company offers customer service on each social channel, and it pays to communicate this. Here, Ocado provides clear opening hours and provides an alternative for out of hours queries.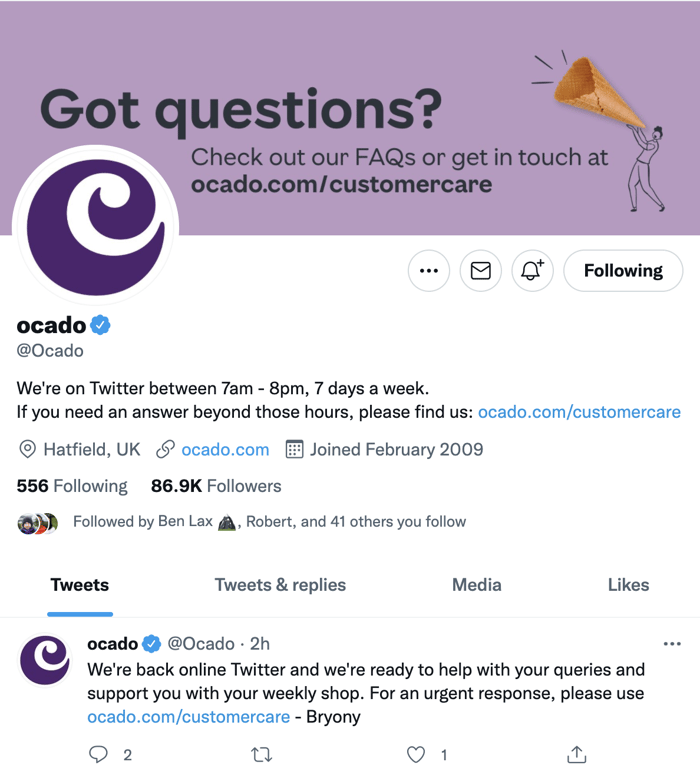 This clarity can save the frustration of expecting a response when no-one is monitoring the account. Also, think about the resources and tools you'll need to provide effective service. If you don't have the resources to provide effective service, it can be better not to do so at all.
Tools for social customer service:
Hootsuite
Sproutsocial
Respond
Tweetdeck
Mention
LiveAgent
Use AI and ML chatbots
The irrefutable truth is that many people hate talking on the phone now, and especially to people they don't really know. Waiting in call queues can be incredibly frustrating.
People like me get frustrated and nervous when they have to actually talk, and find solace in SMS, email, and chatbots. Nonetheless, if people are speaking to a chatbot, they still want that human touch, so you need to make your chatbots personable.
The conversation set that is used to train the chatbot before production should cover various emotional situations and be fed data from real conversations. The tuning team can then see where the bots aren't emotionally in tune and subsequently train them more for different situations.
There are a number of different chatbots that you can start with and are brilliant in their own right. You could pick from the likes of MobileMonkey, which links with loads of platforms, Imperson, which connects to Website, Messenger, Twitter, Slack, SMS, Skype, and Amazon, or ProProfs, which is by far the most popular host.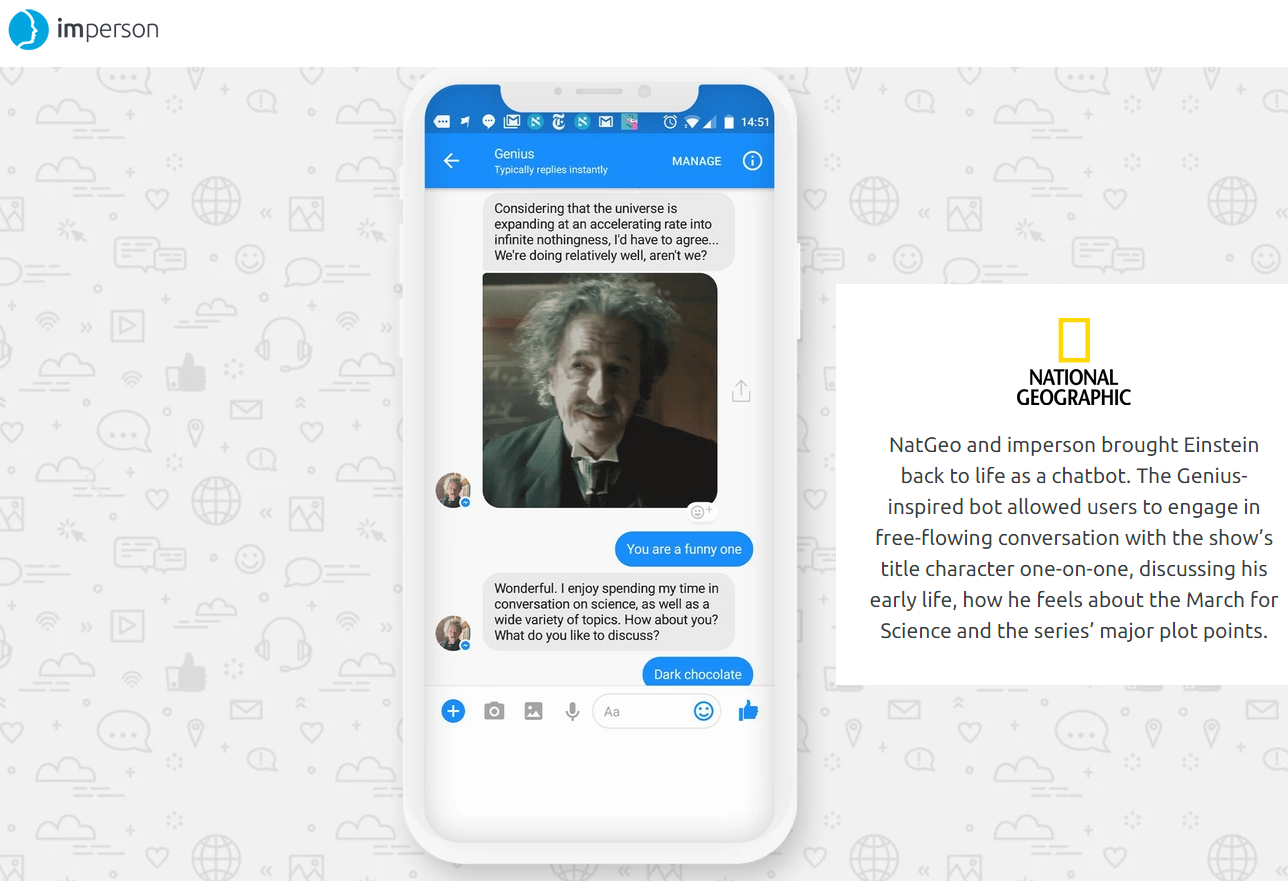 NLPs (Natural Language Processors) are also useful for this, as they allow your chatbots to seem friendlier and more human. They remember and recognise real language that people use which in turn allows the chatbot software to utilise the data and provide customers with personalised information.
NLPs have been known to have customers thinking they're talking to real humans, as they're able to use colloquial language and the like. They're great. If you want to get your hands on an NLP, then you can look at one or more of Amazon Comprehend, NLTK, TextBlob or SpaCy, amongst many others.
The aforementioned Imperson chatbot also has a built in NLP function, so that's pretty great.
Chatbot /NLP tools include:
Imperson
Comprehend
MobileMonkey
TextBlob
Chatbots aren't always the answer, many customers still want to talk to real people
Chatbots are great, don't get me wrong, but they're mostly for small or predictable issues, such as finding where an ordered item is, arranging returns and providing generic information. When it comes to more detailed product advice and other help, then real humans, for now, are the way forward.
In addition, many customers will simply prefer to speak to someone, no matter how effective your other customer service channels are.
This is still a tech thing, as platforms like HubSpot will host live chat rooms for you to talk to your clients. Consumers appreciate the human touch, and especially having their issues resolved promptly, effectively and with compassion.
CRMs and other tech should also enable your customer service agents to view customer data from different channels, enabling them to better understand customer history and therefore be in a better position to help them. There's nothing more irritating for customers than having to explain issues every time they speak to someone new.
Don't feel like you have to have a room full of customer service agents in order to offer a good customer experience, but have your usual staff trained - or at least aware - in how to resolve customer issues, and have them signed up to your CMS's backend so they get notifications when a customer send in a direct message.
Tech for customer service includes:
CRMs - Hubspot etc
Zendesk
Be available 24/7
"Nine-to-five" customer service only on weekdays is really annoying. A lot of the people who need to get in touch can't find time during their working days to call a company up and complain or get help with a product or service.
Nowadays, tech allows you to be in touch with your customers all of the time, via email, multiple social networks, live chat, 24-hour customer service, and SMS messaging.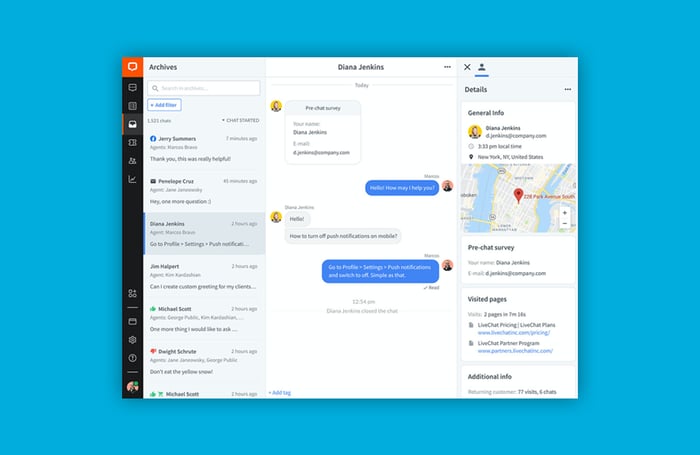 It's important that you use these technologies to offer the best customer service possible, and that you're free to help your customers if and when they need help.
Naturally everyone needs a break and no-one's asking you to constantly be on call, but you could hire people to take customer service night shifts or if your funds won't stretch to that, then current staff could take it in turns to work on separate nights.
Tools for 24/7 monitoring include:
Zendesk
Hootsuite
Hubspot
LiveAgent
Use Marketing Automation
Marketing Automation allows you to use certain technologies to automate the repetitive tasks that your marketing team would be better off putting aside to do more important things.
With the menial tasks taken care of, like customer emails, returns and general admin, your staff can work on the more important aspects of customer service, talking to customers, dealing with inquiries and monitoring the various inboxes.
Automation can also be used to maintain a customer relationship as it allows the company to work faster, smarter and more effectively. Customers appreciate speedy and effective responses, and marketing automation can allow you to provide that through the automation itself, or because the automation is completing the menial tasks, which frees up time for your customer service staff!
Tools for automating customer service:
Marketo
Eloqua
Customer.io
Constant Contact
Hubspot
In summary
There are many ways in which you can improve your customer service through technology, but all the tech in the world won't unless you have the processes in place, and the drive to provide great service.
Customer service staff need to be able to prioritise customer issues, and have the authority to solve issues to everyone's satisfaction.
The tech is there to support teams, and make it easier to provide excellent customer service, it can't do the job on its own.