The amount of things that are very important or imperative to your marketing strategy or something that if you don't do, your business will crash and burn is startling. Martech is a crowded space - there's over 8000 tools, after all - but that's not to say that you won't be able to stay on top of all of that.
Today's focus is Social Listening; something that's usually equated to B2C but is in fact a very large part of a strong and stable B2B Marketing Strategy. To get into that, though, first and foremost…
What is Social Listening?
Usefully, unlike a lot of things, the name of Social Listening sort of explains what it is. Social Listening is the act of using one's social media channels to monitor and measure customer feedback and/or perception.
Certain keywords, topics, competitors, industries and more are "listened to," if you will, via mentions, direct messages and general social posts in order for the company to gain insights and act on certain opportunities.
For obvious reasons, this plays a large part in B2C marketing, since it's usually the normal folk who buy products or services from you that then take to Twitter to either berate or congratulate you (not necessarily either of those two). However, with all of that in mind, Social Listening is very important with B2B marketing. I'm going to explain how.
How does Social Listening work for B2B companies?
The u​​sage of social media platforms is up by 44% this year and this is largely in part to the COVID-19 pandemic that has very much changed that horrible phrase that we all know and hate… the new normal.
While it used to be that the social platforms were more or less exclusive to your run of the mill consumers, because of the point I mentioned earlier, business workers are now taking to socials more than ever.
Social Listening is the first step to social selling, and the first step to Social Listening is Lead Generation.Here are some ways social listening can help:
Lead Generation
People often use social media to discuss future purchases or to talk about a company, and this can open up a dialogue that people in your sales team can follow up on. These leads will be receptive to a message, and can discuss future purchases or pain points with workers.
Evaluate customer sentiment
Monitoring mentions of your brand and product can help you to get a sense of how people view your brand. This may be easier for B2C, but there are social review sites for B2B, such as CompareCamp where you can find some useful feedback.
This can help you to identify potential issues and enable you to address them as early as possible.
Competitor analysis
Analysing the social mentions around key competitors can also be a useful source of information. You can see which products resonate with their customers, and identify ways to improve your own offering.
PR impact evaluation
Back in the day you'd need focus groups and the like to measure the effectiveness of your PR strategy.
Now, as mentioned, you can check out whatever's going on on social, something that is vital for B2B purposes as well as B2C. Another excellent way to gain insight.
Influencer discovery
Social listening can help you to find the people who are sharing your content, or perhaps posting about topics that are relevant to you.
By identifying potential influencers, you can find contacts to help you develop new marketing revenues and brand partnerships to build their reach.
Employee satisfaction
Employees won't always take to Instagram or Twitter or even LinkedIn to say that they're pissed off working for your business, but it can be a way to get some early feelers before (if and when) anything goes to HR. The social aspect of this one would also extend to more niche platforms, such as GlassDoor.
It's absolutely vital that you maintain a satisfactory employer brand for successful talent acquisition and retention. Furthermore, other brands wouldn't necessarily want to conduct transactions with a business that's famously awful to their employees.
Which Social Listening tools should I use?
Hubspot
Old faithful. Lovely HubSpot.
HubSpot classically has its fingers in a lot of pies. Some would argue too many, but it really is just a very complete CMS. There's a whole section of HubSpot that's dedicated to social media, helping you to post on social channels and blogs and generally share content.
It has a monitoring option, which allows you to monitor social interactions, and mentions of your brand.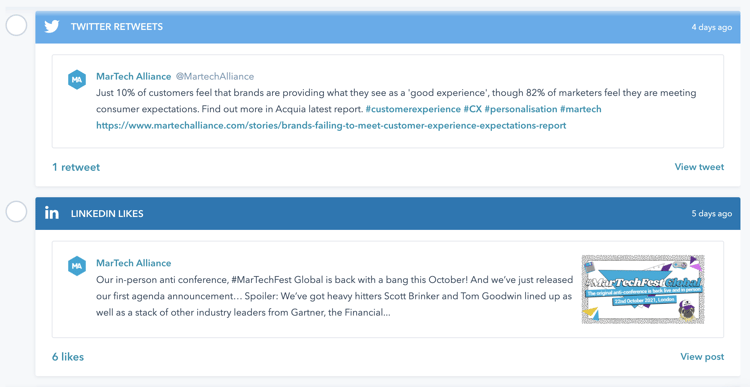 On top of that, you can also create custom keyword monitoring streams, and trigger email alerts so your sales team knows when your prospects mention you. Very much your standard Social Listening bread and butter from HubSpot there, but they also let you compare performance across your social channels. Very handy indeed.
Hootsuite
Among other things, Hootsuite offers a social monitoring and listening platform that allows you to build and grow your social media following and relationship with your customers.
The listening aspect comes into play here, as Hootsuite's interface sees that you can view all of your messages, mentions and comments across all of your social platforms.
Hootsuite has the functionality to track and follow influencers and leads, furthermore collating them into lists that can be transferred across your company.
Agorapulse
Very much the usual tools are available here, such as your standard and very important scheduling, analytics and social monitoring across the likes of Facebook, Twitter, LinkedIn, Instagram and Youtube.
It will then automatically monitor these various social medias and platforms for mentions of your brand and include them in its social media reports.
Perhaps the best, you can set up a "Listening Search" for certain keywords and hashtags on Instagram and Twitter. When using this tool on Twitter, you can add location or language filters to your "Listening Search".
Mention
The clue is in the name for this one. Mention is a tool that allows you to engage with your audience and analyse your social media presence at the same time. It also has a few features that can improve your listening strategy, such as Boolean search mode, Sentiment analysis and Influencer search.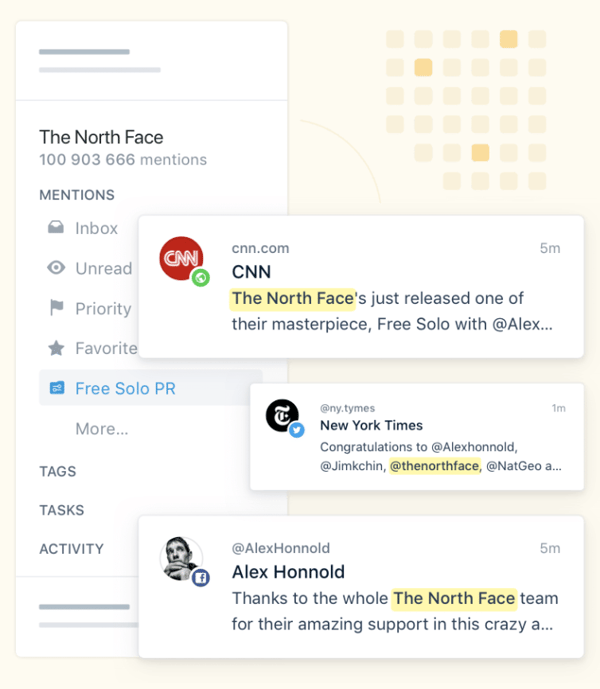 There's a part of Mention called Insights Center that's dedicated specifically to reports. This will then allow users to a whole array of line charts, pie charts, bar graphs and more. Everyone loves a graph and chart, right? It's like your own personal infographic.
Brandwatch
While Brandwatch does allow you to interact with individual messages and mentions, it's more focused on the analytical side of things with lots and lots of data. The very businessy side of this is that you can now gather real-time data, segment it in different categories, uncover the sentiment behind mentions and subsequently act on it.
Dangerously cleverly, Brandwatch has a new Iris AI feature that analyses the reasons behind sudden changes in data. This is useful for a number of reasons, such as reputation management and lead generation.
---
The world of Social Listening is one that can make or break your reputation and how your company is perceived. You want to make sure that you absolutely do the research and get the right tool on your side, whether that's for B2C or in this case, B2B.