While organisations agree that great customer experience provides a key competitive advantage, just 31% of marketers think they are exceeding customer's CX expectations.
The 2021 Customer Experience Trends & Insights report, produced by Martech Alliance with Treasure Data looks at the increasing importance of CX in a competitive marketplace, and the challenges of providing this experience.
The importance of CX
In a world where consumers have so much choice, and your competitors are just a click or two away, customer experience has become the key battlefield.
A great experience can lead to improved retention values, increased lifetime value, and can even make advocates of your customers.
Consumers want things to be easy, and they want them on their terms. This means whatever channel a customer uses, they expect a consistent quality of experience.
For the report, we surveyed more than 200 CMOs in the UK, France and Germany. for their views on CX. The vast majority (78.5%) agreed that an amazing customer experience provides a powerful competitive advantage.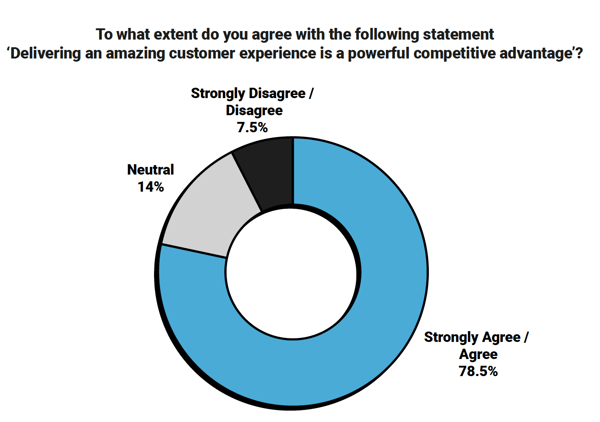 The current state of CX
The importance of CX is well established, but many of the CMOs we surveyed feel they are not yet offering the experience that customers expect.
Customer expectations around CX are constantly evolving, and the consumer of today is much more demanding than before. These expectations are often driven by the leaders in the market. For example, Amazon's speed and convenience around delivery has led to greater customer expectations in this area.
The good news for 31.5% is that they feel they are exceeding customer expectations, while 17.5% feel the experience offered meets the needs of customers.

For the 48% who feel their CX fails to meet customer expectations however, there is room for improvement.
Barriers to providing great CX
However, there are plenty of potential obstacles to great CX, and any friction experienced along the way can deter customers, often without brands even knowing about it.
Providing a great customer experience in a large organisation can be a challenge, and there are many aspects to it. The main barrier cited by our respondents was lack of skills and knowledge with regards to tech and data (53%), while lacking the necessary tech solutions (43%) was the second biggest obstacle.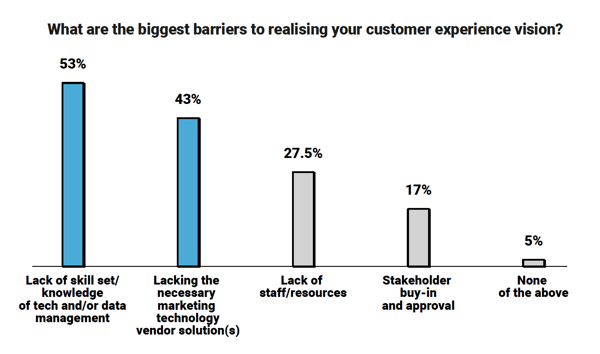 Data is all important here - the gathering of data, and the use of data to drive better customer experiences. This is where customer data platforms (CDPs) have a major role in managing data and using it to optimise marketing across physical and digital channels.
The right tech helps brands to gather customer data and understand the flaws in the customer experience, and enables the data to flow through the company to where it is needed and can be actioned.
It's significant that the report found that the companies investing in linking online and offline experiences, as well as using personalisation, are those which are exceeding customer expectations.
Download the 2021 Customer Experiences Trends & Insights report.