By enabling your sales team, they'll be able to take on bigger and better opportunities faster and more efficiently than ever before.
With an increased understanding of customer needs, improved workflow process, enhanced data insights and easier access to relevant content, everyone will benefit from this newfound ability.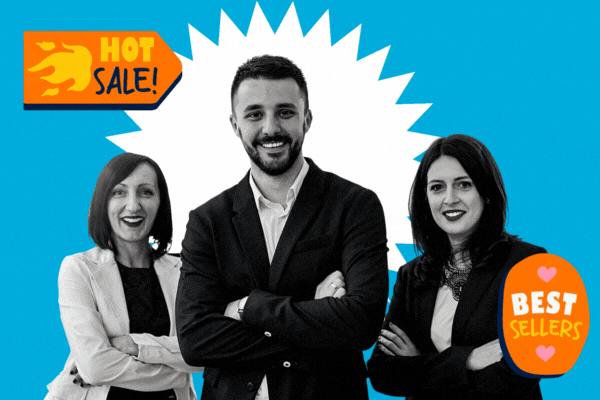 Sales enablement is about creating an environment where sales reps can succeed and reach their goals. That means equipping them with the tools, skills and processes they need to sell better, faster and smarter.
With a successful sales enablement strategy in place, you can help your reps become top-notch salespeople in their own right. So don't just settle for a bland dish - put together a sales enablement recipe that will have your team whipping up a recipe for success.
Basically, it's a bit like cooking.
It's all about finding the right ingredients and mixing them in the right amounts to come out with a delicious result. With sales enablement, the right ingredients are information, resources and tools that empower your sales team to better engage prospects, close deals and increase revenue.
The secret ingredient? Sales enablement technology. So, it's basically the bay leaf. Obviously, it changes the whole dish, makes it delicious, and gets your friends saying "Woah, can I have the recipe?"
But what does it actually do? Who actually knows? Well, we've got the answer. For sales enablement tech, not the bay leaf.
If you want more sales enablement info, we've got just the in-depth eBook for you. If you want the down low from a download, check out The What, Why, How of Sales Enablement, here!
So, we're having a look at the top sales enablement stats and trends for 2023 today, to show you the results of implementing a sales enablement strategy that works. Let's jump in.
Sales Enablement Statistics
Sales Rep Efficiency Statistics
Only 35.2% of a sales rep's time is spent actively selling.
Top sellers spend an average of 6 hours every week researching their prospects.
On average, it takes eight cold calls to reach a prospect.
84% of sales reps achieve their quotas

when their employer incorporates a best-in-class sales enablement strategy.

The best sales onboarding programmes help new sales hires become productive

3.4 months sooner,

on average.

That's 37% faster than firms with low-performing programmes.

Long-term training is important and—unfortunately—overlooked.

85 per cent of reps

report being coached on closing open deals, but only 24 per cent report being coached on long-term skills.

Organisations that don't cold call experienced 42% less growth than those who used the tactic
One of a CRM's main advantages, according to 18% of sales professionals who use one, is that it increases productivity and cuts down on time spent on administrative activities.
28% of media and marketing salespeople lack direct, simple access to their own sales materials.
84% of training is forgotten in the first three months
26% of reps say their sales training is insufficient
40% of businesses did not meet revenue targets in 2022

The Chief Sales Officer (CSO) primarily owns the sales enablement function in 35% of
organisations, Chief Revenue Officers (CROs) and Chief Growth Officer (CGOs) collectively
represent 25% of ownership, reflecting the broader trend of sales and marketing being
more aligned.
Lack of staff and resources is also seen as one of the biggest barriers to sales enablement
maturity, cited by 52% of respondents.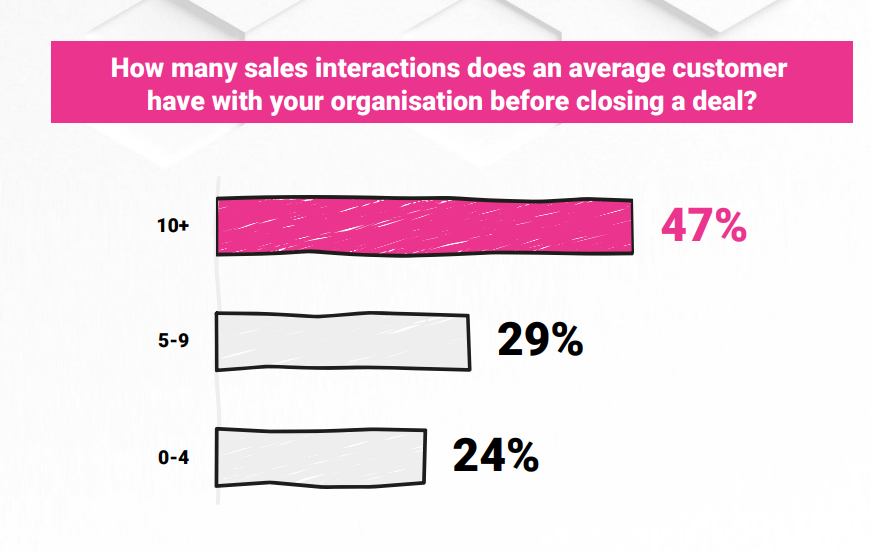 Sales Enablement Technology Statistics
28% of organizations use 10 or more tools to drive sales productivity – but most still aren't happy with their quota attainment and revenue results
43 per cent of salespeople

made use of intelligence tools for their

sales tracking

and pipeline, which was a 54 per cent increase from two years earlier.


Sales enablement tools are recognized as the most important technology investment to increase sales productivity by 55% of C-suite executives.
In the years between 2018 and 2020, the count of sales teams using

AI shot up 155%

.

Sales teams powered with sales enablement tools for more than two years have experienced

48% higher

customer engagement.

65% of sales leaders

who use these sales tools have overshot revenue targets.
Sales rep training initiatives

conducted with technology

have witnessed 10% more sales rep engagement. Sales reps onboarded in a similar manner are likely to see a quicker ramp-up time by 26%.

72% of respondents feel that the market is lacking sales enablement professionals
with the necessary salestech, data, sales content or sales operations skills and knowledge.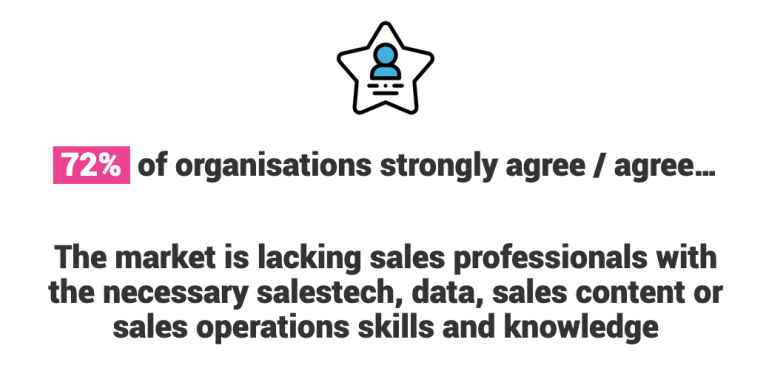 Sales Managers Statistics
Sales teams that work closely with marketing see

41% greater growth

in reaching their quotas.
77.1% of companies with a sales force exceeding 500 people have dedicated sales enablement in place, compared to 39.3% of companies with 25 or fewer.
Sales and marketing alignment can help your company become 67% better at closing deals.
67% of sales managers say that overseeing a remote sales team is more challenging than they anticipated.
Sales leaders believe 50 per cent of the clients they speak with aren't a good fit for the product or service they're selling.
17% of sales executives predict that salespeople would use a totally remote sales strategy.
77.1% of companies with a sales force exceeding 500 people

have dedicated sales enablement in place, compared to 39.3% of companies with 25 or fewer

Sales enablement adoption is being driven partly by the increasing complexity of the
customer buyer journey. 65% of respondents agree that journeys have become more
complex, and that new ways of selling are required to survive and thrive.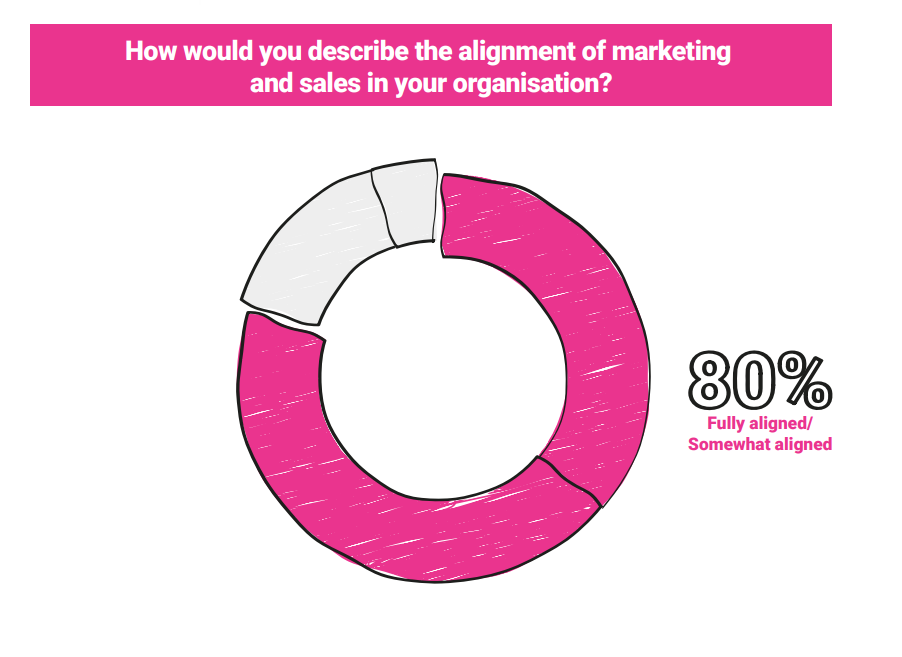 But want more stats and trends? Well, you can have more stats and trends, with our brand-spankin' new Sales Enablement Guide. Download here! 👈