We all love a webinar, and with the help of ON24, we here at MarTech Alliance hosted a webinar about personalisation in marketing.
The special guest was, Seth Godin talking about his experiences using personalisation in marketing, as well as future trends.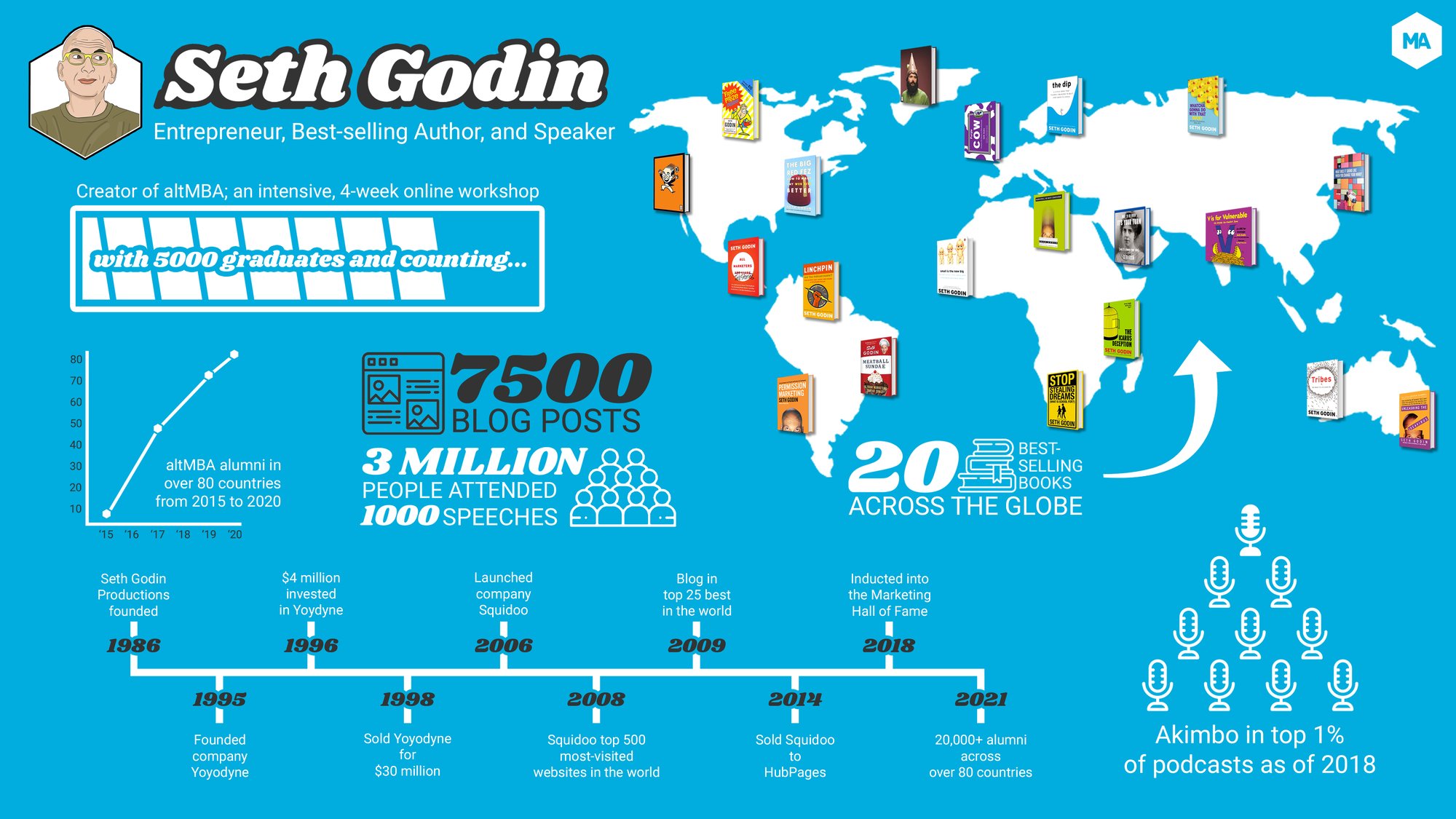 The webinar also featured a panel made up of Tyler Lessard, VP of Marketing at Vidyard, Emily Smith, EMEA Marketing Director at ON24, and Andrew Hall, EMEA Digital Sales and Field Marketing Director with Adobe Workfront and was hosted by Carlos Doughty, CEO and founder of MarTech Alliance.
Seth Godin on personalisation
Seth started the webinar by bemoaning the laziness of a lot of personalisation in marketing messages today, and puts this down to people not knowing the difference between personalisation, and something being actually personal.
Citing a LinkedIn message he received, the sender stuck Seth's name at the top and a couple of other things that he ascertained from his profile, and then went rambling on about doing business together. Seth deleted the message.
It was personalised, but it wasn't personal. Not even close.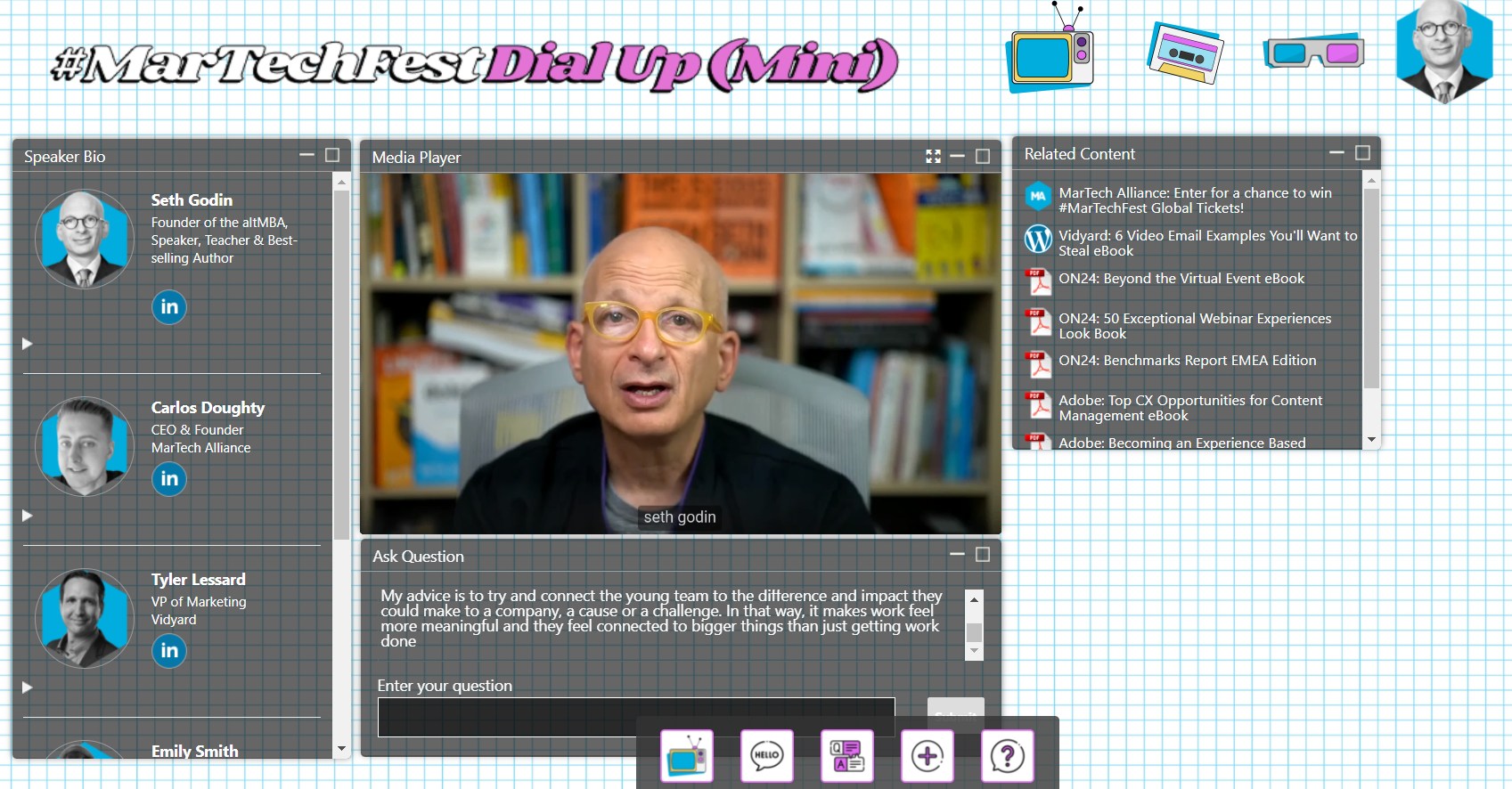 He goes on to say that the aim of personalisation is not to have some sort of "hack" to essentially trick someone into reading something, but instead to have a "path" which leads to you earning someone's trust.
Godin compares real personalisation to eating at a restaurant; or not eating, I should say. If you ordered food from a restaurant and didn't eat a single bite, you would expect your waiter to ask what was up with it and try to find a way to solve the issue. This, he admits, is difficult to do at scale, but the principle remains.
The future of personalisation
With privacy becoming more important to people and third-party cookies being banished, the spammers out there will have a harder job ahead of them trying to get your attention and will, eventually, stop trying altogether.
This will leave a gap for all of us good people to do personalised messaging that we can be proud of, as Godin explains. Seth asks whether consumers would miss your brand if it was gone, and if the answer is no, then you're in the wrong business. The likelihood is that if you're one of the brands who have to trick people into reading your messages with lazy, surface level personalisation, then consumers likely won't miss you at all.
Juggling personalisation with privacy isn't a hugely easy task, and it all comes down to consent at the end of the day. "Let us pay attention to what you're doing and in return, we will serve you better." Basically, if you're wondering whether you're toeing - or even crossing - a line with privacy, then you're not doing it right. You should be as overt as possible in your promises to the consumers with how you assess them and how you use their data.
Once Seth had left, it was time for Tyler Lessard, Emily Smith, Andrew Hall, and Carlos Doughty to expand on the topic of personalisation.
Among many other things, the three of them spoke in great detail about implementing genuinely good personalisation, but at scale.
It starts with creating the kind of experience that attracts the people you want to work with, to the extent that they become advocates and marketers for you in the real world.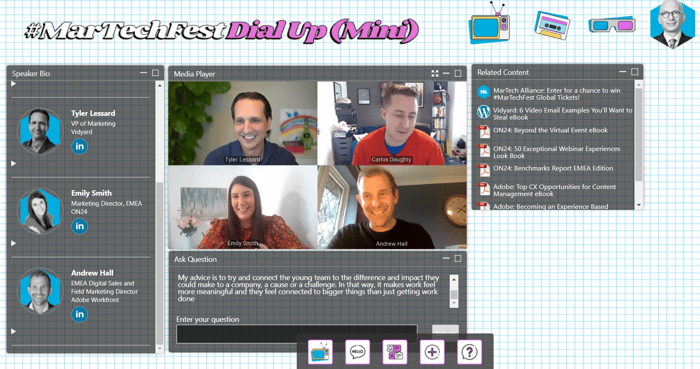 How to convert leads from webinars
The truth is, you don't need to wait until the webinar to start that process. For example, ON24 engages with potential leads even before a webinar takes place.
Using this tactic, ON24 found that 50% of the pipeline does in fact come from before the webinar itself. This, once again, is all about personalisation. Conducted in a non-aggressive way, this isn't a way to immediately get on consumers' backs, but a way of saying "we want to start the conversation now and see what it is you want and how we can help each other, rather than needlessly waiting three weeks".
Essentially, always be on. You don't need to wait for what are - to all intents and purposes - meaningless deadlines and events.
How, from now on, do we seamlessly and holistically mix in-person and digital interactions with consumers?
Swinging things back round to events, Emily from ON24 explained how there is now a huge buzz and pull for hybrid events. These are the big thing currently happening in the world of business trade shows, but it's important to remember that not every event actually needs to be hybrid.
Hybrid is now just another string to our bow, and knowing when and when not to use it is as important as being able to use it in the first place.
Crossing the line between the two could be, for example, meeting a group of people at an in-person event and subsequently inviting them to an online webinar or meeting. Flipping that round, you could host a number of online events and eventually have a number of people at the bottom of your funnel who you want to be able to meet in person. This is when you invite them to dinners or round table events and begin to introduce them to the relevant people for converting that lead.
With mass personalisation, is it losing its pull?
People are now acutely aware of companies and salespeople including their name in email subject lines as a trick to get their attention. This is definitely the type of personalisation that is losing its pull.
What isn't losing its pull is genuine connectedness with a consumer, and being able to decipher and build on what they like for a better, actually personalised customer experience.
Luckily for you, the webinar is now available on-demand from ON24 and it really is worth you checking it out. There's a few great stories in there from all guests concerned and some wonderful nuggets of knowledge!