#MarTechFest Dial Up is this month! So we thought we'd take this opportunity to introduce you to a few of our speakers. So without further ado it's time to meet Malcolm Auld.
Introducing Malcolm Auld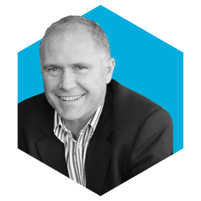 Meet Malcolm Auld, CEO & Founder of The Content Brewery. Malcolm's career spans almost four decades and he has worked in online marketing for 25 years.
Malcolm was a pioneer of email marketing, launch Australia's first email marketing agency and published the world's first non-American book on the subject – Email Marketing Made Easy. As his old boss David Ogilvy said "you've tasted blood" – running/owning multinational direct marketing and advertising agencies, marketing departments, digital agencies, start-ups, a SaaS business, bricks n mortar and online retail businesses.
He is currently converting his B2B seminar into a book, following the recent launch of "Direct Mail – The REAL Digital Disruptor". He deplores the decline of the marketing industry's credibility in the digital age and writes about it (and more) in his blog www.themalcolmauldblog.com – rated by The Directory in 2019 as one of the Top 3 marketing blogs in the world.
Let's start with you! Can you give us a quick overview of what your company does and your roles and responsibilities there?
I wear a number of hats. I provide marketing consulting – particularly strategy and planning and warning against digital-first thinking. I'm an active copywriter – this last month I wrote a website, whitepaper, blogs, LinkedIn profiles, video scripts, lectures, newsletters and marketing collateral. I also teach Digital Futures and a number of advertising and PR subjects at UTS – a university in Sydney. I speak on the marketing circuit and am writing a book on B2B marketing based on my seminar on the topic, so I keep busy.
Now there's not an industry in the world that hasn't been impacted by Coronavirus in some way either positively or negatively – what have been the biggest changes and challenges at your business and day to day?
Marketing budgets have dried up. We've lost some clients who were in the events industry as the immediate events disappeared. The event managers are transitioning to online services, like this event. I've also had to teach using conference call tools, which is not easy and am migrating some of my private courses to online formats.
But you could say I was a pioneer in the work-from-home space as my bride and I eloped with two witnesses 20 years ago (with good social distance) and have worked from a home office ever since in one form or another. So our way of working has hardly changed or been affected by COVID. Maybe we should write a thought leadership white paper and call ourselves influencers?
It's going to be a different world once we come out of this, do you have any Post Pandemic Predictions for the industry…or the world?
I predict loads of bandwagon-jumpers and snake-oil salespeople will be proposing post-pandemic puffery to position themselves as influencers or thought-leaders in post-pandemic marketing. It's already started – there is a vomitron of buzzwords, jargon and fake marketing advice on LinkedIn.
We're super excited to have you joining us as a speaker for our virtual event #MarTechFest Dial Up – what can our audience expect from your session, do you think you'll take a different approach to a virtual session vs a live session?
The difficulty of virtual presentations is the inability to read audience reaction. Given so much of our communication is built on non-verbal messages, the virtual environment diminishes the experience somewhat as a speaker. I'll speak the truth – straight-up. I'll not be sharing any pandemic-miracles – just the common sense things that work, as common sense has been one of the first casualties of this virus.
The events industry has pivoted very quickly to an online offering - obviously #MarTechFest Dial Up hasn't happened yet or that would be the obvious answer…but have there been any virtual events you've attended yet that have really wowed you?
My family has weekly Zoom gathering with drinks in hand and it is always a cracker of a laugh. I'm probably teaching or attending at least a dozen educational events a week, so it's my 'new-normal' – very few are doing WOW events, though I'm expecting #MarTechFest Dial Up to deliver. But I saw some technology an event company in Australia (Synergy Effect) is about to launch called On Air – it will definitely improve online events. And in my session, I'll be explaining why pivot is a non-word.
In regard to martech, can you list the three top tools you and your team could absolutely not live without?
Here are four – you are way more creative when developing ideas using the first, science proves it:
Pen, paper & post-it notes
CRM
Email
Video conference
Who are the key martech influencers you think we should all be following…besides yourself obviously.
I'll let you know in my session.
And one last very important question. If you had to choose…Twitter or LinkedIn?
Can't wait for the day I never have to use either again. Twitter has become a festival of hate, while LinkedIn is now Facebook with a necktie and declining in quality content.
Catch Malcolm's session at #MarTechFest Dial Up

here