Marketing budgets are bouncing back. That is the main finding of a variety of studies surrounding the industry, which has been hard hit by the pandemic and a number of other factors.
In fact, marketing budgets claimed only 6.4% of the average company's revenue in 2021. Now, we're seeing this figure jump to 9.5%, according to the Gartner 2022 CMO Spend and Strategy Survey.
A net balance of 14.1% of companies revised their marketing budgets upwards in the first quarter of 2022, according to the latest IPA Bellwether Report. This is the highest it has been since almost eight years ago, in the second quarter of 2014.
Not too shabby. Time to ask your CMO for a little extra moolah for that fancy coffee machine you've had your eye on. The more over-caffeinated you are, the more marketing emails you can send, right? Plus, those beanbags and massage chairs are for when you need to de-stress. Very easily justified to the higher-ups.
In their latest study, Gartner has been asking a bunch of questions about the space. The number one is: following record lows in 2021, how have budgets recovered? Then, it's imperative to determine how CMOs are allocating this newly gained budget.
So, despite a difficult few years, marketing is now seeing the bright light at the end of the tunnel. Despite the IPA warning the industry faces "strengthening headwinds" to its full recovery (including inflation and the war in Ukraine), businesses are feeling "strongly positive" about their budgets for the year ahead. We're a glass-half-full kind of industry, after all.
Budget Increases
Campaign creation and management (10.1%)

Brand strategy (9.7%)

Marketing operations (9.6%)
Category Breakdown
Events saw the biggest growth in marketing investment over the quarter. A net balance of 18.7% of panellists reported increased spend in the channel, up from -3.9% in Q4 2021.
The further relaxation of Covid measures in the UK "gave businesses the confidence to plan larger-scale gatherings with clients and set up exhibitions"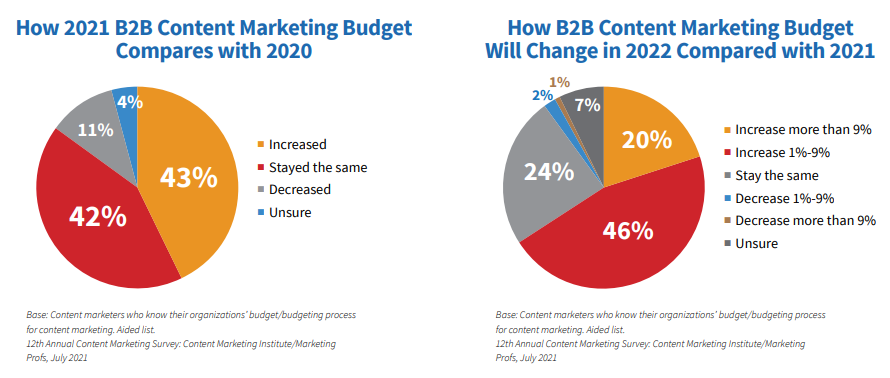 Over the last two-quarters of 2021 market research budgets had been in growth, as a balance of 0.7% of companies increased their market research budgets in Q3 2021, and 7% in Q4 2021. However, in the first quarter of 2022 market research saw a net decline of -3.5%.
B2B respondents outspend B2C when it comes to events, allocating 21.9% of their offline budget compared with 16.4%. The largest area of offline budget spend for B2C is TV (excluding OTT and connected TV), accounting for 16.7%.
When we asked how CMOs allocate budget to fund brand awareness, engagement and performance marketing, they reported that: 50.1% of their budget is spent on brand awareness and engagement. 49.8% is spent on performance media.
Digital Focus
Skills Gap
26% of CMOs consider marketing data and analytics as a top-three capability gap.

23% of CMOs include customer understanding and experience management.

22% of CMOs cite marketing technology.
Future Planning
This post is part of our Martech stats series, which compiles key data and trends. Others include: