Turns out standing outside the local Lululemon with a sandwich board asking for Insta Influencers is not the way to go about this? How do I know? Don't ask.
A report from Mediakix suggested that the influencer marketing industry global ad spend was projected to reach $5-$10 billion market in 2020. But an influencer study by Launchmetrics, 30% of professionals claimed that influencer identification was their main challenge in their influencer marketing strategy. So, the industry is growing, but marketers are struggling to keep up.
Marketing has become more and more based in algorithms, data, analytics and specificity. So, the 'spray-and-pray' approach is never going to be the most effective with Influencer Marketing. Instead, brands have to figure out how to target the right audience, with the right individuals.
This means it pays to be specific and focused when it comes to your influencers.
So, you've personally come to the conclusion that you need an influencer for your brand. But where do you start? How do you do it?
Well, you could try:
Checking trending hashtags on Instagram and Twitter. This'll sort out the most popular content, related to your brand.
Visiting the explore page of Instagram. This is a curated feed of the most popular and relevant content. Have a look for influencers who have high levels of engagement, likes, and comments.
Searching on Google for influencers, and blogs. Don't just stick to the big social media platforms!

Nowadays, famous people have been relegated to a secondary medium: the TV (and its commercials). People spend their days on Instagram, Pinterest, Twitter, jumping from one profile to another and seeing how this girl or that guy represents what I myself have always wanted to be or what I already am … I too have my own influencers who inspire me and who I follow loyally."

- @cooltourtheblog
Okay, now you know where they are. But how do you pick the right one? Keep in mind the three 'Finds':
Find

influencers who share your audience
A good place to start, when looking for influencers in your industry, is to start with well-known figures.
These people are established thought-leaders, and will help spread your messaging to a well established audience, on a relevant platform. This'll mean improved brand awareness in your target market.
Keep an eye on who is writing interesting content in your industry, and note how engaged their audience is. The audience doesn't have to be large - just engaged.
Find

influencers who promote your competition
An easy cheat-sheet tip is to look for influencers who already promote your competitors. This'll mean they're open to brand collaborations, and specifically collaborations from your industry. In fact, influencers who already write about other organisations in your industry are more likely to share content about your brand, than others who never mention brands in your niche.
Scan through industry-related hashtags to see who is regularly creating and sharing content about your competitors.
Find

influencers who are involved with your industry
Though influencers don't necessarily need to be tied to your industry, they need to share your audience. Working with influencers in an industry that overlaps, or is complementary, to your own may help you to reach even more of your audience. Or even access a new part of your audience.
If you perform a target audience analysis, you'll be able to fully understand your ideal audience. This'll help you identify other non-industry-related influencers followed by your audience. Plus, you'll be able to connect with your audience somewhere where it's less oversaturated with your-brand-shaped-social-posts-and-messaging.
But enough of all this talk, let's have a look at some examples.
1. PewDiePie & LootCrate
Okay, this one's to weed out all the boomers reading this. Right, now we're in the clear: TikTok, Platform shoes, Billie Eilish, uh...Riverdale. Okay, I'm out.
Loot Crate is one of the most popular examples of influencer marketing in the gaming community. Their monthly subscription boxes contain various pieces of gear, collectables and uh, loot, related to all things geek.
The brand has a loyal following online, thanks to its strong community, and well as it's combination of word-of-mouth advertising and influencer marketing.
In 2014 they began working with influencers to leverage their social media campaigns, including partnering with some of the most popular Youtubers in their niche (Comedy and Gaming). This included PewDiePie, who has more than 110M subscribers. That's a lot of interested eyes - one of the videos they collaborated on received more than 9M views.
One of the ways in which LootCrate turned these eyes into paying customers was to offer a channel-exclusive discount code for 10% off a LootCrate subscription, easily accessible in the video description.
But most of all, LootCrate stuck to influencers in their niche, where they would be able to access relevant customers, but also keep on-brand. The use of comedy/gaming Youtubers means that the adverts remain laidback and fun - which fits with the tone the company aims for.
2. Selena Gomez & Adidas
Wanting to stay ahead of its competitors, Adidas launched an influencer-driven social media campaign on Instagram, focused heavily on user-generated content, or UGC.
The campaign, focused on a younger audience, helped the brand increase their sales by 24.2% in a year. And considering that their nearest competitor Nike saw a 9.1% drop in sales that year, they must've been doing something right.
But what we're really concerned with is how they utilised influencers, right? Well, the brand worked with Selena Gomez to kick start the campaign, with a #MyNeoShoot contest on Instagram. Alongside Gomez, they used a variety of top, on-brand influencers on the site to leverage the buzz.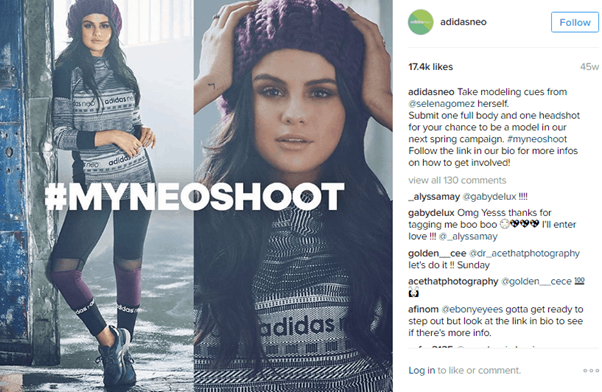 The campaign encouraged fans to share their own content using the hashtags, where they could win a chance to be one of the six models for the campaign.
Adidas received around 12,000 entries for the contest and the hashtag saw more than 71,000 mentions. They even managed to grow their following on the platform by a whopping 41,000.
3. Grace Beverley & Koi Footwear
Vegan shoe brand, Koi Footwear, has a very specific and recognisable branding that appeals to it's Gen Z, socially-conscious target audience. So, in order to stay on-brand, they needed to pick an influencer that has a similar messaging.
They did so by announcing a collaboration with fitness blogger Grace Beverley, otherwise known as Grace Fit. Koi's brand-focus involves ethical, sustainable manufacturing practices, which integrated well with Beverley's inclusive approach to the fitness and health industry.
This led to the release of a capsule collection, including trainers and boots, which reflected the athletic style of Beverley, whilst staying relevant to the brand.
Allowing the influencer to take a creative lead with a project can seem intimidating, but influencers know their audiences. So, by giving them freedom to create a product their fans will like, will mean they will be highly invested in both the product, and brand, thanks to the influencer.
We know that people are more likely to trust influencers than brands, but if the product is created by the influencer, it comes with a stamp of approval that you can't create with a hashtag.
Want to hear more about Grace Beverley, and the influencer industry? Join us at this year's #MarTechFest Global, and hear Grace herself talk all things business, digital reach, and slow fashion. Click 👉here👈 to buy your ticket!