Martech investments need to be justified, and teams need to build the business case for spending on new tools, so how are organisations measuring the impact of their investments in tech?
With help from industry experts, and survey data from recent LXA reports, we look at how marketers are assessing ROI from martech, and the challenges of measurement.
In the more challenging economic conditions we're currently experiencing, marketers are likely to be under greater pressure to justify investments. And some martech tools can be very expensive.
In a survey conducted for our recent Guide to Martech Effectiveness, produced in association with the IPA, a majority of marketers were confident in their ability to measure the impact of martech.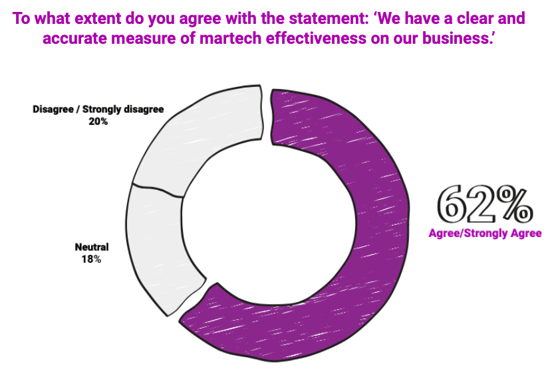 However, this still leaves 38% of marketers lacking a clear measure of martech effectiveness.
Measurement of martech ROI takes a number of forms, with businesses tending to measure martech according to its ability to solve a problem, rather than its direct impact on ROI.
As Henk-jan ter Brugge, Director, Global Marketing at Philips told LXA:
"There is no specific and accurate measure of martech effectiveness outside of whether that platform is enabling a solution or capability for many of our clients."
This is understandable. It can be difficult to measure individual pieces of tech, as they tend to be used in conjunction with other tools in the marketing stack.
This leads to much broader measurements, as GroupM Head of Audience Strategy Chris Packman explains:
"There are challenges in measuring the effectiveness of specific martech tools, as they tend to be used in conjunction with others. This makes it difficult to isolate the effects of one particular piece of tech.It's not easy to tie the final metrics back to the impact that a piece of technology has on the same campaign.
T
he simplest form of measurement comes in cost, where our clients take a view of the overall costs saved using martech. In other words, providing the advertising ROAS increases and the cost per acquisition of a consumer or piece of data reduces by a set amount, the martech platform used to achieve this is deemed to be a success.
This is a rudimentary way of gauging success, or effectiveness, but cost vs return remains one of the simplest forms of measurement at present."
Many marketers see martech as a tool to make marketing more efficient and effective, so it's no surprise to see that people rate reducing costs and increasing ROI as the most common measure of effectiveness, cited by 48% of respondents.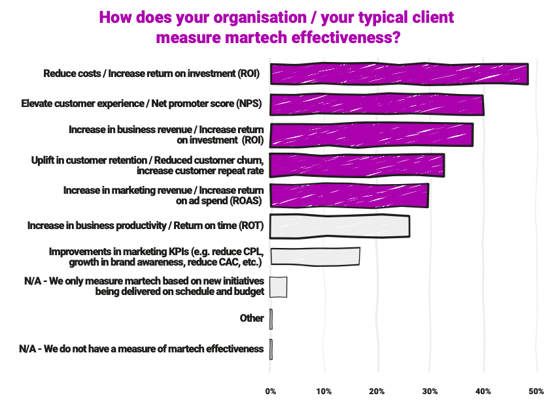 This is closely followed by improving customer experience, often measured by NPS scores, and overall improvement in business revenue.
Martech can also be measured through the results of specific campaigns which allow marketers to assess individual pieces of technology, as Michael Klazema, Chief Marketing Technologist / Director at EY Consulting explains:
"Companies often have very category specific measurement of martech - measurement for email or direct marketing campaigns. Marketers will show results based on the specific use cases for each tool, number of conversions/ leads, rather than having one overarching approach to measuring ROI."
Measurement becomes easier if technology is selected and acquired according to a specific business objective and use case.
Before acquiring a new tech tool, it helps to define the KPIs that will best demonstrate that the tool has achieved its purpose. By maintaining focus on the main objectives, you will be able to understand whether the technology is delivering value.
In addition, technology which has been acquired by following a clear process during which gaps in the customer experience are identified and business use cases are laid out, then martech acquisitions are more likely to produce positive results.
Our Guide to Martech Effectiveness report looks at the importance of a planned and strategic approach to the selection of marketing technology and the resources and skills needed to use martech to its full potential.