Partner Content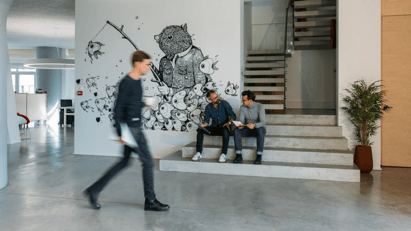 Key Results from Using Vidyard
10
Accounts Pitched
with Video
6
Accounts
Won
3
Accounts Still in
Decision Process
Standing apart from your competition is always the goal in marketing. As a creative agency serving the B2B and employer branding market, BBC's done a great job in accomplishing just that for our clients.
Fuelled by a passion for new ideas and a commitment to excellence, we're now a multi-million dollar agency (€7.1M in 2018) and we've been able to continuously expand. In the last two years, that growth has skyrocketed, with the team nearly doubling in size and moving to a new larger office location in Mechelen (near Antwerp), Belgium.
But with growth comes increased pressure to scale and land new client accounts and business. You get to a size where you need structure and efficient processes. Over the last two years, we realized we needed a better way to efficiently onboard new employees, brief our partners on how best to work together, and communicate with clients and prospective clients.
The Lightbulb Goes Off
As the Head of Digital Experience at BBC, it's my job to find fresh ways to use technology to build our business and delight our clients. About a year ago, I began experimenting with personal video as a way of communicating with colleagues, partners, and clients.
Using the Vidyard's free Chrome extension tool, I began filming myself. For instance, if I'm supporting someone using HubSpot, instead of writing a long email, I just share my screen and explain a workflow or feature. The reactions of my customers, suppliers and colleagues were really positive. That was enough so the lightbulb went off. I could see the business potential of personal video, and began championing video with all of my colleagues at BBC.
Understanding the potential of the Chrome extension, I did extra research and discovered Vidyard and all its services. The platform ranked very well in analyst reports and reviews online and had strong word of mouth referrals. Vidyard also integrates with HubSpot, and we're a certified HubSpot Gold Agency Partner, so that was another positive.
Very quickly, I found I was saving a tremendous amount of time using Vidyard. It's a more efficient form of correspondence. But more importantly, my suppliers and customers loved getting video messages. It was exciting, new, interesting and something they hadn't seen before.
Video = More Business
Soon I shifted my use of Vidyard over to prospects. I wanted to see how far we could go when pitching for new business.
Answering message of prospects are kinda impersonal and face-to-face meeting can be expensive and time-consuming—especially if you haven't yet qualified the prospect. So I started including video in our qualification process.
Now, when someone goes to our website and fills in a form, we'll send them a Vidyard and request a video call where we can gather information and prepare for a face-to-face meeting.
We find it starts the relationship with a prospective client in a very different, powerful and more personal way. And when we do get face-to-face, the meeting is oriented around discovery. We ask lots of questions, then follow up with case studies. I feel like we are more in control of the process and the message.
It immediately builds connection, trust, and relationships. Video makes selling easier.
A Cooler Way to Communicate
We are also using video at the proposal phase. Instead of sending over a PDF, we do video "chapters" that bring the prospective client right into our offices to showcase our work and meet the team. It's a personal and very authentic approach. Clients get the feeling that we're different and we can really showcase our creativity. It immediately builds connection, trust, and relationships. Video makes selling easier.
Also prospects love our video-based approach. And they're rewarding us for our creativity with their business. We're hearing things like, "This is a really original way to communicate," and "Let's go forward with these guys."
Since we started using Vidyard in our proposal process, we've pitched 10 accounts, won six, and have three who are still in the decision process.
Recently, we received a request for proposal (RFP) from a client that had a strict submission process. It needed to be formatted just so and submitted in a certain way. We threw caution to the wind and the rulebook out the window and instead submitted a video proposal. And we won. The client loved our creativity so much they broke their own RFP process to award BBC their business.
Even Management is on Board
Video has also allowed us to reach a much wider prospect audience more efficiently, without losing that personal touch. We now have customers in Austria, the UK, Germany, Switzerland, the US, and Benelux, where it just isn't feasible to visit face-to-face. It's helped take our business to the next level.
Even management has started using Vidyard and its services. They realized how authentic it is, what a time-saver it can be, and how Vidyard's analytics allow him to track and engage with clients at just the right time.
Welcome to the Year of Video
At BBC, 2019 is going to be the year of the video. We've hired a full-time in-house video expert and we are encouraging all our salespeople to try testing out video for business development. We'll never force anyone, but even the confident people are giving Vidyard a try and seeing the benefits.
If you're thinking about incorporating video into your proposal process I'll leave you with a few pieces of advice:
This isn't about how you look

—it's about who you are and what you're saying.

Pick the right platform

—of course, you can start with a free solution, but free doesn't give you the right metrics, it just helps you fine-tune your approach.

Get help from the experts

—Vidyard was very helpful in guiding us on how to use video in different ways.

Experiment

—yes, you will fail sometimes, but it's important to try lots of things. Don't be afraid to try.

Internal communication is a safe place to start

—video can be used for everything but you might want to start with trying it for internal announcements, briefings, or quick updates (i.e. debugging a website). It works for any type of internal communications situation. This also helps bring colleagues on board because it showcases video's value.

Do not over send videos

—know your audience.

Look at new possibilities for personalization

—support, sales, marketing, the possibilities are endless.




Just do it. Don't be afraid.

Good luck with the roll-out of your B2B video strategy!