We're sorry. Sorry. Stop apologising? Agh, sorry about that. Oh I apologised again? Whoops, sorry.
The only thing is that some brands, and most people (you know who you are), don't know how to apologise. Especially with email apologies.
The Carey School of Business found that only 37% of upset customers were satisfied when offered something in return for the issue. But, if the business said sorry on top of the gift, satisfaction increased to 74%.
So when should you send an oopsy-daisy, whoopsie, oh-no email? Well, first up, you've got to ask "was anyone impacted by my mistake?"
If your answer is no, then you're good to go. Chill out, have a drink by the pool. But if you're facing these issues:
Expired promotional codes
Privacy breaches
Emailing the wrong list segment
A technical issue
Wrong CTA links
An accidental offense
Then it might be time for an apology email.
It's not all bad though. In fact, there's an entire school of thought that believes that these failures can actually be seen as opportunities to improve customer loyalty.
Before we go into what you should do, let's have a quick look into what you shouldn't do:
Lack of specificity. Make sure your customers know what you're apologising for, explain it in full, and admit what you did wrong.
Lack of remorse. Open with the apology, and don't ask for a bunch in response.
Failure to explain next steps. Clear it with your customer that you're sorry for your wrongdoings, and promise it's not going to happen again. Then, detail the next steps, whether it's a free coupon or the right link.
1. FilterEasy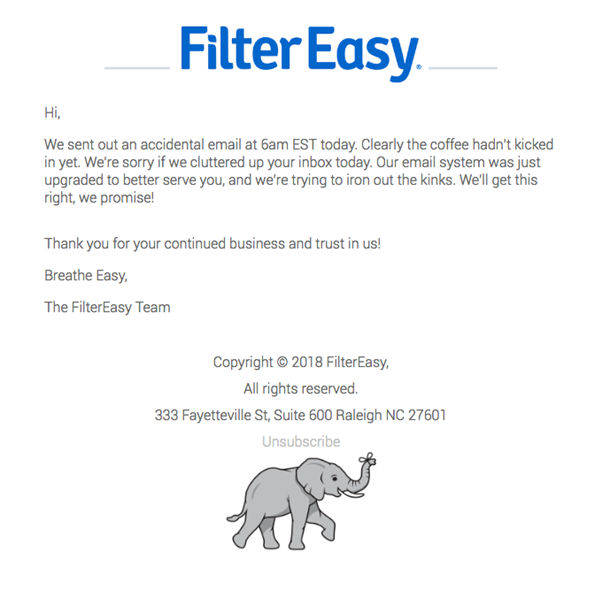 The subject name of this email? "Oops: Someone Hadn't Had their Coffee Yet This Morning".
So, this example is showing how to use humour in an apology email - if it's appropriate.
Humour can lighten the mood after a mistake, and can strengthen brand identity and consistency, which is important when conducting damage control. But before you use humour, consider how terrible your mistake was. If it was a light mistake, or out of your control, then humour will show your human side.
This email is also a good example of not playing the blame game. Your customers will respect you way more if you accept responsibility rather than finding a scapegoat.
2. ZocDocs
Now, this is a clever one.
ZocDoc is a provider of a software to schedule meetings, connecting users with doctors for almost every need in almost every area. Although, sometimes doctors don't accurately update their schedules, meaning that users sometimes make appointments for times that aren't available, which means a bunch of cancellations.
But instead of shrugging this off, ZocDoc is constantly looking for customer feedback on how to approve their service.
In the example above, though, ZocDoc wasn't actually responsible for the cancellation, the doctor's office was. But this still impacted the user's experience. So, ZocDoc acknowledged this, offered to make it right, and give a gift in exchange for the customer's help.
Through doing this, the company is putting themselves into the customer's shoes, and shows empathy for the downgraded experience.
3. Methodical
This email is straight to the point. And that's sometimes what you need.

Though the error might have slipped by some people without noticing, it could've upset specific individuals or communities. So, Methodical chose to be straight to the point, admitted their mistake, and promised to do better in the future.
They've still kept their tone of voice, but are using it in a way to show their ability to learn from past mistakes, and come across genuine, not grovelling.
Plus, the email is neat, stripped back, and straight to the point, meaning that the copy - and the apology - is the main event.
Humour can often be used to lighten the mood, but you can see that it's situations like this where humour shouldn't be used. Always consider, before using a joke or pun, if:
Did the mistake cause serious offense?
Would the joke continue to upset me, if I was my customer?
Could this make everything worse?
Methodical have shown their ability to stick to the 'Whoops' email idea structure in this single email; accepting the mistake, respecting customer feelings, and expressing plans to fix it.
4. Missguided
'Apologies' is exactly where your eye is drawn in this email.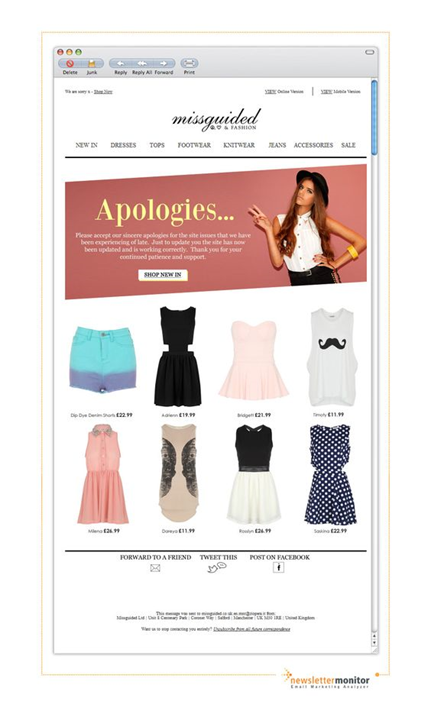 Sorry can be a powerful word and, while it can't undo what's been done, it can ease pain and repair relationships, and signal a fresh start.
Like Missguided, it's important not to overthink this action. You need to simply empathise with a customer, apologise, and be willing to accept you're at fault.
Missguided are showing a way to apologise for site issues, in a way that's not overdoing it. They also make it explicit that they'll be fixing the issue going forward. This comes straight after their expression of empathy, backing those words up with action.
With website outages, it's all about the speed of the emails, over the content. Website users need to know the problem isn't on their end, and be informed when the site will be back up and running. It can offer even more comfort for the user if you provide a detailed answer on when the site will be back to normal.
Then, when the issue is solved, another email must be sent out. You could even offer a discount as a thank you for their patience. Missguided haven't offered a discount, but instead chose to provide an easy way for customers to return to what they were doing before, and reminding them why they chose the brand in the first place.
5. Fab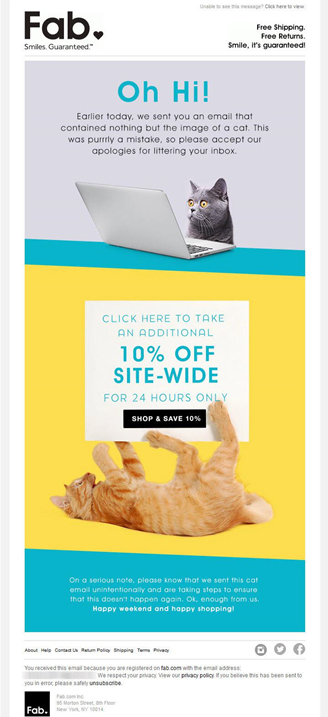 Fab is giving customers a reason to forgive them in this email, and it's not just the cats. Well, it might be mostly the cats.
Fab have kept their tone of voice, showing you don't have to go full-lawyer-or-PR-manager-on-damage-control. They maintained an approachable voice, and their token flare.
Plus, they've offered a promo, which sweetens the deal.
But what they've done cleverly is related to the email mistake. Fab actually sent an email with the subject line "[TEST] PM Tracking Test" to all of their subscribers. The email contained the image of a cat, and nothing else except a header and footer.
Most people wouldn't have sent an apology email, and that would make sense. But this apology is great because it isn't just an apology, it's a solidifying of their brand, and it's tone of voice.
But, they also close their email in a more serious way, reassuring users that they were taking the mistake seriously.
Although, we can't pass by this example without acknowledging that it seems a little like the pre-planned apologies for manufactured mistakes becoming popular with brands.
Some companies have actually started planning very small mistakes, for the sole purpose of apologising, and bumping email responses. This might work for some but be careful to not actually upset customers with fake mistakes.