Email has long had an excellent reputation for delivering in terms of ROI, but in a new report, just 47% of marketers rate it as an effective channel.
This is one of the findings from Gartner's Digital IQ Email Benchmarks for 2021, which looks at the email marketing performance of almost 1,200 brands.
The report suggests that marketers need to have a renewed focus on email, to think about what does and doesn't work, and to create more effective email strategies.
This loss of faith in email marketing is partly a result of the pandemic, and marketers losing focus on email best practices while trying to adapt to changing customer habits.
In some cases, changing habits and increased churn made email marketing more challenging, and many brands opted for a quantity over quality approach, sending generic emails and paying less attention to personalisation.
As the benchmark data demonstrates, those marketers that stuck to best practices, using customer data to segment and personalise, and sending more tactically and selectively, are those that achieve the best results.
Email performance by sector
The two best performing industries in the benchmarks were retail and financial services, with brands from these two industries accounting for nine of the overall top ten from 1,200 brands.
Retail - almost 80% of retail brands appeared in the top half of the index, with Best Buy, Target, and Costco in the top 10%. Retailers had the highest total opened emails during the scoring period and the strongest year-over-year growth in site visits from email, along with the highest overall average monthly site visits from this channel.


Financial services - this sector accounted for five of the top 10 spots overall, with the top tier (top 20%) of finance brands close to retail performance. Financial services brands achieved the highest open rates of all, partly due to the essential nature of the industry, but also because these brands use the data they hold effectively.
Score Distribution by Industry Tier: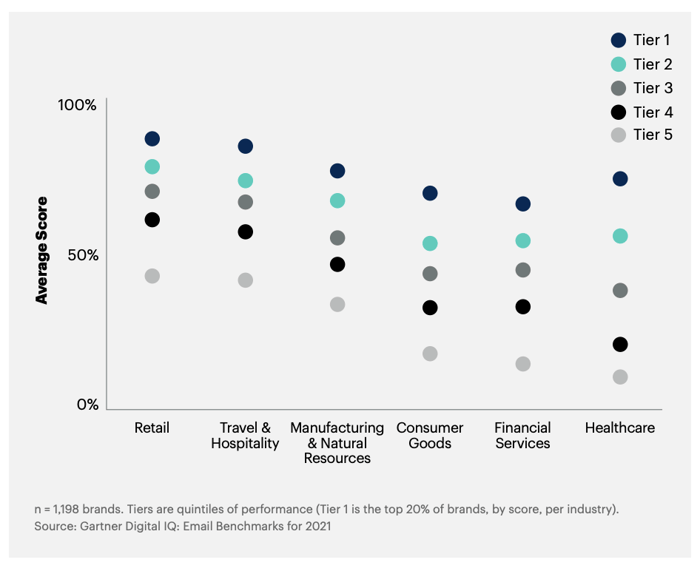 The importance of data and personalisation
One common theme in this report is that marketers haven't been making full use of customer data compared to previous years. For example, the share of emails triggered by a past activity declined 25% year on year, as marketers reverted to generic email blasts in a bid to drive revenue.
There were some challenges around the use of customer data, thanks to existing data sources being unavailable or out of date.
The leading sectors in this report were able to send more targeted emails. Financial services sent emails to just 4.7% of subscribers on average, but generated open rates of 27.1% in 2020. By contrast, FMCG brands generated average open rates of 17.8% after emailing more than a third of subscribers.
This underlines the importance of using data for more selective but effective email campaigns, but also reflects the challenges FMCG brands face thanks to a lack of data.
Open rates vs percentage of list by industry:
Email viewed as less effective than 'newer' channels
44% of marketers across industries used email marketing to support their digital marketing strategy over the past 12 months, according to Gartner's 2021 Digital Marketing Survey. Email endures as a marketing tactic as it has historically driven ROI.
Email, as it is a first party tactic, endures changes in the media landscape around data privacy or Google's decision to drop cookies (but not quite yet).
This doesn't mean email is easy, and marketers rate top of funnel channels such as social marketing, digital advertising, and influencer marketing as most effective in terms of conversion to sales.
Most effective channels at conversion to sales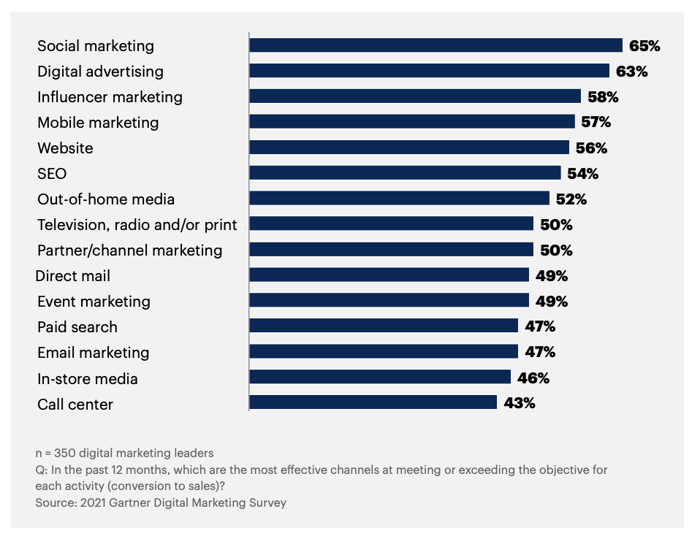 In summary
The fact that marketers are seeing email as less effective than some other channels doesn't mean it's lost its power, rather that marketers need to consider why it is less effective, and seek to improve returns.
The benchmarks here show that the best marketers are able to achieve excellent results from email marketing, but only if the data and strategy is right.
There's a need for some marketers to focus on what makes email marketing effective: the use of customer data and the personalisation and segmentation that this data allows. Generic email blasts may gain some small returns, but they are unable to match a more targeted and data-driven strategy.