Tim is an experienced research and insight professional, with a background in social sciences and over 12 years' experience in communications, data, marketing and technology.
A social scientist by training, with an MA in Sociology from Aberdeen University, he has a proved track record of planning, executing and delivering tactical insight projects across a range of sectors.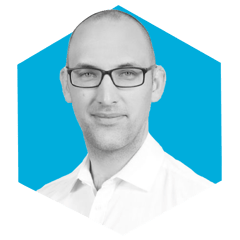 1. Let's start with you! Can you give us a quick overview of what your company does and your roles and responsibilities there?
The Data & Marketing Association (DMA) guides and inspires industry leaders, advancing careers and nurturing the next generation of aspiring marketers. We set the standards marketers must meet to thrive, representing over 1,000 member companies from across the data and marketing landscape. We champion the way things should be done, through a rich fusion of technology, diverse talent, creativity, insight – underpinned by our customer-focused principles.
I am the Head of Insight at the DMA, where I use my background in social sciences and over 12 years' experience in communications, data, marketing and technology to lead the research team. A key part of this is developing actionable insight for the data-driven marketing industry, which also supports the association's core functions in putting the customer first and leading the sector in creativity and innovation.
2. Now there's not an industry in the world that hasn't been impacted by Coronavirus in some way either positively or negatively – what have been the biggest changes and challenges at your business and day to day?
We've been surveying the data and marketing industry since March, listening to the key concerns and impacts the virus is having on their businesses. The figures from our latest edition – in early September – shows that early optimism of a post-summer recovery was short-lived. Revenues have remained at just over two-thirds their pre-pandemic levels and significant fears over cashflows and the prospect of further job losses across the industry remain.
Essentially, trading remains extremely difficult for many businesses across the data and marketing industry and many businesses will have difficult decisions to make over the coming months if they are to survive. What's clear from our research is that we need to ensure we're protecting both people's health and their livelihoods if we're to not just survive but thrive post-pandemic.
3. It's going to be a different world once we come out of this, do you have any Post Pandemic Predictions for the industry…or the world?
During the pandemic, we've seen some dramatic changes to the ways we all live and work. However, many of these are not new trends. In fact, our research partner Foresight Factory have been tracking how some of their key trends for 2020 amid the pandemic to understand which are in flux as a result. Whether they've been accelerated or even slowed as a result, and if that's likely to be a short or long-term change.
One of the biggest shifts for many has been the need to be physically present. Across our daily lives the digital alternatives to physical presence have seen a huge uptick. One lasting legacy of this period will surely be the realisation that it is OK to dial-in remotely and that this isn't the compromise it was once seen as.
Coronavirus has changed a lot, but whether these changes will ultimately stick we'll have to wait and see. What will be key for brands is the ability to understand customers, being able to deliver data-driven customer experiences and willing to adapt as the world around us continue to change.
4. We're super excited to have you joining us as a speaker for our virtual event #MarTechFest Dial Up Series 2 – what can our audience expect from your session?
A deep dive into the most important part of the most important customer communications channel: Email Deliverability.
Email remains the beating heart of every customer engagement strategy, in fact both customers and marketers tell us as much in our annual research series. This talk will focus where the email journey starts and how mistakes at this early stage can have significant impacts to the bottom line. Going on to share some of the ways brands can improve and make the first step a sure-footed one.
5. What bad marketing advice do you hear too often?
It continues to amaze – and frustrate – me how often we hear about how marketers should all be doing this latest cutting edge or trendy thing. Especially when we see so many organisations failing to equip their teams with the skills they need to deliver on many of these. That's not to say these aren't the future, but brands need to make sure they have a realistic picture of both what's achievable for their business, but also what benefit they're offering to customers. As if your customers aren't at the heart of what you're doing, why are you doing it?
6. What do you think is the biggest misconception people have about marketing technology?
That it's easy. Not enough budget, resource or time is put into the people that actually need to use the marketing technology. We regularly see in our surveys only around half of businesses offer ongoing training across various areas of data and marketing. In an environment that is in near-constant evolution, how can people be expected to keep up with no provision for learning?
7. What advice would you give to your younger self to drive your career?
Embrace the geek. Don't be afraid to ask how something works, why decisions were made or whether the solution actually works. I've always wanted to understand how things work, from deconstructing CD players (sorry mum) to how consumers interact with society. So, I'd say embrace what fascinates you and find a way to feed it.
8. Work can prove stressful in a position like yours. How do you stay healthy and energised?
A 200-year old contraption that has remained remarkably similar over all that time. The bicycle. During lockdown I don't know how I would have coped without my bike to escape to. Beyond the fitness benefits, it's the mental and psychological ones that it offers too. Whether I need to think about nothing for a while, mull something over or really think something through, a good long ride is always the answer for me.
9. What's the best thing you've done to develop yourself in the last year?
"I've actually done the learning and training I always tell myself I will. It's always easy to say you're too busy to fit in a course or even a webinar, let alone a 4-hour bike ride before lunch. But over the last year – and particularly during lockdown – I've managed to force myself to stick to the personal development goals I've set. That means taking the online course, attending the virtual events I've wanted to and also riding my bike (a lot).
10. What's on your watchlist of emerging marketing trends to keep an eye out for?

I hope that the biggest trends to come out of this challenging time for many will be compassion and creativity. I think we've seen a marked increase in the empathy between people and from brands since March this year, which puts people front and centre. We've also seen tremendous creativity on both a personal and business level, from individuals finding new ways to help neighbours to companies pivoting their entire business model to help – and survive. I hope to see both continue long after Covid-19 is behind us.
Tim is speaking at #MarTechFest Dial Up, make sure you sign up to catch his sesh!