Nick is the Lead Marketing Technology Consultant at Blended Digital. He has been working directly on all aspects of marketing technology platforms for 6 years and is a certified Marketing Technology Consultant.
His core background has been implementations of MarTech platforms such as Salesforce Marketing Cloud, Salesforce CRM, Marketo & related digital technologies across large complex accounts, within non-for-profit, financial services & the retail sector.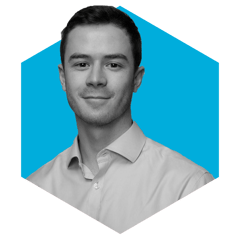 1. Let's start with you! Can you give us a quick overview of what your company does and your roles and responsibilities there?
At Blended Digital we enhance companies marketing technology capabilities and deliver impactful growth by pairing data automation process and internal enablement. We blend disparate systems surface customer data and deliver on MarTech capability.
I am the Lead Marketing Technologist, sitting under the Chief Marketing Technologist in our team. My role is a hybrid role that focuses on technical implementation, strategy and project management.
Working closely with our clients and our team of MarTech Consultants from platform selection, platform configuration, enablement and driving ROI from MarTech solutions. Depending on the day, I may be hands on writing code or orchestrating our staff to ensure delivery of projects is on task and delivering on our brand values.
2. Now there's not an industry in the world that hasn't been impacted by Coronavirus in some way either positively or negatively – what have been the biggest changes and challenges at your business and day to day?
2020 has definitely been a challenging year! The biggest change we have noticed is that organisations are increasingly open to working with us internationally. Prior to COVID, organisations generally had a preference for MarTech partners who were within their own country or region.
Now, in the world where working from home dominates as the mandated, and for many, preferred way of working. We have seen these international barriers have been removed. This has definitely been an interesting change in our day-day working with many more clients from varying countries.
The most challenging aspect of this most definitely being the constantly changing ways of working! Where the end of the day in Australia is the start of the working day in much of Europe!
3. It's going to be a different world once we come out of this, do you have any Post Pandemic Predictions for the industry…or the world?
The pandemic has seen a seismic shift in the way we as consumers, consume, and with that also the methods of marketing are evolving quicker ever to a digital first strategy.
MarTech in the next five years and beyond will only become increasingly important, as consumers preferences for digital switch ever stronger to consuming online. MarTech will need to become an increasingly larger focus for organisations wanting to stay at top of mind to the consumers of today and tomorrow!
4. We're super excited to have you joining us as a speaker for our virtual event #MarTechFest Dial Up Series 2 – what can our audience expect from your session?
Alan Deputy Director - Head of Data, Insights & Strategy at Greenpeace and myself (Nick Epstein - Lead Marketing Technology Consultant at Blended Digital) are going to be sharing some of our key tips to success when implementing Salesforce Marketing Cloud. Touching on the learnings from our recent experience implementing Marketing Cloud across 3 regions with Greenpeace East Asia!
Marketing Cloud is one of the most capable and customisable MarTech platforms out in the market today. Though there are some key things anyone embarking on implementing the platform or who may already have implemented the platform should take into consideration to ensure the implementation is a success! Both in terms of unlocking the systems capability, though importantly system adoption and adoration by internal teams!

For those who are not using Salesforce Marketing Cloud, the tips are definitely still applicable to other MarTech platforms as many of the challenges in implantation are universal.
5. What bad marketing advice do you hear too often?
That you must send X number of communications per week. This advice is often inconsistent from organisation to organisation in terms of how many communications to send and very often not backed by data.
6. What do you think is the biggest misconception people have about marketing technology?
The misconception that high performance Marketing technology is only accessible to larger organisations with large budgets. There are so many platforms and tools at our disposal in 2020. We are spoilt for choice and there is a platform for almost every level of technical experience and budget.
7. What advice would you give to your younger self to drive your career?
Find a mentor with experience in your field as soon as you can! They are invaluable, having someone who has been where you are and can guide you on your career journey certainly helps greatly. I wish I had done this sooner!
8. Work can prove stressful in a position like yours. How do you stay healthy and energised?
When working from home, I find it is best to keep some exercise equipment in your home office so that it makes you feel guilty if you do not use it!
If you need to get up to get some water, do some band work, lunges, squats. Whatever it may be, keep moving and don't forget to get up from your work chair!
9. What's the best thing you've done to develop yourself in the last year?
Broadening my exposure to new MarTech platforms most definitely. It's always interesting to learn a new platform and I find the things you learn within one platform are very often applicable to a variety of others.
10. What's on your watchlist of emerging marketing trends to keep an eye out for?

The integration of CDP's into MarTech platforms, CDP's are becoming increasingly widespread and there are many offerings in the market. I am waiting to see these platforms more seamlessly integrated into marketing automation platforms.
Nick is speaking at #MarTechFest Dial Up, make sure you sign up to catch his sesh!