Neil Stoneman started his marketing technology journey over 20 years ago, with the goal to blur the silo boundaries that lead to fragmented marketing projects.
Neil has worked with some of the world's largest technology companies to unite creative and operational strategies. It's a trick he learned working with a newly minted Marketo as an advisor on their early content marketing efforts while simultaneously consulting with clients on launching the new technology.
At Velocity Partners for over 10 years, Neil is now Performance Director, where he works to bring client creative and data streams for maximum impact and effectiveness.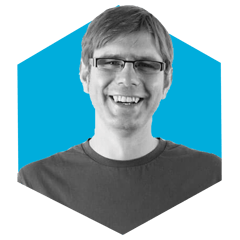 1. Let's start with you! Can you give us a quick overview of what your company does and your roles and responsibilities there?
Velocity is the B2B agency for the stars. I look after our performance arm. I like to think of it as making sure our creative work gets to shine and everybody gets to know about it.
2. Now there's not an industry in the world that hasn't been impacted by Coronavirus in some way either positively or negatively – what have been the biggest changes and challenges at your business and day to day?
Keeping everybody – and I mean everybody – collaborating. It's easy to be productive in a silo if we're not careful.
3. It's going to be a different world once we come out of this, do you have any Post Pandemic Predictions for the industry…or the world?
The industry, like a good (Scottish) whisky, will be all about the blend. Collaboration technology is a big winner. And who thought QR codes would finally find such a purpose.
4. We're super excited to have you joining us as a speaker for our virtual event #MarTechFest Dial Up Series 2 – what can our audience expect from your session?
We hope you'll get some simple, actionable tips that touch on creative collaboration that mean so much to us and drive disproportionate outcomes.
5. What bad marketing advice do you hear too often?
Anything that focuses on trends rather than outcomes. New things aren't always right. Old things aren't always wrong.
6. What do you think is the biggest misconception people have about marketing technology?
That it's not creative or worse that it's anti-creative. It's a box of tricks, full of creative potential.
7. What advice would you give to your younger self to drive your career?
Be brilliant at the basics first. Move on when that's complete.
8. Work can prove stressful in a position like yours. How do you stay healthy and energised?
Work for a company that cares about its people. And try to make the walk round the park than to the beer garden.
9. What's the best thing you've done to develop yourself in the last year?
My Coursera subscription has gone from "I'll start next week" to "What's next?"
10. What's on your watchlist of emerging marketing trends to keep an eye out for?

Anything that does something a cookie used to do.
Neil is speaking at #MarTechFest Dial Up, make sure you sign up to catch his sesh!