Anita Brearton is Founder/CEO of CabinetM, a marketing technology management platform that makes it easy for marketing teams manage technology spend, use, performance, and strategy.
A long-time technology marketer, Anita has led marketing teams from company inception to IPO and acquisition. She is the author of the Attack Your Stack and Merge Your Stacks workbooks that have been written to assist marketing teams in building and managing their technology stacks, a monthly columnist for CMS Wire, speaks frequently about marketing technology, and has been recognized as one of 50 Women You Need to Know in MarTech.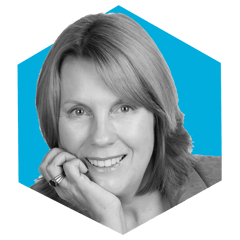 1. Let's start with you! Can you give us a quick overview of what your company does and your roles and responsibilities there?
I'm the founder/CEO of CabinetM, a marketing technology management platform. In a nutshell we help companies manage all the technology they are using and find the technology they need. Our platform makes it easy to collaborate around and report on technology use, performance, spend and strategy. Powering our platform is the industry's largest directory of marketing technology with more than 15,000 products across 500+ categories.
2. Now there's not an industry in the world that hasn't been impacted by Coronavirus in some way either positively or negatively – what have been the biggest changes and challenges at your business and day to day?
We are all working remote which though a change was a seamless transition for us as we already had a good culture around being able to work at home if needed. Our biggest challenge was the impact of Covid on our customer and prospective customers. Decisions around new technology and tools didn't make anyone's priority list in the early months of Covid. Everyone was too busy trying to deal with the impact of Covid on their business, transitioning to working at home and juggling childcare, and managing a remote team. Fortunately all that has settled down and things are starting to move again.
3. It's going to be a different world once we come out of this, do you have any Post Pandemic Predictions for the industry…or the world?
Working at home is here to stay. In my perfect world I'd like a hybrid environment, with three days at home and two in an office. I'm missing the spontaneous in person meetings. I believe that we'll see an acceleration of digital transformation programs and as a result of that more innovation in marketing technology. I'm really excited by that; I always thought that AI would be the ultimate catalyst for digital transformation because of its opportunity to automate and transform the way we operate across the business, and as a result will redefine job responsibilities. AI is going to extremely important to how we imaging Digital Transformation but Covid is going to be the catalyst for driving the initiatives.
4. We're super excited to have you joining us as a speaker for our virtual event #MarTechFest Dial Up Series 2 – what can our audience expect from your session?
We have many companies managing their technology stacks on our platform and by looking at the aggregated data from those stacks and talking to our customers we're seeing clear trends related to how organizations approach building and managing their stacks and the products being used in their stacks. My session will provide 10 actionable insights to help marketers on their stack building journey. I've also included some data about most popular products since that's always the first question someone asks us.
5. What bad marketing advice do you hear too often?
I live in the start-up world and in particular the B2B start-up world, and there I see too many companies focused on company name and logo instead of market validation and marketing strategy. In the B2B world, you need a name that someone can say and spell and that works as a URL and Twitter handle and that's it plain and simple. From a logo perspective, I always recommend incorporating the company name in a B2B company logo. You don't have the time, resources or funds to create awareness for a name and a separate logo identity. Again, plain and simple. It makes me crazy when investors recommend to young B2B start-ups that they hire a branding agency — BIG WASTE OF TIME AND MONEY.
6. What do you think is the biggest misconception people have about marketing technology?
Marketing technology is not marketing despite someone who shall not be named having that as a tagline. The goal of marketing is to create awareness and love for your brand and product which in turns drives repeat business, loyalty and ultimately advocacy. Think of it like building a house — your marketing strategy is your architect's drawings, your marketing plan the materials you use to build the house, and your marketing technology is the set of tools and nails that you use to construct the house. At the end of the day, marketing technology helps you execute on a marketing strategy and plan. It is not the strategy or plan.
7. What advice would you give to your younger self to drive your career?
Sometimes I bemoan how long I've been in the industry but the big advantage I have was that I grew up in a marketing environment without marketing technology and where the focus was on strategy and planning.
Today, entry-level marketers are generally assigned to one or more tactical execution level jobs (e.g. social media, CRM management, email) without being exposed to strategy and planning. This frequently leads to terrible marketing and a perception that more of anything is better — if one email is good, 100 must be excellent.
I always council younger marketers not to start "talking" until they know what they want to say. Knowing what to say comes from an understanding of marketing strategy and the marketing plan. My advice to someone new to marketing is to always strive to understand the strategy and plan and to make sure that you focus on developing those skills in the same way you develop your technology skills. I still recommend Marketing Warfare by Al Ries and Jack Trout even though it's years old, as a great book for learning about marketing strategy. It's short, easy to read and makes you think!
8. Work can prove stressful in a position like yours. How do you stay healthy and energised?
Well this is not my strong suit — I tend to work until I'm exhausted and Covid has only exacerbated that. The time I used to spend commuting is now work time, and as a woman I've also gained time from skipping the hair and makeup and some days the shower. At this point in my career I've accepted that this is who I am and am unlikely to change.
Having said that, I am trying to make time to take a daily walk, and once I finish work in the evening which is generally no later than 7pm (I'm an early bird), I do not work again after dinner — I just give in to watching television. I'm also trying to stay out of my home office on the weekend. I try and use my peripheral devices (phone and iPad) to stay on top of email and address any urgent issues but work hard to give myself at least one day if not two, to recharge.
9. What's the best thing you've done to develop yourself in the last year?
When Covid hit I used it as an opportunity to take a ten week part-time online coding class that I could do on my own time. It's made communicating with my engineering team easier and possible for me to better assess the severity of an issue when we hit a bump in the road in development. I think this is a great time to add more skills to your repertoire.
10. What's on your watchlist of emerging marketing trends to keep an eye out for?

1. New technology to support remote working.
2. The evolution of virtual events — we've already seen a move from live to on-demand, I think there's a lot more to come.
3. New tools for lead acquisition now that our environment has completely changed.
4. An increasing need to evaluate and report on the ROI of every marketing technology tool, in an uncertain economic environment there is no room for bloated tech stacks.
Anita is speaking at #MarTechFest Dial Up, make sure you sign up to catch her sesh!