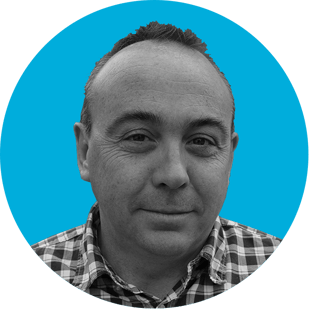 As part of the research into the UK Marketing Technology Landscape Supergraphic #UKMarTech, we reached out to some of the UK's key marketing technology vendors.
We chatted on what makes them tick, what makes their companies successful, and gained valuable insights to the current & future state of martech.
Craig Hanna, Partner & Board Director:
Cohesion
Q. In one Tweet (now 286 characters) describe Cohesion for anyone not familiar?
A. Cohesion DX8 is the first enterprise grade visual website creator for agencies and internal teams who want to work faster, smarter and deliver pixel perfect Drupal websites. By enabling designer led builds through our lowcode visual UI you can create better digital experiences for your customers.
Q. Can you tell us a little bit more about you and how the business came about?
A. The founding team came from an agency background and where dealing with the day to day challenges of trying to deliver ever more complex websites against a backdrop of rising staff costs, a shortage of talent, faster delivery times, fixed budgets and higher customer expectations. There had to be a better way. One where designers could do more, where assets could be reused, where ongoing changes to UX and design could be done quickly and where marketing teams got an editing experience that allowed them to do more.
Q. What books, publications or individuals do you take inspiration from?
A. So many. Charlie Munger for constantly reminding us that we all come with predefined ideas and that you need to use various mental approaches to make sure you aren't doing the wrong thing because its your perspective. Many blogs – Only dead fish, Farnham street etc I read a lot.
Q. What do you think has been the driving force behind your growth to date?
A. We've just come out of private beta so its early days. Focusing on the business case rather than features has been keen. Agency leadership get very interested when the can see the efficiency gains we can bring to their businesses which are under significant margin pressure.
Q. What have been some the toughest moments with the business?
A. Realising the scale of what we were trying to do and then finding ways to communicate a complex, powerful tool where there are no other similar technologies/approaches so no baseline for people to grab on to. It's a completely new approach and genuinely disruptive but that isn't always easy to explain.
Q. What do you think is in the DNA of a British MarTech Company that differs from the likes of the United States?
A. Finances, scale. US is such a big market and the funds available are much higher. Not sure if that's good or bad. Probably both and neither! UK startups need to be more ambitious I think.
Q. What martech platforms or services (beyond your own of course 😀) do you use for your own marketing that you would recommend?
A. Drupal, Hubspot, Hootsuite, Google analytics, Hotjar, Leadfeeder. Sure there are others...
Q. Finally if we fast forward 5 years where will Cohesion be, and how do you think the marketing space will have evolved?
A. Our plan is to scale rapidly. We believe that there is a large market opportunity and our roadmap takes us well past where we are now. International is a key part of that growth.
In terms of marketing the next level of computer assistance will be key – machine learning, voice interfaces and lowcode being three examples. Future gazing is tough but I think we can be certain that customers expectations in terms of digital services will continue to rise. Connecting the dots will be key
---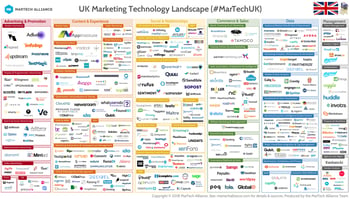 Get your high resolution version of the UK Marketing Technology Landscape Supergraphic here