UK MarTech & SalesTech Landscape 2022
The fourth edition of our UK Martech landscape shows continuing growth, with our research identifying 1,200 UK-based marketing and sales technology companies.

(Psst... if you're a Founder, CEO, COO, or Leader from one of the companies on the latest local landscape join us for drinks at our major AntiConLX Global Event, 1st July London.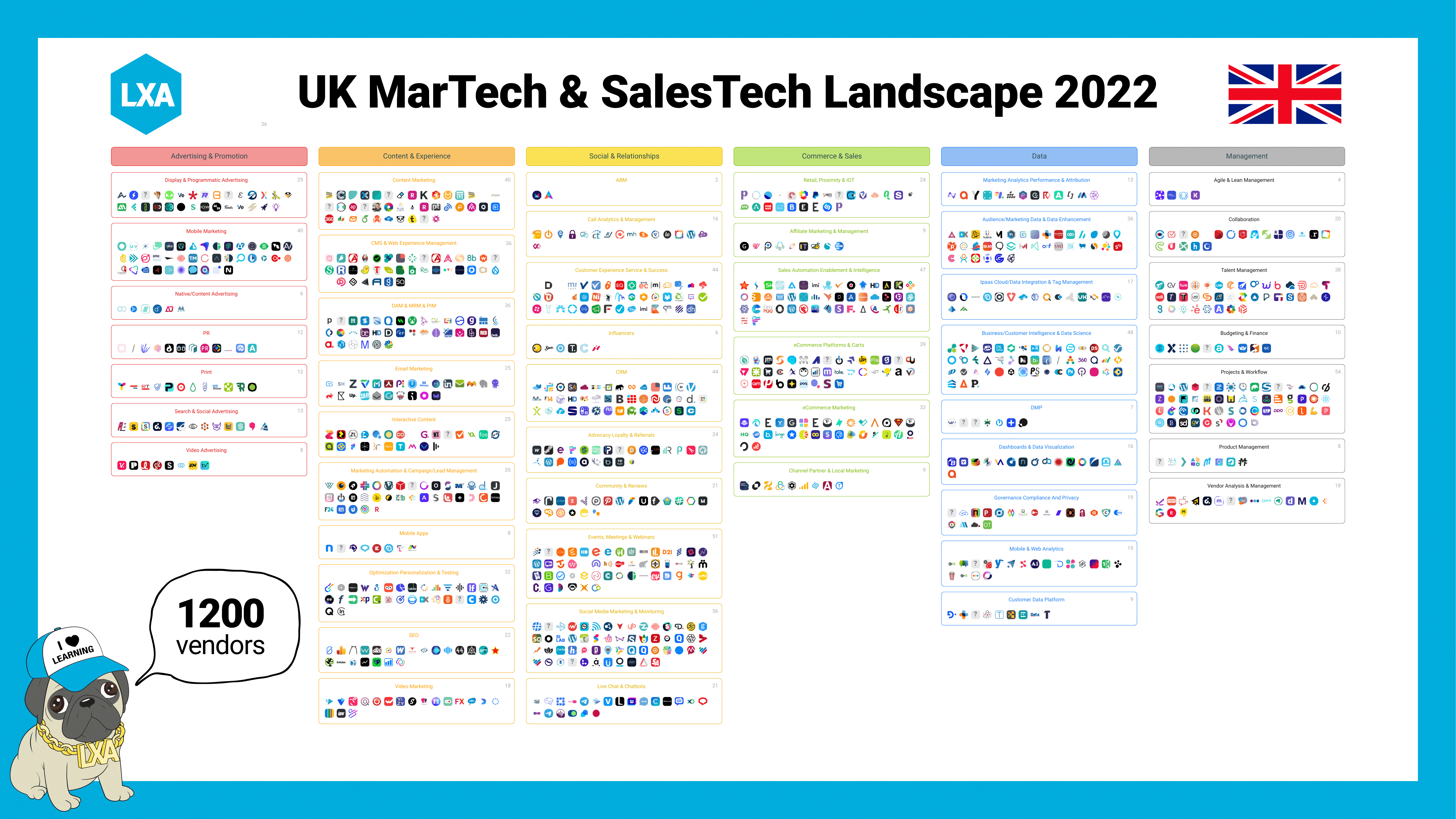 Download an Excel file listing the UK MarTech & SalesTech 2022 vendors by completing the form.


Background
In 2017, Scott Brinker keynoted our AntiConLX Global. At this event he challenged LXA CEO Carlos Doughty to produce a local martech landscape to better recognise martech companies from the UK.
Fast forward four years and the UK marketing technology market has exploded, and we're now seeing more innovation than ever.
The fourth edition of our UK Martech landscape has identified 1,179 UK-based marketing and sales technology companies.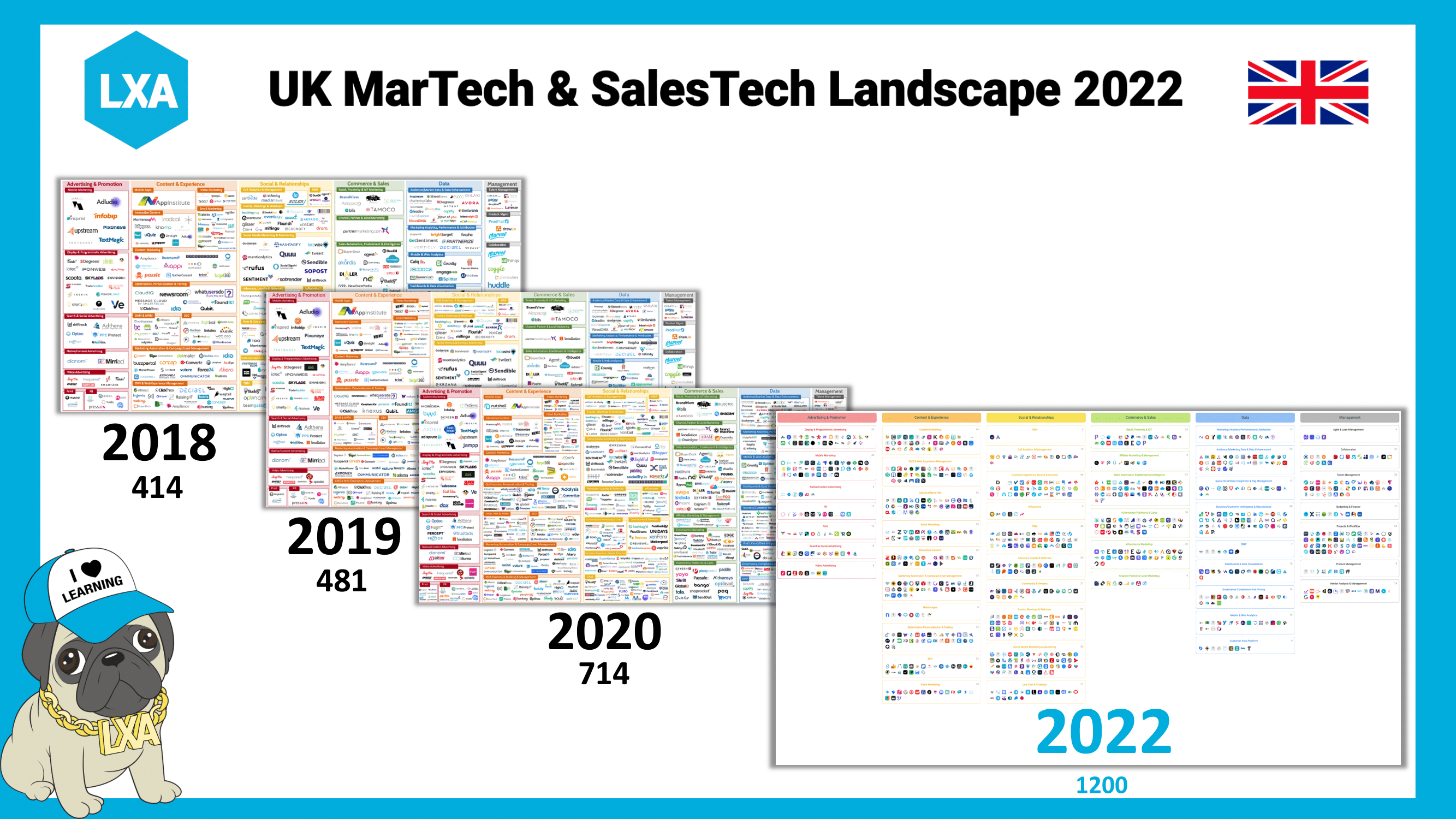 486 new vendors have been added to the landscape since the last edition was published in 2020 (68.1% growth). When we compare it to the first edition from 2018, we've seen growth of 189.9% in just four years.
This landscape covers companies that were founded in the UK, or are currently headquartered in this country.
"Why do we bother with this landscape? It's not to provide a definitive list of every possible vendor, but instead to demonstrate the growing importance of the martech and salestech space, as well as the need for marketing, sales, revenue and growth professionals to focus on the space."
Carlos Doughty, CEO & Founder, LXA
The landscape has been renamed the UK MarTech & SalesTech Landscape, and we've also changed the category of Commerce & Sales to SalesTech.
Salestech is about digital commerce, and sales people, it spans B2C and B2B. And sales technologies and marketing technologies are both intertwined and often indistinguishable from each other. As are marketing operations and sales operations. It makes sense to talk about the two collectively.
This is why we launched our SalesTech channel this year, which now offers events, courses and resources for sales operations, growth, revenue and sales officers.
Also new is the use of 'favicons' pulled from vendor websites rather than company logos. This approach was used by Scott Brinker and Frans Riemersma in the 2022 Martech Landscape. It's a more efficient approach, and one that makes for a neater graphic.
While the martech industry is dominated by US vendors, which account for 73% of tools in the 2022 landscape, there is still great value in looking at country landscapes.
As Frans Riemersma explains, these country landscapes help us to uncover new and innovative vendors, and find local tech solutions which may be more relevant for some marketers.
Some key stats from the 2022 UK Martech & SalesTech Landscape:
There are a total of 1,200 UK based tech vendors.
There are 293 vendors in the largest category, 'Content & Experience', which accounts for 24.2% of all vendors.
Next is 'Social & Relationships' with 289 vendors (23.9%).
There are 191 vendors in the 'Data' category (15.8%)
'SalesTech' accounts for 168 vendors (13.9%), followed by 'Management' with 153 (12.7%).
From an M&A activity perspective the space has been particularly busy, Luma reports 95% growth in deal activity during 2021. Examples of recent UK deals include:
Thanks to all the contributors to this landscape, which include Scott Brinker from Chiefmartec, Frans Riemersma of MarTech Tribe and Anita Brearton from CabinetM.
We've tried to include every UK Martech and Salestech vendor in this landscape, but apologies if we've missed any, do let us know and we'll include missing vendors in future updates.
If you'd like to reproduce this graphic in blogs and presentations, please feel free to do so. Of course, we'd appreciate a link back to this page.