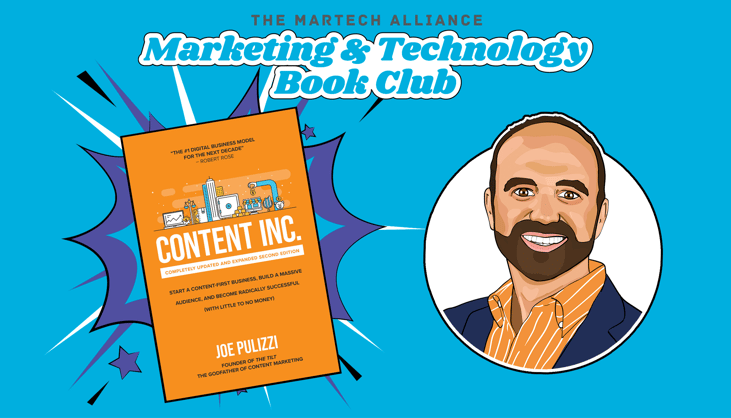 If there's one thing I've learned in this job, it's that there's no need for brevity when naming a business/marketing book. There's always one snappy title, and then a subtitles that's a whole paragraph in itself.
This book is no different, and actually moves things a whole step further. It's a great book, make no mistake, but this title is something else. It's called Content Inc., Second Edition: Start a Content-First Business, Build a Massive Audience and Become Radically Successful (With Little to No Money).
Don't get many books with brackets in their titles, do you? That's got the word count up.
Anyway, that's enough rambling. Onto the book! Written by the mercurial Joe Pulizzi - who we've interviewed and I'll tell you about that soon - the "Second Edition" part may give away that this is a sort-of sequel to the slightly shorter titled Content Inc.: How Entrepreneurs Use Content to Build Massive Audiences and Create Radically Successful Businesses.
Joe Pulizzi is the founder of The Tilt and is commonly referred to as The Godfather of Digital Marketing, and in his second edition, he has updated his advice to help people survive and thrive in the post-COVID market.
As per the description:
You'll learn how to develop valuable content, build an audience around that content, and then create a product for that audience. Content Inc. walks you through the entire process, showing how to
Identify the intersection of your expertise and your future customer's needs
Determine how to "tilt" your sweet spot to find a place where little or no competition exists
Establish your number-one channel for disseminating content (blog, podcast, YouTube, etc.)
Use social-media and SEO to convert one-time visitors into long-term subscribers
Grow your business by expanding into multiple delivery channels
Monetise your product or service for ultimate business success
Understand how to sell your content asset for millions or build the business into a large enterprise
The advice you'll find in the book is genuinely unparalleled and you legitimately will not regret flicking through the pages of Content Inc 2. A casual browse will become an intense interest before you know it.
If you want a copy - and you should - you can get yours from our Marketing Book Club list here!
As for the interview that I mentioned up top, here it is! Our lovely CEO Carlos Doughty sat down with Mr Pulizzi and spoke about everything that made him the Godfather of Content Marketing. This covered:
Taster of what the book uncovers

Joe's writing process

What's playing out in the media landscape

Content creators who have really understood the changing landscape and capitalised on it

Tilt coin

What is in the skills stack of a great content creators

Joe's advice to his younger self

and loads more...
Give it a listen below!

Enjoy!