It's been quite the year for martech companies. It's been acquisitions, funding rounds, and mergers galore!
So with all the new friendships made, and money in the bank, who's moves have been so huge, so monumental, so industry-changing, that they've made our list?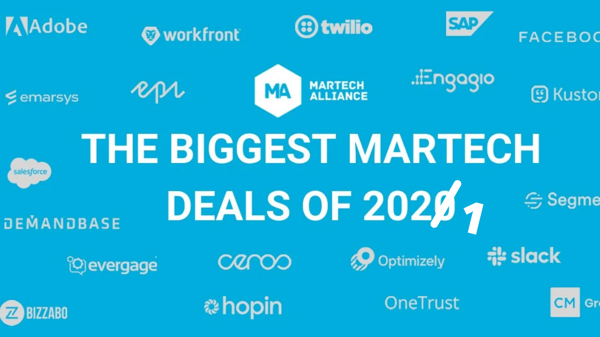 The past 12 months have seen a flurry of activity in the martech sector. Luma reported a 214% growth in martech M&A activity year on year in its Q2 2021 report, with several notable acquisitions of messaging platforms during Q2, including Twilio buying ZipWhip for $850 million.
Well, it's time to bring out some of the industry darlings. Forget the Oscars, forget the BAFTAS, forget the Yearbook Superlatives (best hair goes to MailChimp). Now, let's reveal the winners.
Snap Acquired WaveOptics
Snap agreed to acquire WaveOptics in May 2021. The company supplied the augmented reality displays that power Snap's new Spectacle Glasses. It's reported that the deal was for a cool $500M.
Citrix Acquired Wrike For $2.25B
In January, Citrix acquired Wrike, from Vista, for $2.25B. Vista had bought the SaaS project management platform just two years ago.
"Together, Citrix and Wrike will deliver the solutions needed to power a cloud-delivered digital workspace experience that enables teams to securely access the resources and tools they need to collaborate and get work done in the most efficient and effective way possible across any channel, device or location," said Citrix CEO and president David Henshall.
Amazon Acquired MGM For $8.45B
Amazon announced its acquisition of the 97-year-old film and television studio for $8.45B this May.
"The real financial value behind this deal is the treasure trove of IP in the deep catalogue that we plan to reimagine and develop together with MGM's talented team," Mike Hopkins, senior vice president of Prime Video and Amazon Studios, said in a statement.
"It's very exciting and provides so many opportunities for high-quality storytelling."
Klaviyo's Funding Round Raised $320M
In May, Klaviyo, a customer data and marketing automation platform, announced its series D funding round had raised $320M.
The round was led by new investors Sands Capital, with participation from existing investors Accel and Summit Partners. This has come soon after the company's $200M Series C in November, with the company now valued at $9.15B. This new round brings their total fundraising to over $675M.
Yotpo's Funding Round Raised $230M
E-commerce marketing start-up Yotpo raised $230M in March, gaining a valuation of $1.4B.
"Our round, in my eyes, it's all about celebrating the future of e-commerce," co-founder and CEO Tomer Tagrin told me.
"Brands don't need to worry about connecting the marketing stack anymore."
Sitecore's Funding Round Raised $1.2B
Digital experience software company Sitecore received a $1.2B private investment in January.
"Sitecore officials are calling this the largest-ever capital investment in the martech space," reported CMSwire.
"While the claim is hard to verify since not all companies share data on private investments, the funding is far from insignificant."
Intuit's
Acquired
Mailchimp For $12B
September saw Intuit confirm their $12B to buy Mailchimp. The company, best known for its TurboTax software, has previously purchased Credit Karma and Mint.
The company had more to say in that its Mailchimp buy would allow it to "accelerate two of [Intuit's] previously shared strategic Big Bets: to become the centre of small business growth; and to disrupt the small business midmarket."
Salesforce Acquired Slack For $27.7B
Salesforce officially completed its acquisition of Slack for $27.7B in July this year.
Salesforce said it planned to combine Slack with Salesforce Customer 360, a CDP that allows companies to connect with Salesforce apps.
Twilio Acquired ZipWhip
In October 2020, Twilio announced its biggest acquisition to date. Spending $3.2B, it acquired Segment, a technology startup that allows companies to pull customer data from one app into another, by way of APIs.
Since then, it has acquired ZipWhip, a provider of Toll-free messaging, announcing the move in July. This transaction is valued at approximately $850 million in an approximately equal blend of cash and stock.
One Trust Funding Rounds Raised a total of $510M
In a Series C extension round in April, OneTrust raised $210M, bringing their total funds raised to $920M.
The round was led by new investor SoftBank vision Fund 2, with participation from Franklin Templeton.
MessageBird's Funding Round Raised $1B
MessageBird, a communications platform, received a $800M extension on its $200M series C round last October.
The company's series C now totals at least $1B.
MessageBird Acquired SparkPost
The funding round mentioned above allowed SparkPost to apply $600M of the extension to buy email marketing platform SparkPost.
Rich Harris, CEO of SparkPost, said "By joining forces with MessageBird, we will be able to bring broader, deeper value to all of our customers through any digital communications."
Kindred Acquired Relax Gaming For €320M
In October this year, Kindred completed its acquisition of Relax Gaming. It had announced in July it had entered into an agreement to acquire the remaining 66.6% of outstanding shared in the company.
Relax is a B2B iGaming software supplier, designing and developing online casino games.
Deals of 2020:
Demandbase Acquired Engagio
In June of 2020, ABM company, Demandbase acquired account-based engagement platform, Engagio for an undisclosed amount.
The deal will give Demandbase a real boost in leadership in the ABM space and positions it to become a dominant B2B marketing platform company. The acquisition also gives Demandbase notable first-party capabilities, which will compliment its third-party data assets.
Demandbase and Engagio joining forces is a significant step forward in fulfilling the mission of transforming how B2B organizations go-to-market. It also continues the transition away from the traditional lead-focused models of the past, to the account-centric model embraced by high performing marketing and sales teams.
Ceros Raised $100 Million
In late July we saw cloud-based design platform, Ceros raise an impressive $100 million investment courtesy of Sumeru Equity Partners.
The Ceros Studio offers creative control for marketers and designers to collaborate in "real-time." Put simply, the platform offers high quality, visual content without having to write a single line of code. No or low code solutions are starting to see a surge in demand and as a result, made Brinker's recent list of Martech Predictions for the Decade to Come.
Ceros' CEO, Simon Berg revealed that conversations surrounding the investment began two years ago and were set to progress until the pandemic slammed on the breaks.
Despite the pause of the pandemic and the country veering into lockdown, Berg put a plan in place to ensure no jobs were lost at Ceros. If cuts were needed, he said they would come from across-the-board salary cuts. A tactic that seemed to pay off and ultimately sealed the funding deal for Ceros.
You can take a look at 5 insights into Brinker's "No Code" Citizen Creators trend here.
SalesForce Acquires Evergage
In early February, Salesforce completed the acquisition of Evergage, a real-time personalisation customer data platform (CDP). Financial terms of the deal were not disclosed.
While Salesforce had already entered the CDP space in late 2019 with the launch of Salesforce 360 Truth, a platform that was designed to bring together the company's family of products, the acquisition of Evergage's driving factor was to deliver personalised experiences throughout the entire user journey.
The deal follows a recent trend of large martech providers acquiring a CDP to incorporate into their offerings as the CDP industry reached a valuation of $1 billion in 2019. A trend that was certainly set to continue as the year went on.
P.S. Check out our Marketing & Tech Book Club interview where our very own, Carlos Doughty chats to two CDP experts at Salesforce on their latest release titled, '>Customer Data Platforms.'
Optimizely Acquired Episerver
In September, Episerver, the Digital Experience Platform (DXP) announced that it had entered an agreement to acquire Optimizely, a leader in experimentation and optimisation. The deal was completed by the following month.
Optimizely has raised over $200 million in funding and previously worked with over 1,000 companies. The combination of the two enterprises is said to create the most advanced digital experience platform to optimise every customer touch-point across the entire user journey.
In a nutshell, a DXP should provide a suite of tools to power a personalised experience by connecting a customer's journey across multiple touch points, on multiple different journeys, and as a result provide a great customer experience.
Pair this with personalisation and experimentation with the likes of A/B testing, multivariate testing and server-side testing, this new DXP platform has the potential to drive lead generation and conversion while maintaining the optimal experience for the user.
SAP to Acquire Emarsys
SAP, a leading cloud business software company set out to acquire Emarsys, the omnichannel customer engagement platform in early October of 2020 for an undisclosed amount.
This isn't the first time SAP has shown an interest in customer experience acquisitions, as back in 2018 the cloud business software company acquired American Experience Management Company, Qualtrics for $8 billion.
Founded in 2000, Emarsys has raised more than $55 million over the years, including $22.3 million four years in a capital raising round led by Vector Capital.
The acquisition was said to provide SAP with valuable customer personalisation technology which will allow SAP to deliver more meaningful online experiences by connecting a variety of data and touch points to better understand the customer. In addition to this, SAP will be receiving an omnichannel marketing solution which is designed to deliver messages to customers via e-mail, mobile, SMS and the web wherever they are with the ability to deliver these messages at scale.
In an environment where we saw customers continually increasing their online shopping, the need for personalisation has never been more urgent.
Twilio Acquires Segment for $3.2 Billion
Conversations surrounding the acquisition started in early October this year, as the martech world watched on in anticipation, the deal was officially done for a spectacular $3.2 billion on 2nd November.
Twilio has been among several cloud-based companies that have seen a surge in demand and usage due to the pandemic out-break leading to people across the globe now finding themselves working from home.
While Twilio has some fantastic products already firmly under its belt, the next step was enabling its customers to build amazing CX (customer experience) and a CDP was the key.
Not only are Twilio staying ahead of the trend with a CDP in their product suite, Twilio will now be able to better serve its customer base. When you consider the vast quantities of data they acquire from their 1 trillion yearly interactions through its various other products you can see why a CDP will prove very valuable in providing customers the power to better use this data. We can safely say, this shiny new CDP will be worth every penny (all 3.2 billion of them).
CM Group Acquires Selligent Marketing Cloud
On the 2nd November, CM Group, a family of martech companies focused on multichannel campaign management and email marketing announced the acquisition of Selligent Marketing Cloud marking the organisation's fifth acquisition in 24 months.
The purchase further extends CM Group's lead as the largest family of multichannel marketing and email companies worldwide.
CM Group products, including Campaign Monitor, Sailthru, Emma, Delivra, Vuture, Liveclicker, and now Selligent, have more than 70,000 customers and facilitate more than 180 billion consumer connections annually. With the acquisition of Selligent, CM Group's annual revenue will exceed $250 million.
With the acquisition of Selligent, CM Group now serves businesses across all major global industries and segments, from enterprises to small businesses. CM Group plans to continue to grow through both organic investment and acquisitions that will augment the capabilities of each product platform.
Adobe Acquires Workfront for $1.5 Billion
Adobe was another tech giant that was able to identify and act on their customers new needs as millions turned to working from home throughout the pandemic.
Adobe entered the agreement to acquire work management platform, Workfront for $1.5 billion in early November and completed the deal as quickly as early the following month. The collaboration tool is to be added to Adobe's Experience Cloud to expand offerings for its customer base while working from home.
Businesses across the globe have been forced to adapt to a digital way of working as offices quickly became a thing of the past, making collaboration and management more challenging than ever before. The new-found acquisition will aim to provide the customers of both companies a single system to support planning, collaboration as well as the orchestration of marketing workflows.
With 2021 looking just as uncertain as the previous year, Adobe and Workfront were right to act fast and sign the dotted line.
Facebook Acquires Kustomer for $1 Billion
In late November of 2020 we saw Facebook take their biggest step to date to expand their services for businesses as they aim to improve customer service on their platform.
Facebook completed the acquisition of CRM start-up Kustomer on 30th November. Official terms of the deal were not disclosed but according to the Wall Street Journal, sources have said the deal was agreed at $1 billion.
The start-up specialises in customer service platforms and chatbots and was said to be part of an effort by Facebook to help companies use its platforms to do business as customers are increasingly communicating with companies by messaging rather than calling. Facebook said more than 175 million people reach out every day to businesses using its WhatsApp messaging service.
Salesforce Acquires Slack for $27.7 Billion
As we entered the final month of the year, we saw one of the biggest martech acquisitions of 2020 and in fact, of the software industry as a whole. On the 1st December, Salesforce officially acquired workplace messaging app, Slack for $27.7 billion, marking Salesforce's biggest acquisition in its 21-year history.
Prior to Slack, Salesforce's largest deal was the $15.3 billion buy of Tableau the year prior. The deal was a combination of both cash and stock as Salesforce purchased Slack for a $26.79 share and .0776 shares of Salesforce, according to The Financial Times.
As another momentous M&A deal of 2020 acted as a response to the new way of working brought about by the pandemic, the year hadn't always been smooth sailing for Slack.
Despite a strong start to the beginning of the year as companies relied on tech to keep their colleagues connected, according to analytics firm Sensor Tower, Slack had been installed approximately 12.6 million times throughout the year, an increase of approximately 50% from the same period in 2019.
But the economic downfall forced Slack to offer discounts any payment concessions to many of its customers in attempts to veer them away from seeking cheaper alternatives. One of the biggest rivals Slack had seen was Microsoft Teams, a tempting alternative for many businesses as the messaging service comes included with Microsoft packages.
Combining the forces of both Slack and Salesforce has the potential to create the operating system for the new way to work connecting employees, customers and partners with each other and the apps they use every day, all within their existing workflows.
The deal also, of course, intensifies the competition between long-time rivals, Salesforce and Microsoft, whose workplace messaging app, had stepped up to be a big competitor for Slack during the pandemic.
$125 and $138 Million Funding Rounds for Virtual Event Platforms, Hopin and Bizzabo
We saw huge amounts of cash being injected into the virtual events space this year, with the likes of Bizzabo and Hopin, both of which have big plans to bump up the virtual experience and create the ultimate hybrid solution.
In November we saw virtual event platform, Hopin, raise $125 million in a series B round funding. This latest injection of cash now raises the valuation of the 17-month-old company to $2.1 billion.
Hopin has had an incredible year. Launched in 2019, the company has seen growth from 8 – 200 employees and 5,000 registered users to 3.5 million.
Although certainly accelerated by the pandemic, the company wasn't founded as an interim solution and plans to continue it's growth long after.
The following month we saw another virtual event platform, Bizzabo raise $138 Million in their Latest Series E Round.
The latest Series E funding round was led by Insight Partners, as well as previous backers Viola Growth, who led Bizzabo's previous round, a $27 million Series D. To date, Bizzabo has raised a grand total of $195 million.
With a probable hybrid future for events on the horizon, Bizzabo plan to tackle the unknown with their event platform which enables the ability to plan and run both virtual and in-person conferences.
OneTrust Secures $300 Million in Funding
A recent development in the martech space that came with a little more forewarning has been the rise in privacy laws and data protection regulations.
On 21st December, OneTrust, the widely used privacy, security, and data governance technology platform secured $300 million in series C funding at a $5.1 Billion valuation. This brings the company's total cash raised in the last 18 months to an impressive $710 million.
Throughout 2020, sweeping privacy laws came into effect in areas such as California and Brazil, amongst others and Gartner predicts that 65% of the world's population will be covered under modern privacy regulations by the year 2023, in comparison to just 10% today.
As organisations strive for increasing levels of efficiency and agility in their transformation journey, many will be on the hunt for a platform approach to managing privacy, security, and governance requirements across an increasingly complex regulatory environment.
Despite the slow start in martech deals in 2020, as quickly as we've all had to accommodate in accordance to the pandemic, there has been a handful of companies who have been able to recognise their customer's new needs just as swiftly which has been reflected in the biggest martech deals we've seen this year. With another potentially uncertain year on the horizon, the agility to adapt to the new environment has proven to be more critical than ever.
Sources: LUMA's Market Report, The Financial Times, Gartner, The Wall Street Journal