Last month I buddied up with Scott Vaughan to deliver a couple of #MarTechFest Turn Tables (our spin on virtual roundtables) for B2B marketing leaders.
As Chief Growth Officer of Integrate, he is a man who knows a thing or two about the B2B marketing space. In 2019 the demand marketing platform he drives growth for helped generate more than $1 trillion in the pipeline for its clients.
Vaughan shared the key insights Integrate has uncovered from the countless workshops and the data running through their Demand Cloud platform and ecosystem. Here are some of the highlights, but if you'd like to get a deeper dive you can bounce over to download the full report.
Vaughan and the Integrate team have identified the following key marketing shifts:
1/ Strategic marketing strategic focus
Fuelled by the pandemic, marketing teams are accelerating their efforts in 3 key areas:
Digital Transformation: 1 to 3-year plans are moving to 1 to 3-month plans
The Cloud: Continued move to the cloud but at an accelerated pace
Customer Experience: Greater focus on account/customer-centricity. A move to engage, retain and expand customer bases
"Digital Transformation and Organizational Change" - new cartoon and post https://t.co/PqckmPIYYF#marketing #cartoon #marketoon pic.twitter.com/fLx0iqkN3O

— Tom Fishburne (@tomfishburne) April 12, 2020
The amazing Tom Fishburne perfectly illustrates this in one of his recent marketoonist.
As most marketers scramble to adapt their approach to remain relevant agility, speed, and digitisation of marketing are key.

It's also worth noting that while these are tough changing times for most there will also be some real winners - those enabling digitisation. And martech providers are one of those key industries, LUMA reports a 107% uplift in market cap performance by martech companies Jan 2020 vs June 2020.
2/ Buyer behaviour changes
Without physical events there has been a tidal wave of digital marketing activity to try and engage prospects and clients; +428% uptick in webinars held vs 2019 (Source: ON24). And +39% jump in marketing emails sent in the B2B market, March 2019 vs March 2020 (source: eMarketer). This is overwhelming B2B buyers and causing digital fatigue. Buyers journeys are now proving longer and more complex as a need to gain more confidence in their purchase builds. B2B web activity +21% and on average there are now 16 – 20 touches before contact does a hand raise. Plus, there are now 6-10 individuals in a buying group (sources: Bombora, Sirius Decisions, D&B, TOPO/Gartner).
While B2B marketers wait for post-pandemic in-person events marketing (or a hybrid model which may play out) to return, it's important they pause, reflect, and adapt their marketing activity to avoid adding to the marketing noise.
3/ Adapting your dials
Organisations are embracing marketing agility across 5 key areas:
Messaging & Communications
Programs & Tactics
Data Segments & Models
Infrastructure & Systems
Marketing Metrics/Math

B2B marketers need to read the room in this environment and carefully adapt their operations. To adopt the right tone and message, to rearchitect programs – automation to lead scoring and routing and rethink how they measure performance through to redefining audience segments.
While all areas need reviewing, audience profiling is arguably top of the list. Enter precision demand generation, which is quickly becoming one of the areas marketers are doubling down on. To unpack this, it is made up of:
Account-based targeted ideal customer profile (ICP)
Buying groups, not individuals
Using intent and intelligent buyer signals such as Bombora and Cynance
Rich account analytics
Finding the right active customers in this environment is crucial.
4/ Marketing market shifts
Vaughan is seeing 3 key marketing shifts:
Funnels & Lead Gen > Journeys & Account-Centric Strategies
Lead Quantity > Lead Quality
Automation > Orchestration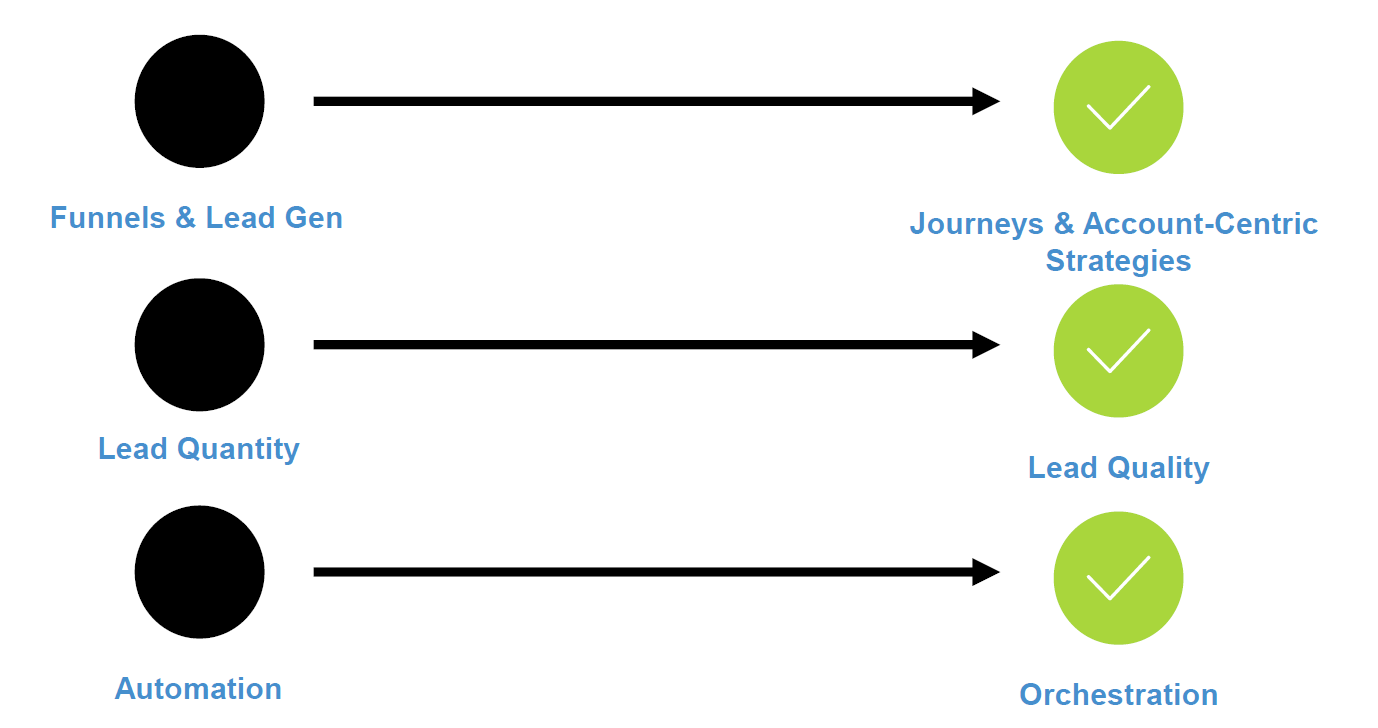 This represents a new marketing maturity that's multi-channel, multi-touch, integrated, and coordinated approach to engaging at a richer level with the right prospects. This requires smarter marketing ops than ever, carefully considered, and perfectly delivered.
Summary
In these rapidly changing times digitising your marketing efforts, getting closer to your customers, being adaptive and agile in your marketing operations, embracing precision demand generation, and understanding the evolving marketing market shifts hold the keys to your success.