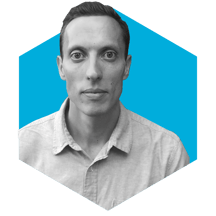 As part of the research into the 2020 UK Marketing Technology Landscape Supergraphic, we reached out to some of the UK's key marketing technology vendors.
We chatted on what makes them tick, what makes their companies successful, and gained valuable insights to the current & future state of martech.
Alex Olley, Co-founder:
Reachdesk
In one Tweet (now 286 characters) describe your company for anyone not familiar?
Reachdesk helps B2B companies build pipeline, increase sales velocity and retain customers by creating a physical impression using integrated direct mail and gifting.
Can you tell us a little bit more about you and how the business came about?
Reachdesk happened as a result of a problem we were facing ourselves. Having spent 10 years working in Sales and Marketing within the software space we noticed the level of digital noise had increased dramatically. It was becoming harder to break through to prospects, humanise the way sales teams sell and surprise and delight existing customers. The digital only approach was fundamentally flawed. We were using the physical and gifting channel within our sales and marketing mix and it was delivering amazing results, particularly as part of an ABM strategy. However, the process was manual and unscalable. It took hours to execute campaigns and we couldn't see the results other than manually collating data. Doing it at a global scale was unthinkable. Reachdesk was born as a result of our own frustration.
What do you think has been the driving force behind your growth to date?
3 things.
Our customers - it sounds like a cliché but our customers are the ones who have innovated our product with us. We listen intently so we know where to go next, rather than focus on the "nice to haves". We are also our own customers as we built Reachdesk to solve challenges we faced. So we can ask ourselves the same questions to ratify our own decisions.


The Market - with the rise of ABM, Demand Generation, Outbound SDR teams and Customer Experience forming a key part to many B2B companies' strategy, companies are looking to revive the physical channel to create a multi-touch experience. Connecting online sales and marketing with offline channels increases results dramatically and B2B companies have started to realise this quickly.


Execution - a lot of companies have a great vision but don't know how to implement a strategy that drives scalable repeatable growth. We have an amazing team at Reachdesk that dares to be different and tear apart the status quo. We live by the mantra that being safe is risky. If we do anything, we aim to make it remarkable for benefit of our customers and prospects. We believe this creates an enjoyable experience when it comes to doing business.
What have been some the toughest moments with the business?
Launching in the US at an early stage. Very few UK SaaS companies make the move to the US in their first year of launching. Often you need a lot of funding and have to restructure your business to prepare for US expansion. Luckily our customers were the ones who demanded us to make the move as they needed a global supplier. So we did it almost immediately so that we can deliver a service equal to our EMEA offering to support our customers.
Reacting to a global pandemic but continuing to grow and hire. Prior to the current pandemic our customers mainly used us to send direct mail and gifts to offices. We accelerated some product releases such as address confirmation and custom sending pages allowing our customers to send to people's homes on their terms. We also added in over 450 eGift card suppliers so digital gifting could be carried out too. At the same time we've continued to hire and grow which has meant remote onboarding and training. I think we've mastered it now!
What books, publications or individuals do you take inspiration from?
I read books for Sales and Marketing as I believe in alignment between the two. Anything by Seth Godin, Stu Heinecke, Sangram Vajre and Mark Roberge.
What's the best advice you've received for scaling your business?
Focus on where you want to be and not what you are now. Keep processes simple and build on them as you go but don't take shortcuts. Don't over complicate strategy as you don't have time to dwell on it too long.
Listen to what your customers have to say and include their feedback when deciding where to go next. Never stop speaking to your customers. Ever!
Finally if we fast forward 5 years where will ReachDesk be, and how do you think the marketing space will have evolved?
I hope we will be an essential part to Sales, Marketing and Customer Success teams across the globe. Provided we continue to help companies deliver phenomenal experiences and inspire new methods to break through and surprise & delight customers we should be a key part to the MarTech stack. I believe the majority of B2B companies will have a Sending Platform to automate the process of sending and measure results of offline channels.
I believe the marketing space will have evolved to a state where experience always comes first. Companies know that the best results are obtained when we make it about our customers and create a personalised experience. The marketing space is making leaps and bounds in this direction. Hopefully AI and advanced methods of using real-time data will make this achievable soon.
---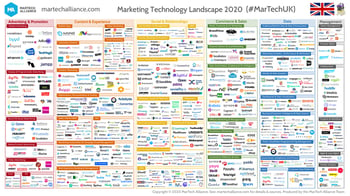 Get your high resolution version of the UK 2020 Marketing Technology Landscape Supergraphic here