Account based marketing this, account based marketing that. You can't move without hitting at least 10 marketers spouting the benefits of ABM. And it's not for nothing.
In fact, 87% of account-based marketers say that ABM initiatives outperform other marketing investments.
So, like a fine wine, or piece of cheese, or Jeff Goldblum, ABM has gotten better year after year after year.
And with 65% of marketing professionals describe their ABM strategy as somewhat successful, it's not difficult to see why marketers are still enthusiastic about ABM.
What does the ABM landscape look like?
B2B customers now expect to be treated like B2C customers. And empathy is the key.
Clients expect empathy and tailored engagement whether they're buying for themselves or their company. 82% of high performers say B2B and B2C tactics are now overlapping. This is compared to 67% of underperformers. Plus, overperformers dedicate 18% of their budget to ABM, compared to 14% for underperformers.
Where do marketers plan to invest?
It's been a pretty tough year, which has been reflected in the budgets available for marketers. But there still seems to be a willingness to invest in ABM. Though, marketers have been exploring different ways to generate ROI with ABM.
What benefits are marketers reporting with ABM?
Direct ROI isn't just the only benefit of ABM. Marketers have also reported a number of different benefits, including relationship building and account engagement, from the implementation of their ABM campaigns.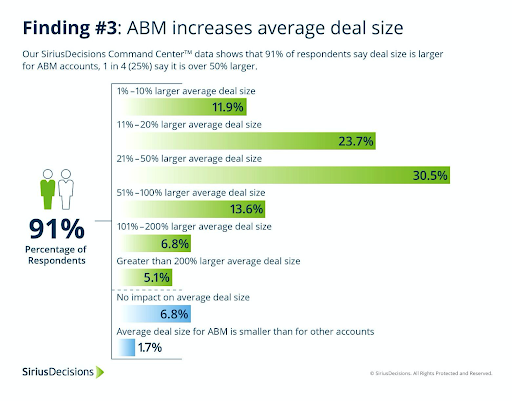 What challenges remain with ABM?
ABM is tricky and time-consuming to both implement and to maintain. But with multiple benefits, and good ROI, these challenges are worth overcoming.
How are sales and marketing aligning with ABM?
Power couple sales and marketing are now closer than ever. ABM requires both teams to be more involved with each other, across the customer journey.
although...
Only 28% of salespeople say marketing is their best source of leads.
Only 7% of salespeople said leads they received from marketing were very high quality.
ROI benefits from ABM
This is the end goal - ROI. ABM consistently shows its ability to improve ROI, year after year. Many marketers report that ABM has driven success, and has a much higher ROI than other marketing campaigns.
87% of B2B marketers surveyed by ITSMA reported that their ABM initiatives outperform their other marketing investments in terms of ROI.
91% of companies using ABM increase their average deal size, with 25% reporting an increase of +50%
86% of marketers report improved win rates with ABM
MarketingProfs report a 208% increase in revenue witnessed by companies using ABM
60% of companies report at least a 10% increase in revenue in year one of their ABM programme
A 171% increase in average annual contract value has been reported after implementing Account-based Marketing
Mature ABM Programs Drove an Average of 73% Of Their Companies' Total Revenue
When ABM has been in use for at least a year, 60% of users reported a revenue increase of at least 10% & 19% reported a revenue impact of 30% or greater.
Almost 85% of marketers measuring ROI say that ABM outperforms other marketing investments
97% of marketers surveyed said ABM had higher ROI than other marketing activities
What is the future of ABM?
So, what's coming up? What will ABM look like in the future?
34% of marketing professionals are planning for ABM in the future.
As ABM matures, marketers are choosing to focus on fewer accounts: 56% say they actively target 99 or fewer ABM accounts, compared to 47% who said the same in 2018
92% of B2B marketing leaders state that building relationships in the C-suite is more important to their sales strategy than it was two years ago
2021 is likely to see near complete adoption of at least some ABM processes. 82 percent of respondents are looking at new business generation while only 42 percent are looking at lead generation.
In 2021, we will likely see a smaller percentage of mature programs, but a much more significant amount of programs overall.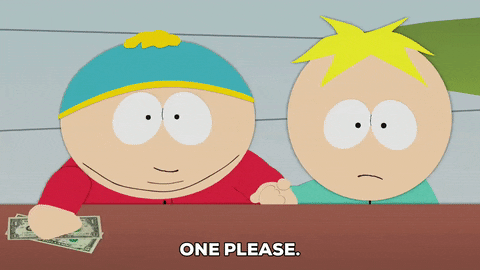 This post is part of our Martech stats series, which compiles key data and trends. Others include: