Despite everything seemingly trying its hardest to halt any progress in the world over the last 365 days, things in the world of martech is still growing and that's just lovely.
I recently wrote of the 2021 European Martech Supergraphic (which you can have a look at here) and in that, spoke about how things have grown exponentially in just a year.
Last year, there were 2,427 solutions on the European Martech Supergraphic. This year, there are a huge 3,647. That's a growth of 1,220 solutions in what has been a pretty bad year for starting – or even maintaining – businesses.
With just the European stack growing to such a degree, it's no surprise then that the channel software tech stack has also followed the trend in growing, is it? Let me answer that question; no it isn't - but the importance and value of partnerships continues to grow.
Partnerships at the core of a martech tech solution or marketing tech agency's business is one of the quickest ways to drive growth. And this trend is becoming more and more prevalent. One of the best way to enable and accelerate this further is building out a channel software stack. But what is the Channel Software Stack? In it's creator's own words,
The channel software stack comprises a group of technologies that help companies develop, design, and execute plans to find, recruit, onboard, develop, enable, incent, co-sell with, manage, measure, and report on partners."
To help the process of partnership, there are a platitude of tech providers that help across a range of different categories, which are as follows:
Ecosystem Management:
Manages the entire buying journey that a customer has with your company, from the initial influence, to transaction, and retention channels. It supports recruitment, attribution, account and partner mapping, enablement, collaboration, technology/API integrations, and overall ecosystem management covering all transacting/nontransacting and traditional/nontraditional partners.
Channel Data Management (CDM):
Collates all transactional point-of-sale and inventory data from partners and distributors and organises it in one easy-to-manage asset, which is very useful for business and actionable intelligence.
Predictive analytics, AI, and machine learning are new subcategories that exist within CDM.
Channel Marketplaces, Finances, Pricing & Inventory:
This one more or less does what it sounds like, in managing indirect sales-related costs and revenues to determine the ultimate and correct value of a transaction. It covers pricing, inventory planning, gross-to-nets, discounts, compliance, tracking inventory levels, and price protection.
Partner Relationship Management (PRM):
managing the lifecycle of channel partners is conducted with a PRM, which supports partner targeting, recruitment, onboarding, enablement, engagement, communication, development, co-selling, and co-marketing. It will provide backend systems such as CRM, enterprise resource planning, and marketing tools.
Channel Incentives Management (CIM):
Manages elements of the partner ecosystem, design, allocation, tracking, and distribution of financial incentives. All of this includes market development funds (MDFs), sales performance incentive funds (SPIFs), co-ops, bonuses, rebates, price protection, channel sales compensation, and loyalty programs.
Through Channel Marketing Automation (TCMA):
Very useful, this one. It allows partners to interact with their customers, creating a consistent brand experience and in turn, generating demand.
Channel Learning & Readiness (CLR):
Supports partner development through the administration, tracking, and delivery of educational training courses and enablement resources, including learning management systems, accreditation and certification management, content management systems, partner portals, communities, and sales enablement.
For reference, here is the 2020 Channel Software Tech Stack...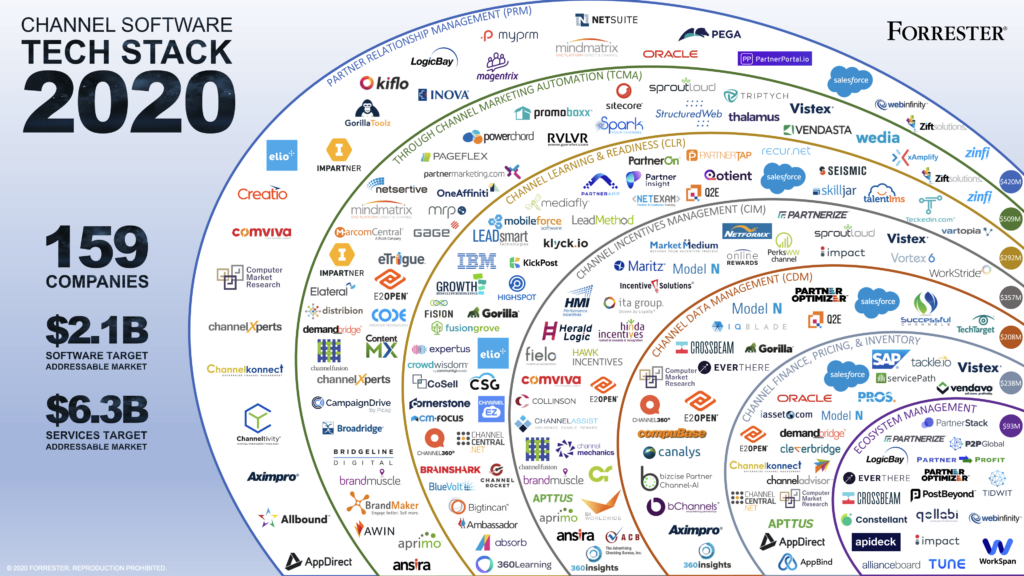 As a quick glance tells us, there are 159 companies; 24 fewer than there are now. That's not a huge growth, but it is worth mentioning that their software target of $2.1 billion was exceeded by $200,000.
Here is the current Channel Software Tech Stack...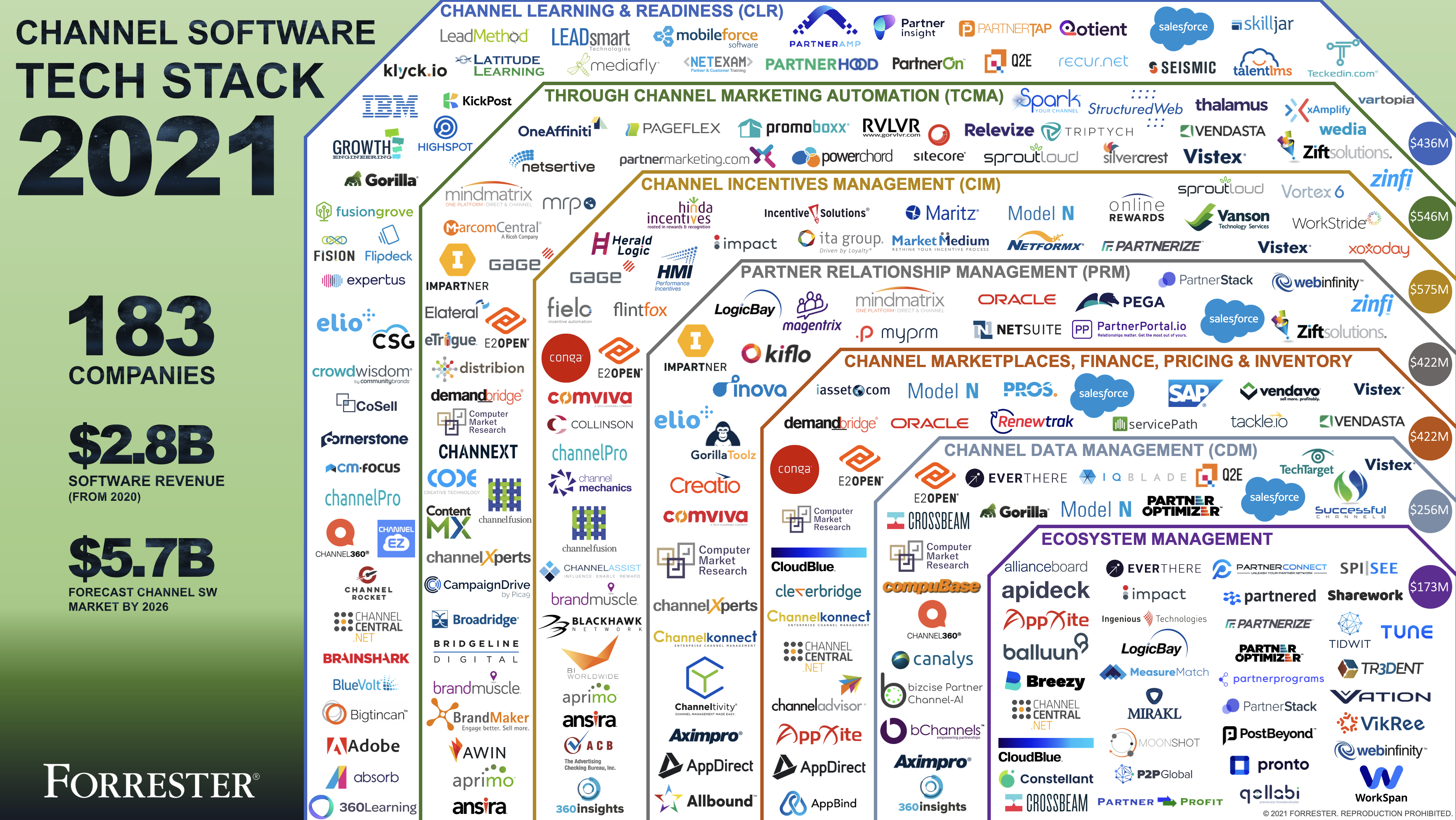 Behind the supergraphic we can see here is Jay McBain, Principal Analyst at Forrester, who is a big proponent of companies working together in order to help each other grow.
Speaking in his blog post about the graphic, he said:
The channel software tech stack from 2020 included 18 companies that I put into a new "ecosystem management" bucket. These companies drove $93 million in pure software sales last year, according to my research. The number of companies have doubled this year to 36, and the revenue has almost doubled as well, to $173 million."
Actually, speaking of McBain, he'll be speaking at our virtual event on 'The power of ecosystem thinking for martech solutions and marketing tech agencies to drive product development, acquisition and customer success'.
If that sounds like a bit of you - which it should if you're reading this - then sign up here!