Word of mouth marketing drives a whopping $6T of annual consumer spending and is estimated to account for 13% of consumer sales.
That's a heck of a lot - yep, I said Trillion! With a T! Now, those are some Elon Musk numbers there.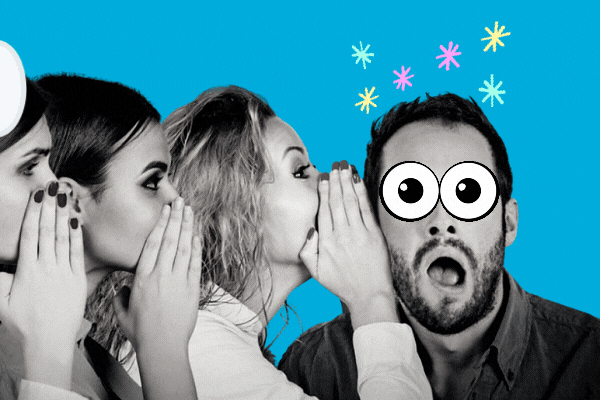 Word of Mouth marketing has been around as long as people have been recommending the latest cave painting or gladiator fight. It works because people trust other people.
This is a concept called "Social Proof", which is the belief that the majority knows best. So, in order to make the best decisions, individuals look toward the choices other people have made, before acting themselves.
This mental shortcut can have consequences both good and bad for the individual. These observed behaviours of others are supposed to act as a clue, rather than proof. So, often people will copy others based on not much evidence. This can be useful for marketers. However, they must also be aware that if their consumers act, and are disappointed, negative word of mouth can be extremely damaging.
This means companies have been looking for a way to emulate the trust that comes from these forms of recommendations. It's been found that brands that inspire emotional intensity receive 3x as much word of mouth marketing as less emotionally-connected brands. This means brands have to consider how to position their marketing, product, and customer experience, in order to yield the most amount of interaction between customers and potential customers.
But this is no easy feat. With one bad step, word of mouth marketing can flip - it can be just as damaging with negative views, as it can be affluent in its positive ones.
Brands have to consider why and how customers' friends and family recommendations reign supreme in this area. In taking steps to use this technique and mentality we've seen the rise of brands utilising influencers, big and small. So, how can brands adopt this guerrilla, grass-roots style of marketing to its fullest extent? And does it even still really work in 2022? Let's find out.
Word of Mouth Marketing and...Consumer Trust
Nielsen report that 92% of consumers believe suggestions from friends and family more than advertising.
Beyond friends and family, 88% of people trust online reviews written by other consumers as much as they trust recommendations from personal contacts.

HubSpot shows

that 75% of people don't believe adverts, yet 90% trust suggestions from family and friends and 70% trust consumer reviews.

49% of consumers

would shop online more if they felt more confident about delivery and 57% are reluctant to use a retailer again if delivery is late.

People are 90% more likely to trust and buy from a brand recommended by a friend
88% of consumers placed the highest level of trust in word-of-mouth recommendations from people they know.
75% of people don't trust paid advertisements.
In the US, only 4% of consumers trust brand-sponsored content.
Word of Mouth Marketing and...Influencers
Over the past three years,

Google saw a 1500% increase

in "influencer marketing" search queries

Over

80% of marketers

believe influencer marketing is effective in their strategies

63% of consumers

between 18 and 34 years old said that they "trust what influencers say about brands much more than what brands say about themselves in their advertising."

17% of companies

will devote more than half of their annual marketing budget to influencer marketing campaigns

60% of millennials are more likely to take advice from YouTube influencers than traditional media personalities
86% of women turn to social media for buying advice
130 million Instagram users click shopping posts to find product information each month
80% of consumers have purchased something via an influencer recommendation
41% of customers discover new products through influencers weekly

Around 3 in 4 consumers would spend up to $629 on influencer-inspired purchases

22% of large purchase decisions by 18-34-year-olds are influenced by influencer endorsements
71% of marketers think the quality of influencer marketing traffic is better than other sources
Word of Mouth Marketing and...Return on Investment
Word of Mouth Marketing and...B2B
Word of Mouth Marketing and...Brand Loyalty
Word of Mouth Marketing and...Brand Discovery
Word of Mouth Marketing and...Off-line vs On-line
Word of Mouth Marketing and...Negative Reviews
According to word-of-mouth marketing statistics, 96% of unhappy customers don't complain to the company about a bad experience; however, they share their bad experience with about 9-15 people.
About 13% of unhappy customers share their bad experiences with 20 people.
A happy customer, on the other hand, only tells

3 people

about it.
A whopping 91% of unhappy customers will not buy from a company they've had a bad experience with again.

It takes about

40

positive customer experiences to undo the damage done by 1 negative review.

Nearly 53% of customers expect brands to reply to negative reviews within a week.
Only 1 in 25 consumers will complain about their bad experience with the brand.
It takes nearly 40 positive customer experiences to make up for the damage caused by a single negative review.
96% of brands take a long time to respond to customers' mentions on social media.
This post is part of our Martech stats series, which compiles key data and trends. Others include: