As it's Women's History Month, we'd like the take this opportunity to shine a spotlight on the badass women who work in the marketing and technology industry. This is a series of blog posts we'll be publishing to celebrate the incredible work they do for the industry. So without further ado lets introduce you the amazing women in martech.
Introducing Sinem Soydar Günal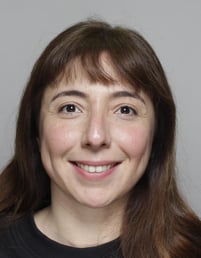 Meet Sinem Soydar Günal, Global Senior Digital Marketing Manager at Vodafone. She's a digital strategist with 17 years of digital transformation, marketing, communication, channel management and eCommerce experience in telco and banking industries. She leads the teams who build new digital business and guide them to scale it.
What's your job title, if you could choose an 'honest' job title, what would it be?
My job title is Global Senior Digital Marketing Manager. I prefer to be called "Insight-Driven Marketing Strategy Expert." I know it is a bit long but covers what I am doing.
How would you summarise your career journey?
I had a very lucky start in a Telco company working as a "Value Added Services Marketing Specialist" then transferred to Global Banking Company as one of the digital transformation agents. And now, I have the privilege of making an impact on Digital Marketing strategies of a global Telco company and work with very talented subject matter experts.
What has kept you the most motivated throughout?
I have three mottos keeping me motivated: "There is always a room for making things better" "If you want to do it the right way, no one/nothing can stop you" and " Always keep walking."
What has been the biggest barrier throughout your career journey?
The barriers I put myself are the biggest ones. Lack of self-confidence or thought of being not good enough were the main stoppers. But I now know that if you believe in yourself, the rest will follow you.
Do you think it's important to maintain balance between your personal life and work - do you have any advise for how you achieve this?
I don't think I was good at maintaining a balance between personal life and work up until I became a mom. I am still working on this, but I know that there is nothing more important than family. So it is always about prioritization: Listen to your heart, define your priorities and be clear to your family, your colleagues and your loved ones.
If you could tell your younger self one thing, what would it be?
You're worth it!
What would you like young women to know who want to get in to marketing/technology?
I would say to young women colleagues to use their own strengths to overcome the challenges. Marketing is not only analog anymore, but journeys are also nonlinear, and there are millions of signals around. So, connecting dots for a bigger picture is a crucial skill that I believe all women have. Also, to be a technology expert, you should leverage emotional intelligence, which again women have an advantage.
Who's a professional woman you admire?
A woman who has self-respect, believes in herself, is a humble learner, and resilient.
Best advice you ever received ? Professional or otherwise.
"Keep walking" I received this advice from a respectful woman, a mentor of mine. I am very fortunate to have her in my life!
Find Sinem on Twitter and LinkedIn