As it's Women's History Month, we'd like the take this opportunity to shine a spotlight on the badass women who work in the marketing and technology industry. This is a series of blog posts we'll be publishing to celebrate the incredible work they do for the industry. So without further ado lets introduce you the amazing women in martech.
Introducing Christine Bailey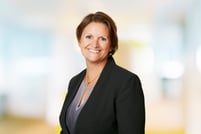 Meet Dr. Christine Bailey, Managing Director, SMB UK & Ireland | CMO at Valitor, an international payments solution company headquartered in Iceland, serving small businesses both direct and through partners in the UK and Ireland. Christine has spent her career doing B2B marketing in technology/payments, including leading European marketing functions for Hewlett-Packard and Cisco Systems.
A respected thought leader and public speaker with a TEDx Talk 'Unconventional Career Advice' (118k views), Christine has been voted #1 Woman in Tech by B2B Marketing, #3 female influencer in UK B2B Marketing by Onalytica and in the top 20 women leading the charge in revolutionary SaaS marketing by SaaStock.
Passionate about inclusion and diversity, Christine led Connected Women globally for Cisco and is an advisor for the European Women in Payments Network (EWPN).
Christine is also a Senior Fellow of The Conference Board's Marketing and Communications Center. She has a doctorate (DBA) in customer insight from Cranfield School of Management. Her book "Customer insight strategies: how to understand your audience and create remarkable marketing" will be released in August 2020.
What's your job title, if you could choose an 'honest' job title, what would it be?
Until very recently, it was CMO of Valitor, but now I'm Managing Director, SMB UK & Ireland | CMO. I know, not your obvious combination! I'm part of a senior leadership team of 4 people so my role is fairly broad and encompasses strategy, marketing, communications, product management for the company as a whole, as well as MD of the UK business.
How would you summarise your career journey?
An exciting adventure! I've always had a passion for marketing, worked in the B2B technology space internationally and travelled extensively. I started out working for Hewlett-Packard in Germany for 5 years and before I joined Valitor I led the EMEAR marketing team at Cisco Systems. In between I worked for smaller companies and I also have a doctorate in customer insight (before it was trendy in 2008!)
What has kept you the most motivated throughout?
A genuine passion for marketing and having the privilege of working with some amazing people. I've always been good at networking and staying in touch with people and some of my closest friends today are people I met through work 20+ years ago.
What has been the biggest barrier throughout your career journey?
I've been made redundant 3 times in my career so far and each time I ended up in a better place because of it. Each time was unexpected and of course it took some adjustment but sometimes it's good to be knocked out of your comfort zone. It's made me very resilient and good at embracing change!
Do you think it's important to maintain balance between your personal life and work - do you have any advise for how you achieve this?
I guess I'm lucky in that I love my work and it's very much part of my life, so I don't tend to consciously think about work/life balance. I have work, my daughter, my partner, my wider family, my friends, my house and exercise to fit into 24 hours and somehow it does. I've just spent the last year writing my first marketing book and that was tough to fit in. I saw a lot less of my friends during that period. My advice is just to make sure that you spend time doing things you love!
If you could tell your younger self one thing, what would it be?
Dream big! You can do anything you want, as long as you want it badly enough.
What would you like young women to know who want to get in to marketing/technology?
Marketing is a great profession for women and there is so much opportunity for marketing in tech.
Who's a professional woman you admire?
Ooh, so hard to pick just one! On the marketing side Emma Roffey at Cisco, Ruth Rowan at NTT, Gemma Davies at ServiceNow. Martha Mghendi-Fisher who founded the European Women in Payments Network is a total inspiration and Professor Moira Clark at Henley Business School has always been a hero of mine.
Best advice you ever received ? Professional or otherwise.
Don't ask permission, beg forgiveness!
Find Christine on Twitter and LinkedIn