Wait, digital selling isn't just buying your aunt's macramé from Facebook? But is it digital selling when she rings me up three times a day, asking if my friends would like her seaside themed collection? Well, you'll have to read on to find out.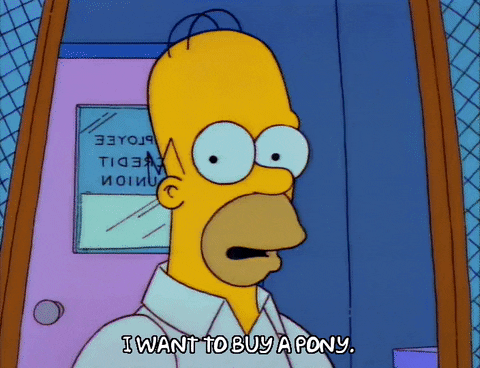 Digital selling is basically changing the way sales and prospecting is done. The tools and platforms now available to most sales people mean that, although traditional methods are still effective, there's opportunities for newer techniques to make an impact.
Digital selling is basically the process of engaging more online, with business and social networks, and using the sales tools available. It encompasses social marketing, social selling, and a bunch more.
Digital selling is a process that begins at the prospect stage, and should engage buyers all the way through their journey. With 67% of a buyer's journey taking place online, it's not surprising that many people are turning to an end-to-end process that combines social channels with any digital tools.
To be successful in today's market, companies must craft a sales process that responds to the needs of consumers, and especially online consumers. So, creating a digital brand that connects with consumers, in a personalised and engaging way, will be the difference between sink or swim.
Traditional or Digital?
With traditional selling, salespeople relied on lists that often contained unqualified data, and contact was made using cold calling and a script. This all meant forcing targets into a planned sales cycle, and involved a serious lack of listening.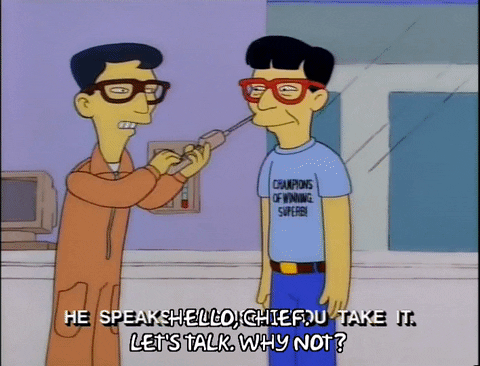 Digital selling, on the other hand, a digital seller listens and shares, anticipating needs and helping the target. This means better connection, better engagement, and a better understanding of the issues a prospect may be facing, and the solutions they are looking for. It basically involves a range of strategies that creates a well-oiled machine, working towards a unified goal.
Selling also used to be a one-way street, where activity moved through a number of teams - product to marketing, to sales, and then to the customer. Now collaboration happens at every step. Teams will communicate, and make better moves, by listening to other teams and the customer. Plus, customers will participate, by consuming content which in turn, will give hints on how they want to be engaged with in the future. It's a group effort.
In fact, both B2B buyers and sellers prefer the new 'digital reality', with three quarters of buyers and sellers saying they prefer digital self-serve and remote human engagement. These types of interactions make it easier for buyers to get information, place orders, and arrange service. And boy, do people like that kind of speed and convenience. Only 20% of B2B buyers say they want to return to in-person sales.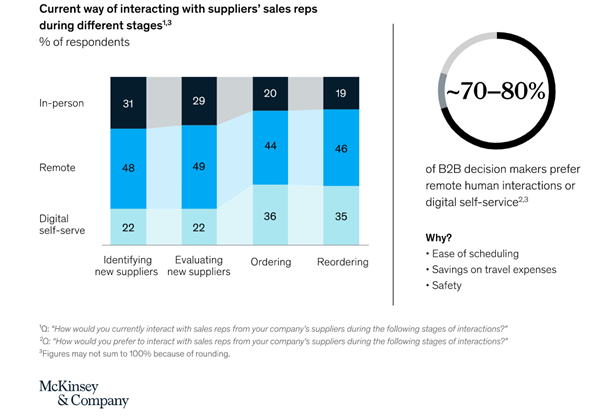 In Sales We Trust
Executives often buy from people they have confidence and trust in. Even if the offer is better, if it comes from someone less familiar, the lack of trust becomes an obstacle.
This means putting your sales efforts solely into cold calling can often lead to low success rates, with some deals coming from the pure amount of calls being made. I mean, if you throw out enough fishing lines, a few will bite. I mean, I've never been fishing before so I'm guessing that's how it works.
Digital selling can act as a bridge between buyer and seller, meaning that potential customers become aware of the seller and brand's existence, with research conducted on both sides before contact is even initiated.
All this requires that sales are present at all stages of their customer's journey. In order to build this sense of familiarity and connection, you've got to remain visible. This will build trust through familiarity.
Why, oh why, should you use digital selling?
Now, to the 'why' portion. Well, digital selling can be used to achieve a variety of goals, such as to:
Warm up cold leads

Increase your brand, or companies, credibility

Shape and control how your brand is seen by customers

Generate additional sales leads

Raise the profile of the salespeople on your team

Research prospects

Keep in touch with prospects

Source referrals and testimonials

Increase familiarity, and rapport, with clients
Keeping it social.
So, we can define digital selling by also defining what it's not. People often get digital selling and social selling mixed up, which is not surprising. In fact, social selling is a branch of digital selling. In this, sellers use peer-to-peer social networks to meet a buyer at a specific time during their journey, and make conversions by helping them through the process. This can be achieved through the three main sales tactics:
Trigger selling: This means creating conversions by playing on a customer's impulses. Salespeople should be on the look out for internal or external events happening around the buyer, crafting contextual conversations and informed decisions.
Referral selling: This means acquiring new clients through other word-of-mouth consumer referrals. People trust people, over brands. By building a relationship road map, sellers can establish deeper connections.

Insights selling:

This means sales through influence - generating sales by being an influencer. In fact, "74% of buyers choose the sales team that was first to provide value and insight within their buying journey."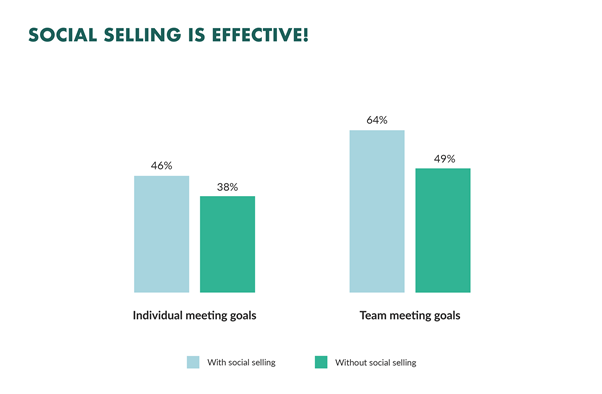 Social selling has the highest lead to close ratio of all prospecting methodologies, in fact. Jamie Shanks, of salesforlife.com, likes to define it as "meeting the buyer where the buyer is already conducting due diligence – which is online."
So, how do you digital sell? It's all well and good harping on about how amazing digital selling is, but it's all about the 'how' or the What, Why, How, series, right? Well, you can start with:
Choosing your methods of engagement
This means asking yourself how you're going to engage with your customers online, and where they are most active. So this may be a platform like:
LinkedIn.

If you're selling B2B, it's likely that your potential clients are active, and present, on LinkedIn.


Facebook.

If you're selling B2C, Facebook might be better for you. You could use the platform to drive new sales leads.
So, these networks can yield good results, if they're targeted in the right way and worked in the right way.
This time it's personal
78% of buyers expect sales to personalise interactions based on online activities. People don't like to feel like they're part of a 'list'. So, if you're looking to make contact with people, and improve engagement, then make sure your content is tailored.
A EY report has illustrated the benefits of getting to know your customers well. After a 30-day experiment where sales 'lived the life' of the customer from a sales perspective and built new initiatives on their findings, they experienced a 46% jump in new client acquisitions and a 67% increase in revenues.
Optimise, and energise, your online sales funnel
Understanding your company's online sales funnel is a massive part in crafting an impactful digital selling campaign. By doing this, you'll be provided with insights that demonstrate your ideal customer's decision making process.
All of this requires multiple steps, however. To move customers through your funnel includes:
Engaging prospects

Converting them

Completing a sale

Producing satisfied, and as a result repeat, customers.
The optimal, digital selling, funnel will remain engaged with customers from top to bottom - from the beginning of the funnel, until they decide to make a purchase. It's all about maintaining a prospect's attention throughout the entire funnel, and keeping them aligned with the brand in an easy, natural way.
Data, Data, Data
Making use of the influx of data now available is the key to a successful digital selling strategy. When you're aware of where clients are leaving the cycle, you can take a deep dive into why, and optimise your online sales funnel in order to improve your brand connection.
Some digital sellers, the successful ones at least, harness the power of this data using intelligence tools to understand how prospects are spending their time online. Then, they can see how they can sell their brand in a meaningful way.