"When you write something down, you have the potential to live forever. If you use remarkable words, if you share meaningful content, you can touch someone's life," are the wise words of Vala Afshar, digital marketing evangelist, author and Twitter storyteller.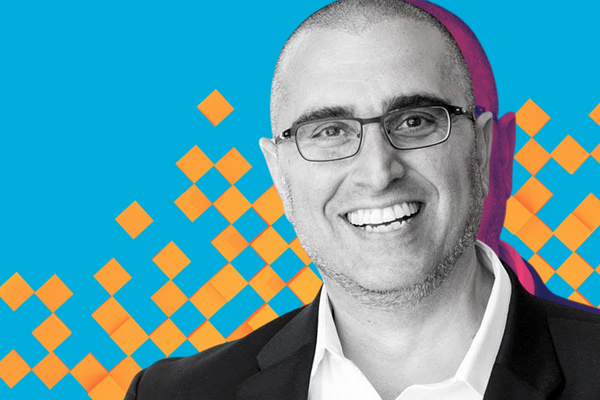 Vala is considered a pioneer in cloud computing, social collaboration, business intelligence, and customer relationship management. And he's got a fantastic taste in glasses. A real quintuple threat.
While he was the "Chief Digital Evangelist" at Salesforce, the San Franciso-based cloud computing and relationship management software big wig, it was his job to understand the forces behind the digital business revolution.
"I didn't go to [University] thinking I'm going to be a storyteller for one of the fastest growing, most successful companies in the world," he said.
When he was 10, Vala and his family emigrated from Iran to the United States. His skills lay in maths, which led him to pursue undergraduate and graduate degrees in Electrical Engineering.
"The teachers I have fond memories of are great storytellers," he recalled.
"They could explain not just the 'what' and the 'how,' but the 'why.' And when you understand the thing that you're building, how it can advance society, whether in health care, education, whatever industry you end up serving, that's important."
After a decade as a software developer and test engineer, Vala realised he was better at talking to customers rather than writing code. So, along came marketing.
Then, while he was CMO at Enterasys Networks, he joined little-known, but fast-growing, site called Twitter. This turned out to be a career-defining move, solidifying his social media expertise. But what does he credit for his whopping 797.4K Twitter followers, and dedicated base?
Give without expecting to get. I have absolutely no expectations of anyone that's connected to me on any social network or business or life. I expect certain characteristics that speak to, are you a loving person? Are you a caring person? Are you humble? Are you smart? Is there a benevolence and integrity that's part of who you are? And then I naturally gravitate to you.

But I do think the reason people follow me is I'm not trying to sell them anything. It sounds too altruistic maybe because ultimately I think we're all trying to be remembered. I'd like to be remembered.
But it's not just all about the content under 280 characters. Vala also published a book "The Pursuit of Social Business Excellence" in 2012, described by one enthusiastic online reviewer as "written absolutely authentic and what he presents on daily business. EXCELLENT! I am impressed."
On top of this, he contributes technology, business, and leadership articles to the Huffington Post, INC Magazine, among other publications.
And on top of that, he co-hosts DisrupTV, a weekly show covering the latest digital business and innovation market trends, interviewing Fortune 1000 business execs, start-up founders, venture capitalists, and tech and media personalities.
But he is most known for his role as Chief Digital Evangelist at the world-renowned Salesforce. But what does this role entail?
What Is A Chief Digital Evangelist?
A Chief Evangelist, of any type, is an ambassador for a product, service, or business. The actively promote a positive message that advocates others to buy or use the product.
In other words, a Digital Evangelist is about listening, learning, sharing, and storytelling.
In Vala's own words:
"When I have an opportunity to meet with customers and partners and they're thinking about going through the art of the possible. It's just an amazing time because you no longer challenged by scarcity. You're challenged by abundance. Can you really focus with all this innovation around you and do the right things at the right time with the right people to create beautiful experiences and, and trust?"
Credentials
University of Massachusetts Lowell, Electrical Engineering
Previously CMO and Chief Customer Officer, Enterasys Networks
Previously Chief Marketing Officer, Extreme Networks
Previous Chief Digital Evangelist, Salesforce

In March 2018, Vala sponsored the Vatican's first-ever hackathon, participated by over 120 students from around the world

Vala is a two-time Stevie Award winner stemming from his experience as CMO for Enterasys and Extreme Networks
Where to find out more
Salesforce.com

:

Vala has written various blogs and pieces of content for the Salesforce platform
Huffington Post: Vala's articles and blogs for the publication
DisrupTV: weekly Web series Vala co-hosts with R "Ray" Wang

Why not check out his book, The Pursuit of Social Business Excellence