TikTok is expected to reach a whopping 84.9M users by the end of 2022. On top of this, as of April 2022, almost half of TikTok users in the U.S were a young demographic, being between 18 to 34 years.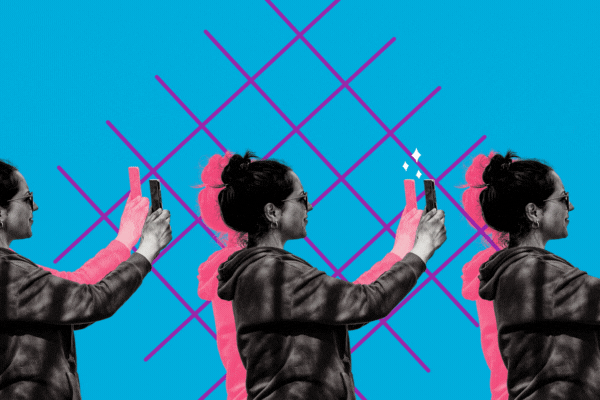 And these users are not just on the platform, but they're engaging. TikTok has the highest engagement of any major social media platform, including the percentage of followers who engage with influencers.
So, if your company which specialises in inbound leads from SaaS software hasn't yet learnt the latest TikTok dance, you might be missing a trick. Gotta make the most of those SaaS influencers.
The TikTok algorithm is all based on a recommendations system that determines which videos will appear on the users' For You page. So, no two users will see the same videos on their page.
Here's how TikTok itself defines the TikTok For You page algorithm:
"A stream of videos curated to your interests, making it easy to find content and creators you love … powered by a recommendation system that delivers content to each user that is likely to be of interest to that particular user."
TikTok has been secretive about its algorithm in the past. This has led to a lot of speculation about the factors that affect how it's coveted For You page is populated. However, that changed in 2020, when they published a blog post on how the recommendations are generated.
This revealed that the 3 main factors that influence your TikTok recommendations include:
User interactions
Video information
Device and account settings
Like we've mentioned, TikTok's pretty darn popular. For good reason. It transforms how brands connect with their audience, drive purchases, and find success.
Brands that see success on the platform aren't just pushing products, however. Those who see massive success don't just create content when it's time to sell. Instead, they develop a consistent presence by using a scheduling tool and focusing on their brand's role as a creator of entertainment.
It's all about creating a home on the platform, establishing a brand voice, and building community.
The platform has recently run a global research study to understand its role in, and perceptions across, the retail consumer journey. They found:
People on TikTok are 1.5x more likely to instantly purchase something they discovered on the platform than other platforms' users.
TikTok is 1.7x more likely to be the product discovery source than other social platforms.
TikTokers are 1.4x more likely than the other platform users to research products/brands they find on the platform.
TikTok users are 1.5x more likely than other platform users to persuade friends or family to purchase a product or service they've come across on the app.
TikTok users are 2.4x more likely than other platform users to create a post and tag a brand after buying a product.
TikTok users are more than twice as likely to comment or D.M. a brand after purchasing a product compared to other platform users.
Who Does TikTok Work For?
For marketers with a young-skewing audience, TikTok might be the way to go. The platform is shaping the way other companies approach their algorithms and features, so worth understanding.
The enviable 'For You' page developed by the platform is perfect for brand awareness and creates a natural and relaxed way of appearing before customers. It allows brands to utilise the benefits of influencer familiarity and relatability while cutting out the middle man.
TikTok's influence is being felt within a bunch of social media platforms' updates. And it's because of this: TikTok is the fastest-growing social network with a staggering 105% user growth rate in the US over the past two years.
So, other social media platforms are rushing to uncover and utilise the secret power of the short-form video site. That's what has led to the recent changes in Instagram's algorithm, and the more recent announcement of Facebook's algorithm update.
The TikTok 'For You' page is unique to each and every user, making it perfect for personalisation and targeting. In fact, because it is reactive to a user's behaviour, the videos they see will change over time based on their viewing preferences and even their state of mind.
This is how they describe their algorithm:
"A stream of videos curated to your interests, making it easy to find content and creators you love … powered by a recommendation system that delivers content to each user that is likely to be of interest to that particular user."
So, they key ranking signals for the TikTok algorithm include:
Number one: user interactions. The TikTok algorithm bases recommendations on a user's interactions with content on the site. This can include accounts they follow, creators they've hidden, comments posted, videos shared on the app, and content they've created themselves.
Number two: video information. While user interaction signals are based on how they interact with other users, video information signals are based on the content they seek out on the Discover tab.
Number three: device and account settings. These are the settings the platform uses to optimise performance. They're based on one-time setting choices rather than real-time engagements, so they tend not to have much influence on what users see. These can include language preference, type of mobile device, and country setting.
Why Should You Care About Tiktok?
Well, it's because other sites do. They've started to even follow the tricks and features of the TikTok algorithm.
Recently Instagram has faced a backlash for its shifting of priorities. When the social network made a series of changes attempting to copy rival TikTok, it was criticised by users and creators alike.
These changes feature an algorithmically focused main feed and a focus on the TikTok-inspired "reels" videos. It also pushes the TikTok-style remix feature, which has led to users having trouble finding content from friends and family, the original appeal behind the app.
"We're hearing a lot of concerns from all of you," Adam Mosseri said in a video posted to Twitter.
"I'm hearing a lot of concerns about photos, and how we're shifting to video. We're going to continue to support photos, but I need to be honest: more and more of Instagram is going to become video over time. We're going to have to lean into that shift while continuing to support photos."
The changes to the Instagram algorithm and platform have been in response to the continued growth of TikTok, which finds its base in younger American users. In the UK, Instagram remains the third most-visited social network, but globally TikTok has the most downloads than any other app.
Unsurprisingly, the Kardashian can got involved. Kylie Jenner posted a widely shared story on Instagram, calling on the service to "make Instagram Instagram again", asking for the return to friend-focused content.
The influence of this family on social platforms can't be understated. In 2018 a single tweet from Kylie asking "does anyone else not open Snapchat anymore" wiped $1.3bn from the market cap of the social network. This suggested that the new redesign the company had rolled out hadn't worked, forcing the company to reverse the changes only a few weeks later.
Facebook is also attempting a similar re-birth. Recently, Mark Zuckerberg announced a revival of the "chronological feed" in the main Facebook app, alongside a newly algorithmic "home" tab, in an attempt to copy TikTok's popular "For You" page.
"Our discovery engine will recommend the content we think you'll care most about," Zuckerberg said in a post announcing the change.
But these changes often have the feeling of a middle-aged dad wearing a Billie Eilish t-shirt to keep up with the kids. It might be identifying the elements of TikTok which work, but directly picking them up and sticking them onto Facebook, and onto Facebook's audience, isn't a guaranteed success.
"TikTok's got one fundamental thing that Facebook doesn't have," said Matt Navarra, a social media consultant and analyst.
"TikTok is cool. And it's very hard to recreate cool."
Amazon is the next company in line to generate engagement using a TikTok-style feed. The company seems to be testing a vertical photo and video feed, currently only into the app used by staff.
The feed, currently known as "Inspire" will appear on the bottom navigation bar in the Amazon app. When users tap the icon, they will see posts on the feed, which will include links to purchase any items featured in the post.
So, it's time to break out your dancing shoes and join in on the video feature of every single social media platform. Or just stick to TikTok.