Well, we're all winners really. You got to spend hours upon hours watching the best commercials of the year. That's the ultimate prize.
Every year we get to sit, eyes glued to the screen, mesmerised by the latest Doritos commercial. Wait, does that make us losers too?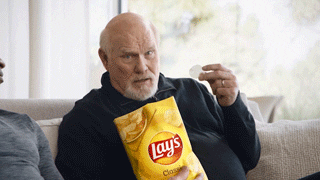 The Super Bowl is the biggest event of the year for advertisers. In 2021, the average cost for ad space reached $5.6 million on average for a 30-second slot, maintaining the same cost that was registered during the Super Bowl LIV in 2020, and almost double the cost in 2010 – $2.7 million.
It has been reported that this year, advertisers spent $6.5M for each 30-second airtime slot. So, think about that when your favourite soda brand beams a 80s celeb into your eyeballs during the Big Game.
The theme of this Super Bowl was clear - nostalgia, positive vibes, and looking towards the future. The best ads reinforced their brand images, whilst providing some warm, upbeat fun and creativity. There were only a few serious, sombre ads - which actually helped them stand out.
"The advertising in the Super Bowl this year was relentlessly upbeat," said Tim Calkins, a marketing professor at the Kellogg School of Management at Northwestern University and co-lead of the school's Ad Review. "Usually we see a real mix of serious spots, and emotional spots mixed in with funny spots. This year, though, it was an incredibly positive collection of advertising."
He added, "The other thing that was striking was that there was virtually no mention of the pandemic — no one in masks, no discussion of staying at home. It suggests people are ready to get back out there and they don't want to hear about the virus."
So, let's jump in, starting with the best of the best.
Best: Coinbase's QR code
Oh, you know this one. Your mum knows this one. Your nan knows this one. At least, she saw it. She probably didn't understand 90% of it. "A Crypto exchange platform ran a QR-code based ad" is not very translatable for the elderly.
This was a clever move by Coinbase. While most brands go for the high budget, celeb-filled productions, this was simple, eye-catching, and intriguing. From the strange music, to the lack of context, to the hypnotic movement of the QR code, it got people off their couches to engage with it.
Plus, people often forget the power of FOMO. Scan now, or miss out. So, this was all about creating a fuss, catching attention, in a way that was simple, clever, and interesting.
On top of this, it's very brand relevant. It's disruptive, like crypto is aiming to be disruptive. It relies on FOMO, like crypto relies on FOMO. It's futuristic, and exciting, just like crypto is. So, it fits with one of our three main themes mentioned above: looking towards the future.
By utilising the QR code, Coinbase is tempting curious viewers directly to the website. No need to Google, no need to call, no need to type in a link. The advert achieves immediately what commercials set out to do - get people acting. So, to include that as part of the ad, as part of the experience of the ad? Pretty clever.
Only thing is the website crashed from all the traffic. Not the worst problem to have, but reminds marketers that although a creative idea is great, if you don't have the tech or infrastructure to back it up, it can't live up to its full potential.
So, what were the stats? According to Milk Road:
117M people watched
20% scan the QR code (the chief product officer said the page got 20M visits in 1 minute)
10% signup
20% of them link their bank account
~500k new customers
Best: Rocket's 'Barbie Dreamhouse'
Now, here comes two more themes: nostalgia, and celeb power.
The thing is Rocket's Barbie Dreamhouse isn't sickly sweet. Instead, it delves into the realities of the housing market right now, from the competitive nature, to the disappointment. It's basically acknowledging that getting Barbie's Dreamhouse seems like an impossibility. Unless you use Rocket, of course.
So, why does this work? Well, instead of pushing an upbeat, positive message for such a timely and serious issue, Rocket refuses to talk down to their audience. It's saying "yes, we know it's terrible. Here's how we can help". This is a good tactic to take the millennial audience, who are currently struggling with the housing market.
Plus, like Coinbase, Rocket utilised the QR code in a 'blink-or-you'll-miss-it' way. "Someone needs to write a whitepaper on the renaissance of the QR code," says Mekanism's Chief Strategy Officer Ambika Pai. Ahem, Ahem. You're in luck. We've written one here. 👈
See if you can spot the code in the video, below.
USA Today announced the ad to be it's the winner of its 34th USA TODAY Ad Meter competition, a way to "measure public sentiment and opinion surrounding Super Bowl advertisements," according to a press release. With a max score of ten, Rocket's commercial received a 6.82, with Amazon's "Mind Reader" achieving a score of 6.78, and Doritos/Cheetos Flamin' Hot's "Push It" getting a score of 6.73.
Best: Toyota's 'The Joneses'
Sometimes the old ways work too. Toyota's offering this year was a high-budget, celebrity-filled extravaganza - no disruption, but also zero app crashes.
It's exactly what the audience expects, and wants, from a Super Bowl ad, from the celebs, to the humour, to the storyline, to the production value.
The celebrity power was the driven force behind the success of this ad. They had a wide appeal for a bunch of different demographics and audiences, just like the audience of the Super Bowl. Plus, the product is featured in every shot, with the production value of a Bond film.
Best: Google's 'Lizzo in Real Tone".
Among the celeb cameos, nostalgia, and humour, Google's sombre, serious ad stood out.
This commercial aired not long after the half time show - which featured a huge number of prominent black artists. This makes the use of this ad even more powerful.
The commercial notes that black skin tones have not been considered when developing cameras and photography tech, whereas Google's new software promises to capture black skin better. Real Tone photos fill the screen to Lizzo's performing her new song, "If You Love Me."
Google has long set itself apart from the light, funny ads, instead turning to ads which have real emotional weight and depth.
Worst: Meta's 'Old Friends, New Fun'
This one is confusing. Uncanny. Unsettling. Odd.
Here's what happens: a band of animatronics are performing "don't you (forget about me)" by Simple Minds in an 80s arcade. Then, they retire. We follow the lead singer's downfall, which leads to a pawn shop, a highway, a garbage disposal facility, then to a job as a sign waver at Bosworth Space Centre. One day, a guest using Meta's Oculus Quest puts the headset on the dog, where it encounters its bandmates, and performs the song for an adoring crowd.
We warned you it was creepy. Basically, Meta's saying "yes, everything is terrible. Put on a headset and forget about it". Not great.
The thing is Meta isn't really advertising anything. They're not being clear of their intentions, nor are they describing what the Metaverse is. And in order to get people excited about the tech, they need to understand the tech.
Comments about the new ad, posted on various YouTube channels included a wide variety of responses, from "Scary and also cute. Perfect,", to "The metaverse is going to destroy society…"
Worst: Cutwater Spirit's 'Here's to the Lazy Ones'
So, this one is based around insulting its audience. Not great.
Commercials which both insult the product and the customer, in order to make a joke or seem clever, might not be as effective as the marketers think.
The black and white commercial is entitled "Here's to the Lazy Ones" and pays tribute to those who come up with ingenious methods to speed up everyday monotony, often tedious or labour-intensive, tasks.
Thing is, Cutwater is possibly saying to their audience: "this is you. Instead of making your cocktails from scratch, you're being lazy, and cutting corners. Like these bums."
Some people even thought the commercial ripped-off Apple's previous ad "Here's to the Crazy Ones". One user tweeted: "How could that @CutwaterSpirits ad even be allowed? No way Apple gave them rights to bastardize their commercial. Ironic, the lazy ones are whoever made that commercial. Find your own idea,"
Worst: McDonald's 'Uhhhhhh'.
Now, on the surface, this is a great ad.
But it shows the importance of picking your influencers wisely.
"Influencer scandals and controversies are often surprising and the unveiling of these can come out of nowhere. In the past five years, influencer apologies have become commonplace," says Sara McCorquodale, CEO and founder of CORQ.
"Brands tend to be on the receiving end of negative reaction regardless of what they decide to do in this scenario but an internal policy on this is advisable to ensure reaction to historic controversies is down to company standards rather than knee-jerking."
So, if you've seen the ad, you'll know who we're talking about.
Kanye West's appearance in the ad comes after a weekend of controversy, in which he spent hours firing out a series of Instagram posts to Pete Davidson, who is dating his ex-wife Kim Kardashian. Making sure his followers were clear that the posts were by him, West shared a photo to confirm, and wrote:
"MY ACCOUNT IS NOT HACKED I WILL BE AT SUNDAY SERVICE AT NOON. AND WILL ME TAKING NORTH AND SAINT TO THE SUPERBOWL SHORTLY AFTER @chethinks I'LL DOUBLE WHATEVER THEY PAYING YOU JUST SO YOU DON'T HAVE TO LOOK AT THAT PAWN EVER AGAIN BIG LOVE."
Whether it's all just a viral stunt on McDonald's behalf, we'll never know. But when you've picked such a controversial figure, you're bound to have a few PR catastrophes.
At face value, Ye is a great pick for McDonald's. In fact, he once tweeted that "McDonald's is my favourite restaurant" in 2018, and even wrote a poem dedicated to the chain for Frank Ocean's Boys Don't Cry magazine.
The poem features the McDonald's famous french fries, stating: "I always knew them french fries was evil, man. ... I don't trust no food that smells that good man," and "Them french fries look good tho / I knew the Diet Coke was jealous of the fries / I knew the McNuggets was jealous of the fries,"
But the brand did feature a few, less controversial, stars as Easter eggs. The amount of people searching for Who Is The Voice Behind Grimace in McDonald's Super Bowl Ad? (answer: Ryan Reynolds), spiked after the ads airing, which extended the viewing experience of the ad, and possibly got people to the brand's website.
The commercial also featured NASCAR driver Bubba Wallace and the world's most popular FIFA Twitch streamer Edwin Castro.