A recent article published by Forbes estimates that as much as 60% of marketers believe that AI and machine learning will completely change how they create content. So, what tools can you use, you intrepid tech explorer?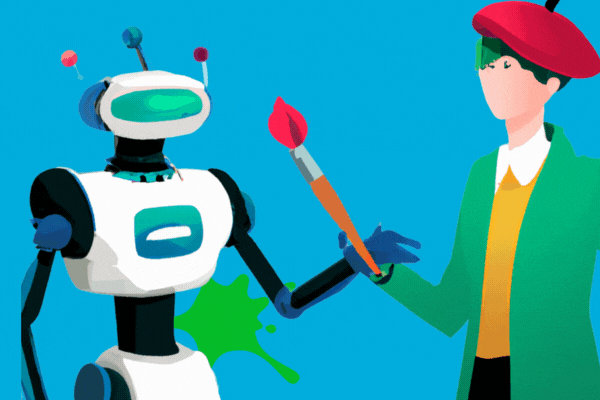 Give a robot a paintbrush, and he'll paint a slightly off-putting picture of a man with no teeth. Teach a robot to paint, and you change the entire face of content generation.
But why has generative AI become such a big topic in recent years?
The marketing world is constantly evolving, and with it, the ways in which brands reach out to potential customers. For some, this means relying on expensive and time-consuming marketing campaigns. For others, it means utilizing a content marketing strategy. While content marketing strategies can be effective for businesses of all sizes, they are not without challenges. In the past, curating and creating content has proven to be time-consuming and often ineffective.
There are now many different AI content tools on the market that can help marketers to produce better and more targeted content. Some of these tools allow users to create their own content, while others provide a platform for publishing and sharing existing content. Most of these tools are cloud-based and can be accessed using a computer or a mobile device. Some of them are free to use and others are subscription based.
By using technology like artificial intelligence, content marketers can focus more on producing high-quality content and less time on manual tasks.
Let's get into a quick definition for all you newbies out there. AI content creation is, in simple terms, when a machine creates content for you.
It often refers to written content like blog posts, articles, and copy, but is now creating content in the art, audio, and video fields too.
But let's take a look at some AI content use cases, shall we?
1. Content Personalisation
Most online businesses will collect a bunch of data from their customers and potential customers. This might range from demographic, to location, to shopping habits, and beyond. This is primarily to create relevant and personalised content based on their likes, dislikes, and motivations.
So, content personalisation tools, such as Concured, use artificial intelligence and machine learning to show marketers what topics drive engagement, and what they should be writing about.
This leads to an AI-powered content strategy platform which automates content audits, topic research, the creation of data-driven content briefs, content promotion, and tracking content marketing performance.
2. AI Writer
AI writing software, such as Jasper, use AI to generate blogs, emails, landing pages, and social media content. If a writer gives the AI a prompt, it'll generate dozens of pieces of short-form content.
The AI writer is helpful for getting through writer's block, by offering prompts for a post.
"Whenever you're writing a lot of copy, the creative process, writer's block is a real thing and it's helping us get past that. So we love Jasper AI and recommend it for anyone that has an amazing business!"
‍
Helen Sharp
‍CEO of Be Influential PR
3. Content Editing
Instead of creating content from scratch, like a writing AI, content editing software, like Grammarly, uses AI to help the write hone the content they themselves create.
The user can utilise Grammarly for any content they create, from emails, to slack messages, to content management systems.
A Content editing AI will provide suggestions for correctness, clarity, and tone, helping the user to write posts and blogs quicker, and avoid typos and grammatical errors.
When the AI detects a writing improvement, it will immediately make a new word, phrase, or punctuation suggestion. It'll also analyse the style and tone of the copy in real-time and recommend edits that can be made with one click.
4. BI and Content Creation
BI content creation tools allow big firms to create complex templates that turn a company's raw data into written reports like P&L and Budgets vs spends tracker reports.
This AI, for example Wordsmith, works with a wide array of business intelligence tools like Tableau, Power BI, and Tibco Spotfire.
These tools are ideal for large-scale firms that have a lot of data collected over several years and constantly create reports using that data. This software enables them to create insightful reports at a speed and accuracy that no human can match.
So, these tools might not be ideal for domestic usage by independent content creators, and can often be costly.
5. Text to Art AI
From the Demogorgon from Stranger Things holding a basketball to a man withdrawing a stack of fish from an ATM, people have been making their wildest dreams a reality.
Now instead of creating or sourcing a unique image for every blog post, social post, or featured email image, you can reach out to a friendly little robot. The tool is seen as one of the most advanced AI systems for creating images in the world. And the possibilities seem endless. You can ask for images that look like photographs, or like Klimt, or even like it's been made from clay. They can even invoke aesthetics, such as "steampunk", or "dystopian".
Plus, if AI is able to produce simple, short content, content marketers need to develop different content. Maybe it'll be the more complex images the AI can't replicate, or being trained on how to control the algorithm to get the best results.
So, we all know marketing skills change with the times. But with marketing AI, these skills will change faster than in the past. This doesn't mean humans will lose their advantage in the industry. Instead, they will have to identify the spaces where AI is weak, and where human creativity and agility are indispensable. Plus, that image of the basketball-wielding Demogorgon is pretty darn cool.