Never let anyone say that Salesforce have their heads in the clouds. The cloud-based software, maybe. But, thanks to their (very) humble beginnings, the company is still pretty down to earth.
Despite sounding like an 80s cartoon superhero team, the software company has hit the sweet spot of cloud computing and SaaS, catapulting them to success. Based in the Salesforce Tower in San Fran, they've reached the heights of $21.25 billion of revenue in 2021 alone.
But we all start somewhere. So, let's have a look at Salesforce's journey, from a bedroom-based business, to a global success. Starting in the far away era of 1999.
1999
Salesforce was founded by Marc Benioff, a sales exec at Oracle in 1999.
When Marc left Oracle, he recruited three consultants from a start up he had invested in: Parker Harris, Dave Moellenhoff, and Frank Dominguez. The group has a shared vision, and a wealth of technical capabilities.
In March of that year, the gang began working on the first version of Salesforce's CRM. Their work is based out of a one-bed apartment on San Francisco's Telegraph Hill, check it out below. That's not the last time we're seeing a picture of the Dalai Lama in this article, either.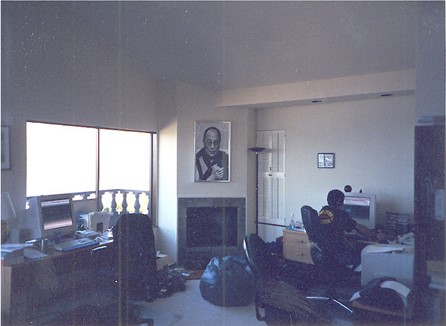 Together, they created the first version of Salesforce's CRM.
While building the prototype, they're also building something distinct to Salesforce: the culture. They work on what they believe to be important and necessary, with "no fluff".

In December 1999, the Salesforce Foundation was founded. The 1-1-1 model of integrated philanthropy (1% of product, 1% of time, and 1% of resources) continues today.
By the end of the first year, the company had expanded to 40 employees, and an 8,000 square foot office at the Rincon Centre.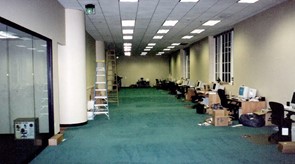 2000
In 2000, Salesforce launched a strong, bold marketing campaign for their CRM. It started alongside the Siebel protests. On February 22nd, 2000 at the Siebel User Conference in San Francisco, protesters called for the "end of software", with news teams rushing to report this unrest.
The thing was: Marc was behind it all. The protesters, news teams, and rallying cries were all part of a marketing stunt as part of their "anti-software" message. This all culminated in the "end of software" party. Check out the messaging on the website at the time: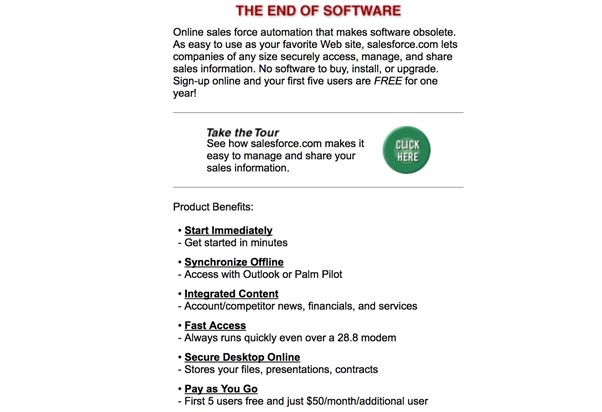 2003
2003 was the year of the first Dreamforce, Salesforce's annual conference. The event was attended by just over 1,000 people, and was held at the Westin Hotel in, you guessed it, San Francisco.
Nowadays, Dreamforce has become a major San Fran event, closing down the entirety of Howard Street for multiple days. Partners have even published Dreamforce survival guides. Talk about multimedia experiences.
Another marketing stunt: Salesforce kept their edgy, controversial tactics going by releasing an invitation to celebrate their 100,000 users that featured the Dalai Lama.
Though it did help to foster the anarchist-style community they were developing, it was met with intense outside criticism. Marc subsequently apologised.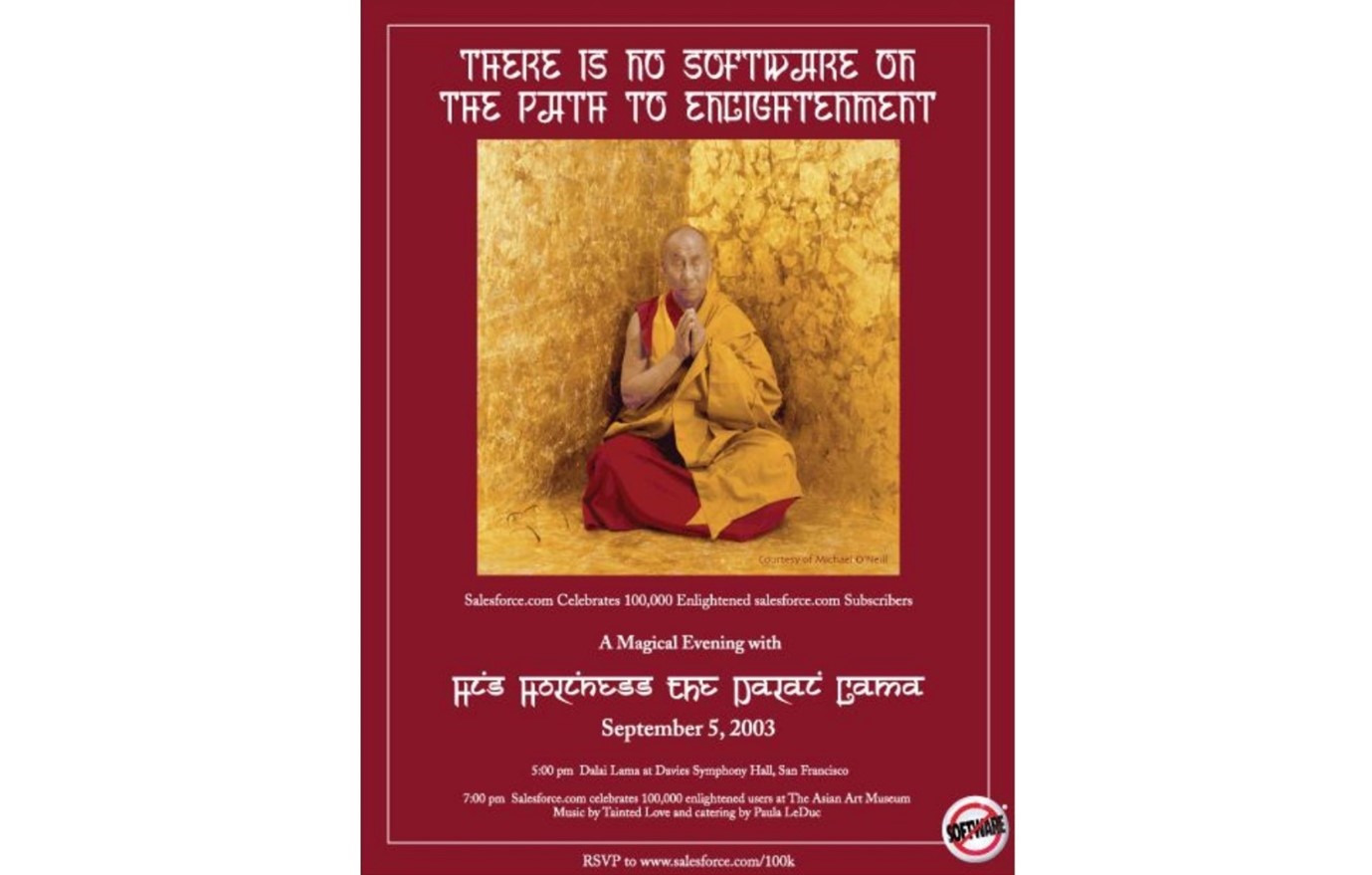 2004
The company had its initial public offering on the New York Stock Exchange in June 2004. Under the stock symbol CRM, they raised a whopping $110M.
Early investors included Larry Ellison, Magdalena Yesil, Halsey Minor, Stewart Henderson, Mark Iscaro, and Igor Sill, a founding member of Geneva Venture Partners.
In this year, eight thousand developers and 150 independent software vendors started using Salesforce to create applications. This success led to the company having 12 offices globally.
2005
In 2005, Salesforce's AppExchange was launched, which gives third-party developers the ability to work on their apps, and offer them to Salesforce customers.
At the end of the year, the customer base was 20,500 worldwide, with 400,000 unique users.
2006
In 2006, Salesforce went mobile. This started with the acquisition of wireless technology start-up Sendia, and AppExchange Mobile.
The success of AppExchange continues, with the ecosystem growing into a marketplace with 575 apps, from 250 software vendors.
On top of all this, Parker Harris developed a technology called Visualforce. This tech allowed users to create any user interface they wanted, offering them the ability to build forms, buttons, links, and embed them wherever and whenever. This paved the way for the Salesforce SaaS platform, Platform-as-a-service.
2009
This was the year when Salesforce reached the $1B revenue mark. And by the end of the year, the company had reached over 55,000 customers.
With 2009's Dreamforce came the announcement of Chatter, which functionality continues to be used or upgraded with each seasonal release.
2011
In two years, we're doubling that figure: in July of 2011, Salesforce reached 100,000 customers. Forbes would also name Salesforce "the world's most innovative company," in 2011.
Salesforce repurposed the crowd-sourced data company Jigsaw as Data.com, too. This was a move that showed Salesforce's aim, and ability, to extend their reach in the SaaS industry, adding new and renewed revenue centres as they grew.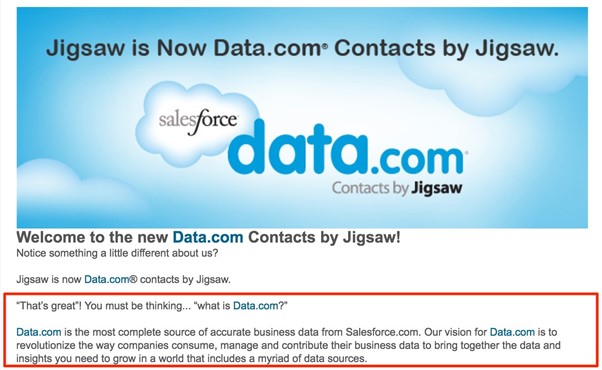 2012
In 2012, Salesforce repurposed Assistly as Desk.com, adding a social customer service tool to their belt. Salesforce had actually made an earlier investment in the start-up, and finally bought it in 2011 for $80 million. This move meant Salesforce had a social help desk, which could draw on data from the company's CRM, and provide a more integrated experience for customers.
In 2012, Gartner ranked Salesforce as the world's number one CRM. Plus, this year's Dreamforce had more than 90,000 registered attendees, with the Salesforce Marketing Cloud being unveiled during the keynote address.
Another award came their way in 2012: Forbes nominated Salesforce as the world's most innovative company for the second consecutive year.
2013
In 2013, Salesforce completed its biggest acquisition yet. The buying of Exact Target allowed the company to offer its customers the ability to extend the power of their Marketing Cloud.
Plus, the Salesforce1 platform was launched, meaning that customers could manage their businesses from their mobiles.
Between 2011-2013, Salesforce made acquisition after acquisition. They: acquired Jigsaw, Assistly, and Radian6 and repurposed them as Data.com, Desk.com, and Social.com, respectively.
2014
This year, Salesforce launched their learning platform Trailhead, described as "empowering anyone — regardless of education level — to develop the skills needed for top tech jobs."
This year saw 1.5M registered developers, and $5B in annual revenue - a milestone achieved faster than any other enterprise software company.
In April, Salesforce announced its New Industries Strategy. This was the company's first large-scale push into vertical markets, and included six separate global industries.
The press release said, "Salesforce.com enables payers, providers, and life science companies to connect with patients and providers wherever they are to improve the patient experience, outcomes, and cost."
2015
2015's Dreamforce saw a number of announcements, the most important being the reveal of the Salesforce Lightning Experience. Trailhead was also announced at the conference, described as a "new way to learn Salesforce".
2016
2016 was the year of the most acquisitions in the history of Salesforce.
These moves included the buying of CPQ tool SteelBrick. It also included the largest purchase price up until that point—$2.86B for DemandWare.
Health Cloud was announced this year, with the press release describing the move as such:
"Salesforce is leveraging a comprehensive ecosystem of partners, systems integrators (SIs) and independent software vendors (ISVs) to extend and implement Health Cloud."
2017
In 2017, the company's rapid growth continued. In October, Salesforce launched a Facebook Analytics tool for B2B marketers.
They also launched Einstein, the first comprehensive artificial intelligence technology for CRM, meaning that AI tech was widely accessible to companies and business users.
MySalesforce was also unveiled, which allowed users to build and deploy customised mobile apps with point-and-click tools.
By the end of the year, Salesforce was an $8.3B company, and was once again named by Forbes as the world's number one innovative company.
2018
2018 saw the introduction of Mulesoft, as well as the grand opening of the Salesforce Tower in old reliable San Francisco.
The company also announced Salesforce Customer 360, a new platform service which manages customer data across clouds via a click-based user interface.
In September, Salesforce partnered with Apple, in order to improve apps for business.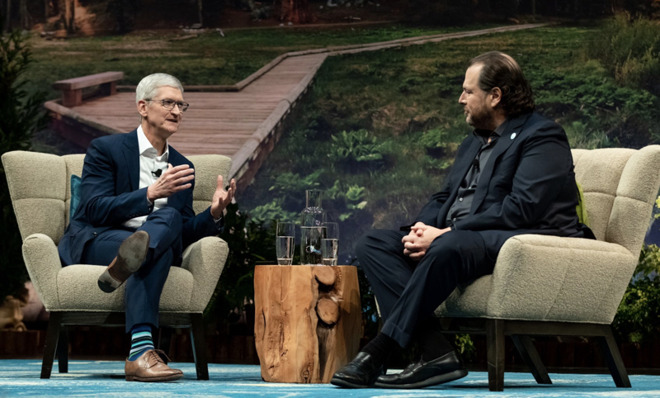 2019
Another acquisition for Salesforce in 2019: the company acquired Tableau, combining the CRM and analytics platforms to enhance customers' digital transformations.
2020
Yep, another acquisition. And it's a big one.
But just before, February saw the departure of co-chief executive Keith Block, who stood down from his position in the company. Marc remained as chairman and CEO.
On June 1st, Salesforce signed an agreement to acquire Vlocity, and announced Work.com, a solution for meeting new workplace challenges. This included features like contact tracing, emergency management, employee welfare assessments and shift management, all as a response to the COVID pandemic.
And then, the big move. Salesforce made its biggest acquisition to date, by buying up workplace chat app Slack for a cool $27.7B.
2021
In February 2021, Salesforce announced the retirement of Mark Hakins from his position as CFO. Amy Weaver was selected as his replacement.
At the Davos Agenda, Salesforce joined Global leaders to call for stakeholder capitalism initiatives, and encouraged businesses and governments to participate.
Plus, the company published COVID-19 ethical considerations for employers, including guidelines on safe and equitable return to work plans. They also introduced Digital 360 for Industries and new Digital 360 initiatives.
Plus plus, Salesforce announced a partnership with FedEx, to focus on shipping and ecommerce. Salesforce+ was also introduced last year, which is a streaming service with live and on-demand content for a variety of roles, industries, and businesses.
All this led to Salesforce jumping up 50+ spots on the Fortune 500 list.
The future?
Salesforce is the SaaS big dog. But is it going to be a case of the higher they fly etc etc?
The company has shown a willingness to adapt, change, and adopt, spreading so widely into the SaaS ecosystem, yet still having plenty of room to expand. When a new issue, or tech, comes along, Salesforce is the first to see its potential. But, using tactical acquisitions, they take up, and improve on, existing tech with existing audiences, and offer the solutions their own captivated community.
Thing is, thanks to their innovation and investment, other companies might offer cheaper solutions for their customer base. But it's likely Salesforce will remain strong, even for the next 14 years.