There's no-one like Marketo. But we don't have to tell you - chances are if you've found your way to this site, you know more than a little about them already.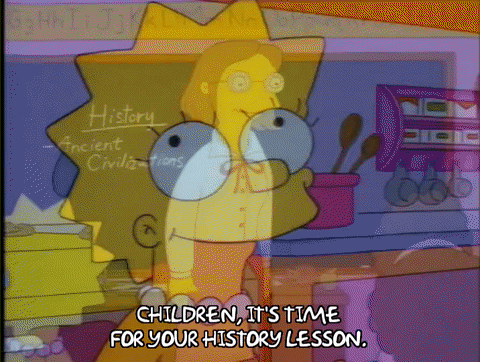 Or maybe you don't, we won't judge you. For all you sad, sad, losers who have never heard of Marketo, here's a definition to brighten up your sad, sad lives.
Marketo is one of the most connected and open marketing platforms available to marketers, and supports both large enterprises and small businesses, across a bunch of different industries.
Self described as "that thing marketers use to start their day", Marketo offers its users access to a bunch of different and vital steps to make their marketing impactful. This includes; lead management, marketing automation, lead scoring, account based marketing, digital advertising, email marketing, real-time personalization, reporting, marketing ROI, campaigning, and event marketing, to name a few.
From small time start-up to the largest acquisition of Adobe, how did Marketo go from a tiny company, to having a price of $4.75 bn? Well, let's find out.
2005: Before the beginning
The Co-founders of Marketo (before they were co-founders) had all worked together at Epiphany, another marketing automation company.
When it was acquired by SSA Global, Phil Fernandez, Jon Miller, and David Morandi decided "hey, maybe we can do this ourselves. We're strong, independent guys, who don't need no large automation company chaining us to our desks. We can do this. And do this our way". Or so I imagine.
This was way back when, in an era where marketing was seen as a cost centre, and capital investments for martech were few and far between. So, they set out to convince people, and companies, that marketing needed technology, and martech needed them.
But it wasn't all smooth sailing. In fact, Jon tells of a low spot he was in before starting Marketo:
"[I had] just been laid off…had a mortgage, my wife was pregnant with our first kid. Sort of assumed I'd just get a job being a CMO (Chief Marketing Officer) somewhere."
But instead of taking the easy road, Jon took a chance. He asked himself: "Do I work at these jobs I wasn't happy with, or do I just say no to those jobs and work on Marketo with Phil?"
Guess which way he went. Well, the next title will tell you.
2006: Marketo is founded.
So, the big three founded Marketo in 2006, in order to help CMOs and their teams demonstrate the return on investment for their marketing programmes.

In order to make it as easy as possible for customers to purchase, they took the SaaS approach, which meant they needed less upfront capital investments, taking a chance on SaaS when it was relatively new.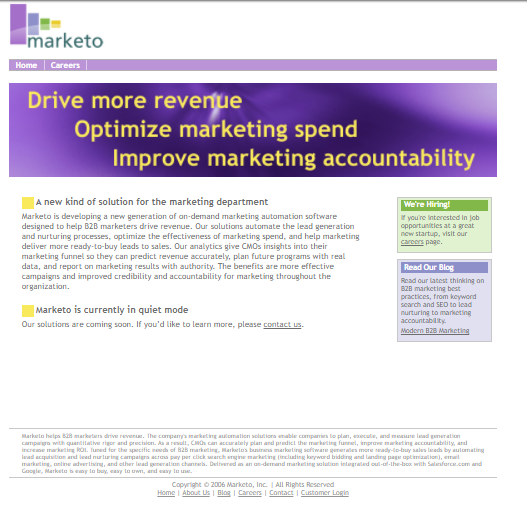 But it would be two more years until the company released its first product. So, let's jump forward to:
2008: The product release
2008 saw Marketo introduce its first product, Marketo Lead Management.
This saw revenue jump right away, fuelled by the audience and connections the team had built through their inbound marketing content marketing efforts. Don't let anyone tell you content isn't important, guys.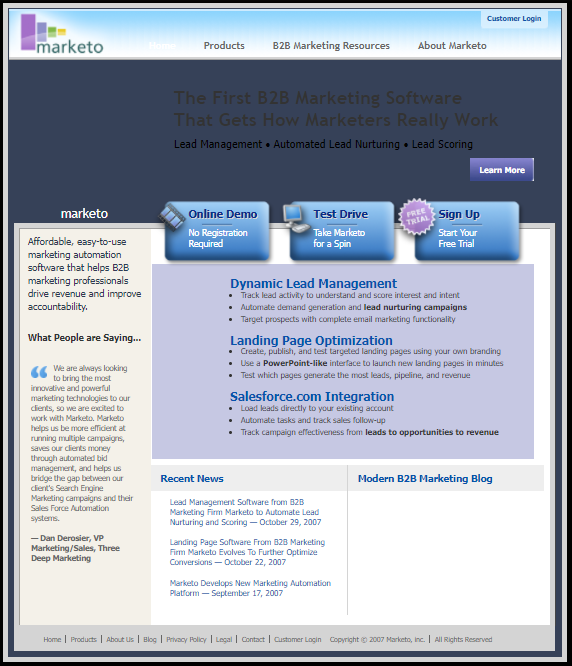 Jon was a prolific blogger, and had built a dedicated audience of marketers who were excited about the product, before it was even released. The blog also helped their SEO rankings, another way the team utilised a technology in its early stage. This meant it was easy for Marketo to rank highly on the search engine results, thanks to Jon's efforts.
Following this success, Marketo released Marketo Sales Insight in 2009, and then Marketo Revenue Cycle Analytics in 2010.
2011: Growing, growing, grown.
In 2011, Marketo was listed as 28th on Forbes' Most Promising Companies.
This is the same year they established their first international office in Dublin, Ireland. So, Marketo was going global.
Not enough for you? Well, in 2011, Marketo also achieved annual recurring revenues of around $33M. Not too shabby.
2012: Positioned for Acquisitions
In April 2012, Marketo made its first acquisition, in its buying of Crowd Factory. This move helped the company to integrate social media marketing capabilities into its offerings.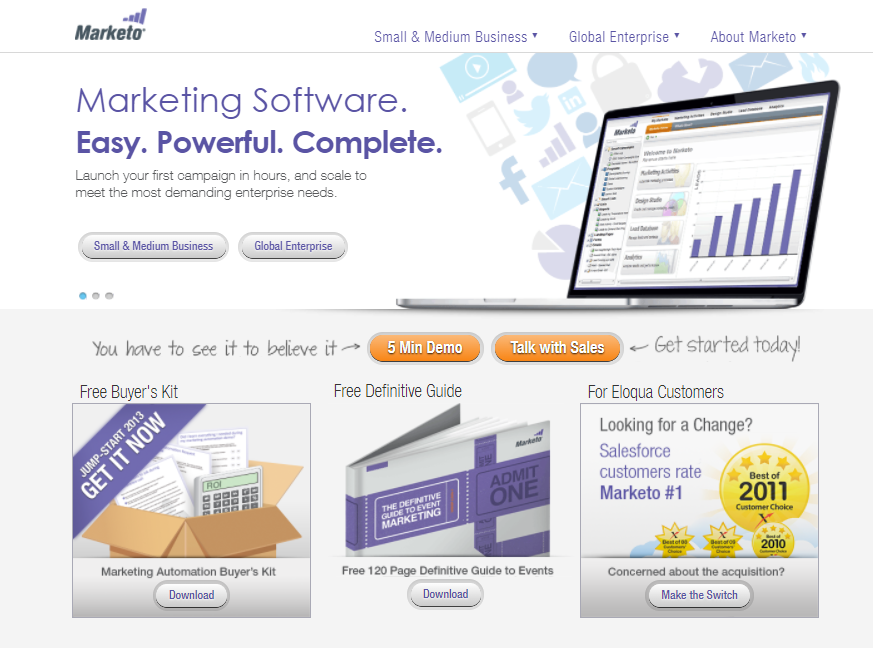 Then, later on in the year in November, the company introduced LaunchPoint, an app and services network for the "marketing nation" of tech partners and professional service providers.
And the awards don't stop coming. 2012 saw Marketo receive:
CODiE Awards 2012, winner, Best Marketing/Public Relations Solution

Wall Street Journal Next Big Thing 2012 (rank: 20)

Best in Biz 2012 EMEA Awards, Small or Medium Business Product of the Year (silver)

Inc. Hire Power List 2012 (rank: 5)

Inc. 500 2012 (rank: 78)
2013: VIP of the IPO
After a bunch of funding rounds over the eight years, with a grand total of almost $110M, Marketo decided to take the next step. They went public.
Filing for their IPO, the company went public on May 17th 2013. Then, they moved to acquire Insightera in December. The Israeli company would bolster Marketo's position, with their specialisation in website personalisation. The deal involved $20M in cash and stock changing hands. Cha-ching.

2016: Hasta La Vista
In June of this year, Vista Equity Partners announced an agreement to acquire Marketo, for a whopping $1.79B, with the move being completed in August of 2017. As a result, Steve Lucas was named the new Chief Officer of Marketo in October of 2016.
2017: Feels like magic
In 2017, Marketo was named a leader in the Gartner Magic Quadrant for CRM Lead Management, for the sixth year in a row. Impressive.
Then, in August of that year, the company revealed it would be moving all of its marketing automation software onto the Google Cloud Platform. This was part of a six-year alliance to integrate the search platform's tools into Marketo's products.
2018: Acquiring, and being acquired.
On May the 1st, Marketo announced they had acquired marketing performance management software company Bizible. The move meant Marketo could offer client organisations the ability to seamlessly link revenue back to marketing investment.
The co-founders of Bizible, as well as the rest of the team, joined Marketo from their office in Seattle. This allowed Marketo to use the office as a satellite in the city.
Marketo also announced a Google Cloud collaboration to drive AI growth, after joining forces in August the previous year. This move was made to create new AI products, especially for marketers. Nwah, thanks you guys.
Announced at Marketo's Marketing Nation Summit in San Francisco, this partnership hoped to create new offerings that would enhance the speed, scale, and effectiveness of campaigns.
Then, the big news. On September 20th, Adobe announced that it was buying Marketo for a stratospheric $4.75 Billion.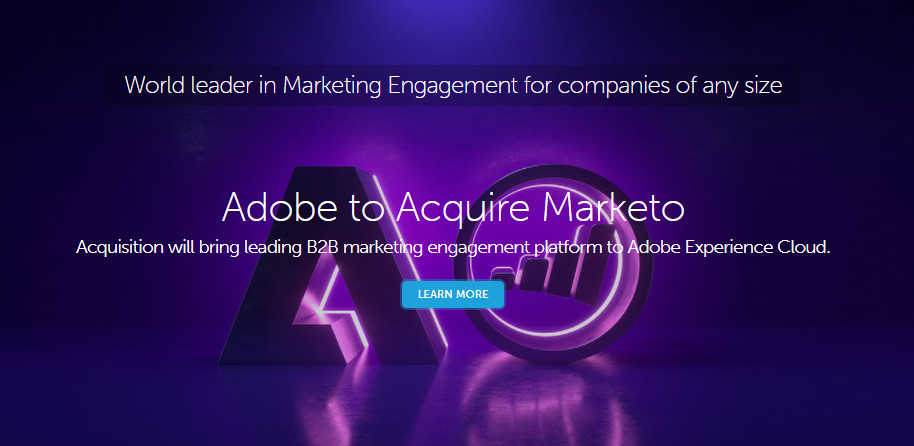 2019: Departures
The Google partnership was paused in 2019. Though not abandoned, there were no further moves made, nor collabs between the two companies. Instead, many migrated services were bought back in-house.
2019 also saw CEO Steve Lucas' departure from Adobe, roughly one year after the agreement was signed.
"It's times like these that I think about the phrase 'it's not personal, it's just business.' I've come to believe whomever coined that phrase got it wrong, as being part of a company is one of the most personal things you can undertake," he said.
The Future?
The move from Adobe shows a major vote of confidence in martech, and the industry has continued to grow. In fact, the Global market for marketing technology is estimated to be worth $344.8bn in 2021, a figure which underlines the huge role that martech now plays in almost every organisation.
Marketo has, over the last couple of decades, grown into a leader in marketing automation. All this has led to a community they call the "Marketing Nation", a dedicated group invested in the company's solutions. So, the Marketo fanbase never went away. And why would it, when the company sticks by this motto:
"At our core we are a company for marketers, by marketers. We wake up every morning thinking about how we can make life better for our fellow marketers."
2021 saw Abode named a leader in the 2021 Gartner Magic Quadrant for B2B Marketing Automation Platforms. And who do they credit for this success? The strength of their B2B marketing automation platform.