Video marketing is huge and only getting bigger. In this article we've rounded up some key stats and trends around social video.
Viewers claim they retain 95% of messages from video, while 70% of marketers planned to use video marketing on Facebook in 2021, making it the #1 platform for marketing investment over the next 12 months.
Now, generally speaking, you shouldn't put all of your eggs in one basket when it comes to any kind of marketing, and the same goes for video marketing. But if you were going to, which should you choose?
Well, I'm not going to tell you where you'd be best advertising, but I will give you a shedload of stats and let you come to your own decisions.
Most popular social platforms for video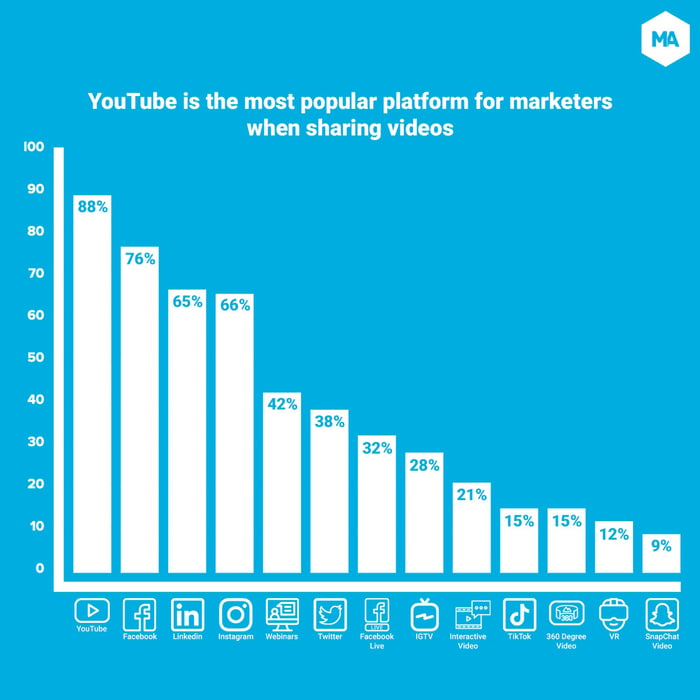 YouTube
YouTube has more than 2 billion monthly active users.


YouTube is the second most popular website in the world, after Google.



According to Social Media Examiner's

2020 industry report, YouTube is used by 55% of marketers, making it the most used video channel for video marketing.


People watch more than 1 billion hours of YouTube video content each day.


More than 500 hours of video content is uploaded to YouTube every minute. This is obviously a huge amount and while that may make it seem like the possibilities are endless, it's very easy to get lost in the noise of the platform.


One in three baby boomers go on YouTube to learn more about a product or service.



YouTube generated more than $5 billion in advertising revenue in Q3 2020.
Facebook
More than 4 billion video views take place on Facebook every day.




500 million viewers watch 100 million hours of video content on Facebook daily.


65% of all Facebook video views come from mobile users.


85% of Facebook users watch videos with the sound off.


Native videos get 478% more shares on Facebook than videos from other sources do.


Facebook captured 24.5% of all video ad spending in the US in 2018.


47% of the total campaign value of a Facebook video ad is created in under three seconds.


The cost of Facebook video ads is 10% of the cost of carousel or single image ads.


Twitter
Twitter users are 38% more likely to post opinions about brands and products than other social media users.



Twitter users are more likely to engage with brands that are inclusive, relevant, and transparent.


People watch 2 billion videos on Twitter every day, which is a 67% year over year growth.


Tweets with video get 10X more engagement than those without.


Time spent on viewing ads is 26% higher on Twitter than on other leading platforms.


The ideal video ad length on Twitter is between 6 to 15 seconds for branding impact.


When Twitter videos start on a product, there's a 24% increase in positive interest and 34% increase in click intent.



Sound-off videos can drive 28% longer view time with mobile viewers, so make sure you have subtitles or that no sound is necessary!
LinkedIn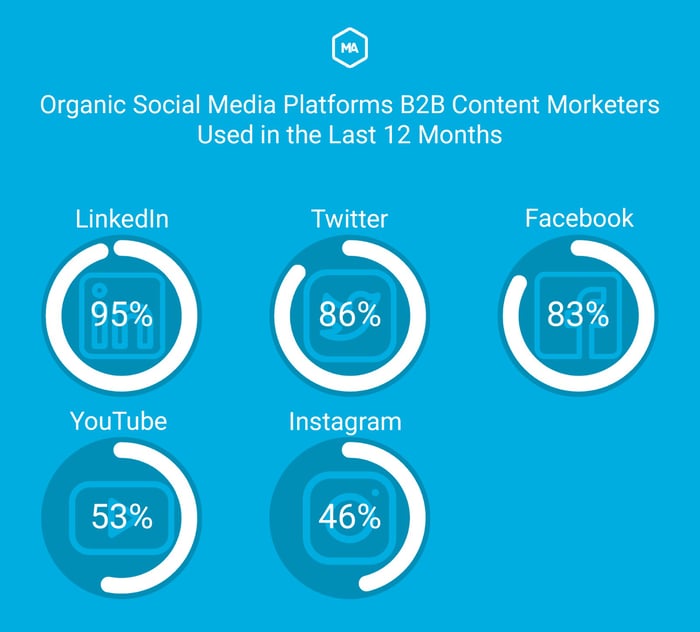 38% of marketers post video content on LinkedIn.


75% of those who used video on the platform found it effective.


Brands get 7x more reactions and 24x more comments on LinkedIn Live streams than regular video.



LinkedIn is emerging as a more popular and successful platform for sharing video content. In 2019, it emerged as the most successful channel for video marketers according to

Wyzowl's 2020 report.


LinkedIn is the most trusted social network in the U.S.


LinkedIn Live streams increased by 437% in 2020.


An ad on LinkedIn can reach 13% of the world's population (over thirteen years old).


Ad exposure on LinkedIn can increase purchase intent by 33%.
Instagram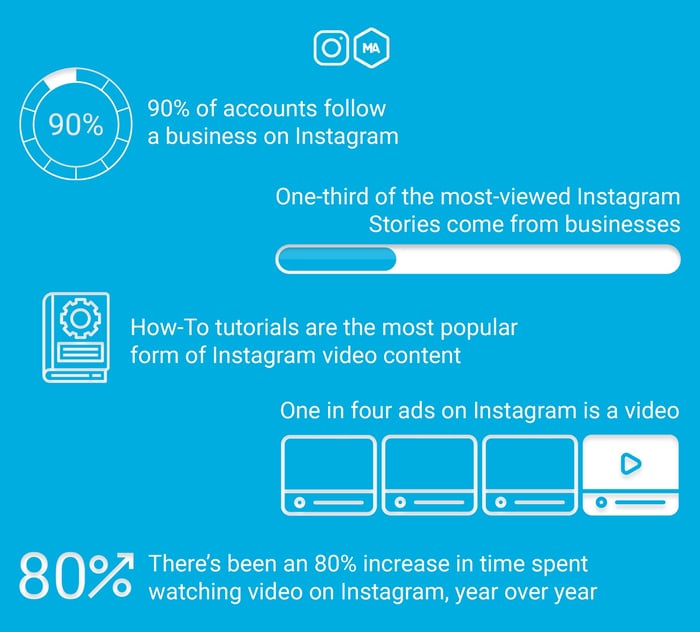 46% of B2B content marketers used organic Instagram within the past 12 months.


Instagram is now the popular platform for following brands.


70% of "shopping enthusiasts" turn to Instagram for product discovery.



Instagram accounted for 33% of Facebook ad spend and 36% of impressions for brands.
This post is part of our Martech stats series, which compiles key data and trends. Others include: