Scott Galloway. The Jason Statham of marketing, we in the business call him. We don't actually but if you squint really hard, he looks a bit like Jason Statham. You can see why we came up with that name, is what I'm trying to say. But there's much more to Scott than his resemblance to a bald action star.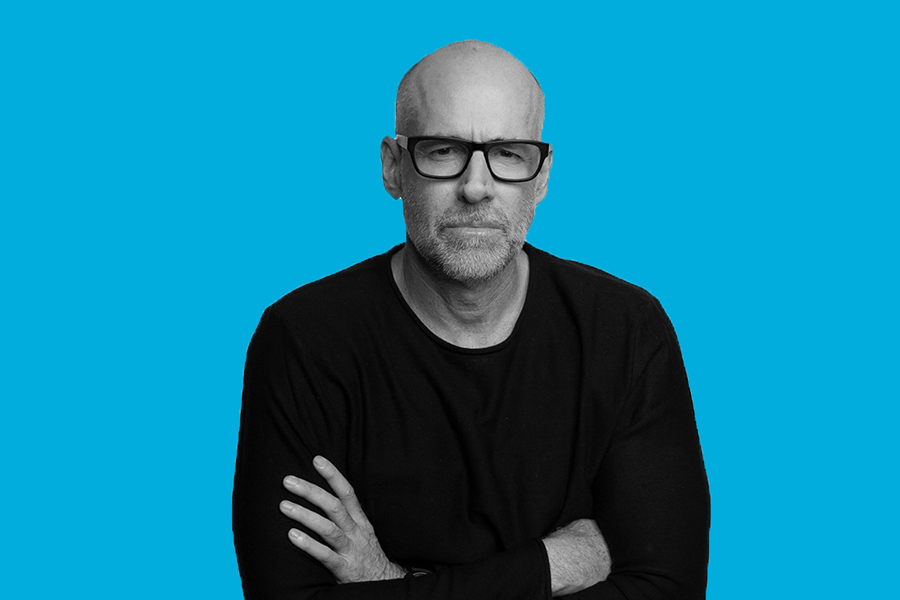 A quintuple threat, Scott is a professor, public speaker, author, podcast host and entrepreneur, who has been building cutting-edge businesses for decades.
He's been present for, if not predicting, some of the biggest tech and entrepreneurial shifts we've seen, since he graduated from the UC Berkeley Haas School of Business in 1992.
It'd be difficult to find a figure so well known within his specific circles, and so accomplished in multiple spaces, yet who has stayed relatively under mainstream awareness. But where were his biggest successes, where did he play behind the scenes, and when has he dabbled in conventional fame?
So, it's time to take a look at Scott: past, present, and future.
Scott Galloway in The...Past
As I've mentioned above: Scott has been starting companies for over three decades.
In fact, as early as 1990, he incorporated a video store called Stress Busters, even before he graduated from, Berkley. It was at this University where he met fellow student Ian Chaplin and teamed up on a marketing project for Yamaha, sourcing teenagers' views on motorcycles.
"You weren't supposed to use the internet for business at the time," Ian Chaplin recalls. "We just started doing it."
The pair then in 1992 pivoted, remerging as Prophet Brand Strategy, a brand and marketing consultancy firm.
Scott, single-handedly, became one of Prophet's biggest assets. In meetings, he'd save his energy for a high octane close. But it was always based on an in-depth knowledge of the client, an unravelling of the topic, and the development of central insight, all with an edge of founder showmanship.
"He'd uncoil himself and start ranting at people," says Chaplin. "They loved it."
"There's power in being able to just make a decision. We were solving an argument with data, and Scott could do it in a compelling way."
Just five years later, Prophet was thriving. But Scott was ready to move on. He missed the risky, adrenaline-filled aspects of start-up culture.
"He didn't have a lot of patience for people who weren't strong performers or weren't working nights and weekends," said McKinsey consultant, Connie Hallquist.
"He thought a start-up had to be your entire life."
Then, in 1997, Scott showed an early sign of his ability to predict trends, and find himself on the ground floor: he founded Red Envelope, one of the earliest e-commerce sites.
Just a few years later, in 1999, he was appointed a Global Leader for Tomorrow by the World Economic Forum in Switzerland, placing him in the company of Jeff Bezos and Eric Schmidt. But even though investors were throwing millions of dollars in his direction, he began to sour on e-commerce and even the idea of living and working in San Francisco.
"I didn't like San Francisco. During the day [you'd see] some of the most rapacious business behaviour in the world in terms of founders finding ways to substitute equity for a living wage, venture capitalists taking every opportunity to dilute founders. Then at night all of us would come together to save the whales."
So looking for new waters, he left San Francisco and headed straight to the bright lights of NYC. Cue travel montage.
A few years later, in 2005, Scott founded his most successful venture to date - L2. And it was successful because it showed the continued development of a skill he had yet only shown hints of, and was now putting into full effect: his ability to see detail in the landscape of a bigger picture and calculate his own and others' moves based on this context.
Galloway built L2 based on a Deloitte study, which compared private companies that had sold for 5 or 10x revenue and private companies that had sold for one or two times revenue. He showed an initiative for two distinguishing features which catapulted many companies at this time to success; owning a niche, and having technology at their core.
L2 saw Scott's first foray into potential public recognition, with his weekly YouTube channel videos, another instinct of his cultural-slash-technological predilection. Each video focused on the theme of "Winners and Losers", all framed with accessible language and tone, and often gaining hundreds of thousands of views.
Scott has an awareness of how society links "credibility with appearance", and is often scathing of it, noting that it has catapulted him to success in a second, after years and years of hard work behind the scenes. After a 2015 appearance at the DLD conference, a music industry analyst featured a clip of the talk in a newsletter. From this came book deals, on-air spots, and even the 60% growth of L2. "After working my ass off for 25 years, I was an overnight success," he said on his site.
But 2017 was set to be a landmark year.
After an appearance at an annual tech conference, he was invited onto Kara Swisher's podcast (a bit of podcast-related foreshadowing for you). The two discussed Amazon, and Scott predicted they would buy Whole Foods.
"I've been predicting they're going to go into stores for five years," he reported.

"They haven't found [a] model that's going to work for them yet. I still believe they're going to buy a Macy's or Carrefour or something like that. I can't imagine why they wouldn't buy Whole Foods, for example, just because of their urban locations."
Just four days after the episode was published, the e-commerce giant announced its acquisition of Whole Foods for $13.4B.
He made his second big, validated prediction in this year too. On his website No Mercy/ No Malice (rock 'n' roll name, by the way), Scott posted a scathing diatribe against WeWork and its enablers. He called the company's $47B valuation such things as "insane" and "an illusion". He penned a follow up after the company posted its IPO
"The lines between vision, bullsh*t, and fraud are pretty narrow," he wrote.
"Something is wrong. Something stinks. Something … Just. Doesn't. Add. Up."
Looking back on the event in 2019, he told an Intelligencer journalist:
"I'm taking a bit of a victory lap here. I said in 2017, this was the most overvalued company in the world. I said earlier this year that the IPO was not going to happen. This is now a distressed asset. IPO? It's comical that people are still using those letters.
2017 also saw the publishing of his first book, a best-selling deconstruction and analysis of the power amassed by Apple, Facebook, Amazon, and Google - Silicon Valley's "Big Four" tech giants.
Since then, Scott has repeatedly called for U.S government antitrust intervention against these companies, in order to break them up.
In 2019, he advocated against Facebook's Libra cryptocurrency plans, due to the company's "gross negligence" of user privacy. This year also saw him call for the removal of Twitter CEO Jack Dorsey, whilst also declaring his 330,000 shares of Twitter stock.
Scott founded his online education start-up Section4 in 2019. Then, in 2021, he raised $30M in the Series A round, for total funding of $37M.
Scott Galloway in The...Present
Currently, Scott has turned his attention to education, on multiple levels.
He teaches brand management and digital marketing to second-year MBA students, with most of his research focusing on the "Big Four". From the analysis of their rapacity, their economic models, and their drastic ambition, he wrote specifically about how they've caused wider, as well as more personal and intimate, social and economic change.
Scott has also retained a media presence, on his own terms, using his Prof G Show and Pivot (which features co-host Kara Swisher) podcasts to delve into topics on business, money, and tech. Plus, last year, CNN announced that he would be a host on its CNN+ streaming platform.
Scott also donates 100% of his NYU salary back to the university. On top of this, he donated $4.4M to Berkeley for immigrant student fellowships, as well as similar amounts to UCLA and NYU. He has previously called for taxing endowments of universities whose enrolment growth is not in proportion to population growth. He has suggested exclusivity makes universities a 'luxury brand', and not a public service. Being a self-proclaimed "unremarkable child of immigrant parents", he has said the goal of universities should be to educate not just the exceptional students, but also the unremarkable.
Scott Galloway in The...Future
Well, fun fact: Scott due to make an 'appearance' on the 2022 series WeCrashed, played by actor Kelly AuCoin. The series plots the rise and fall of WeWork, and I personally hope AuCoin does a soliloquy reading out the entire WeWork piece on Scott's site.
In February 2022, Scott decided to end the publishing of his podcast "The Prof G Show", due to his withdrawn support for Spotify. He attributed the decision for Spotify to allow unchecked vaccine misinformation on the platform:
"Hi everyone, Scott here. I wanted to let you know that we've decided to take our show, Prof. G., down from Spotify for the time being due to the unchecked vaccine misinformation being published by the platform. You can find our show on Apple podcast, Google podcasts, or pretty much any other podcast platform. We'll see you there."
So, on top of this, his focus seems to be drawn towards Section4. It's clear that the excesses and decisions of the higher education industry have caught his eye in the last few years, so it's no surprise he has been ramping up the company's activity.
The idea of the business is to condense semester-long business school courses into several week-long online intensives, costing upwards of $750 and led by top professors.
He has recently criticised universities for choosing profit over safety in resuming in-person learning, analysed schools he believes are likely to fail and predicted top schools such as MIT will partner with Big Tech companies to develop new forms of credentials.
However, he notes that currently, NYU does not see Section4 as competitive.
"The words I would use is they're just very supportive. Keep in mind, I gave NYU stock in L2, which worked out really well for them."
When talking about why the start-up climate, and everything-else climate, suggested creating a new business was a particularly risky move, he examined himself, asking:
"Why did I do it?" referring to Section4.
"I have a desperate need for relevance, and I am worried that if I don't stay mentally engaged, I'm gonna die."