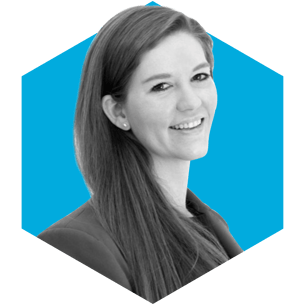 Stephanie Hanson is OneTrust's Offering Manager, and an all-round tech expert. From product development, client service, to sales engineering experience, Steph's got it covered. And with a degree from Georgia Institute of Technology, she's not messing around either. She's the One we Trust (sorry, that's a terrible pun).
Jobs in Martech are always super layered and complex. Your position is no exception! So to make things a little bit clearer, could you describe your role in five words or less?
Promote transparency and privacy for marketers.
What is your biggest martech/ marketing ops gripe? Don't hold back!
Different tech stacks everywhere! Distributed and varied tech stacks – nobody has the same stack there are so many tools out there.
It's a bit 2008, but do you have a personal mantra?
Always find clarity in complex situations in changing tides don't be thrown off by the changing landscape. Focus on the solutions instead of the problem.
Have there been any women along the way, who have helped you out and supported you?
Of course, my number one mentor is my cousin who works in marketing. She's been a big mentor to me in my life. She is one of the people I consult when making a major decision in many aspects of my life but especially professionally. Another mentor in my life has been my mom. She was the breadwinner and ran her own business and as a young girl I got to watch her achieve so much. I learned from her that anything is possible.
How do you see the martech scene in the Post-Covid days? Apart from everyone going straight to the pub, of course.
People will be more selective with live events and engagement Small video squares are here to stay. In the short term there will be a drive to see people face to face but in the long term I think we will stick with remote working. Covid-19 spill over into martech, ordering off menus off of QR codes. People will want to understand how the data that is being collected from these types of apps is being used.
What are your own plans Post-Covid? Are you looking forward to being back out, or are you enjoying the Netflix binges?
Yes, I am very much looking forward to being back out and enjoying the outdoors and socialization!
Do you have any advice for bouncing back from failure or difficulties, especially for young women within the industry?
Own your failures to make sure you are learning from and understanding that growth is a process. Focus more being growth minded and moving forward with grace. Failure is inevitable but how you handle it is what is important. Keep growth minded statements and affirmations and use those as a reminder – remind yourself it's good to feel uncomfortable.
What career advice would you give to your younger self, on how to succeed in marketing and tech?
Don't be hesitant to work across teams and departments that exposure to different processes and business functions will give you a lot of insight into how to scale. There isn't a lot of value in staying in one place too long. By moving around you learn so much more.
Who are the professional women that really inspire you?
Carla Harris from Morgan Stanely. She is from a different industry but has done a great job making her mark on the industry. She brings so much of who she is into her work. I'd highly recommend reading her book!
What are your plans for the future? By this I mean what are your upcoming projects, and what are you having for dinner?
On the business front I would say upcoming projects include helping our customers scale their consent approach for the new changing web, mobile, and TV landscapes. In my personal life spending time with my daughter.
Click here to sign up for our Women in MarTech Web Sesh, to find out more about women in the industry!
AND want to hear from more the incredible women in martech? Then check out #MarTechFest Dial up!