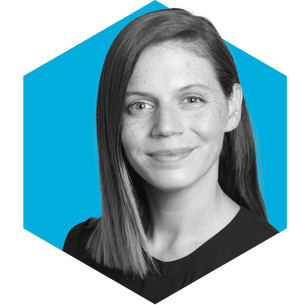 Digital and Marketing leader Natalie is all about humanity. Not in a "beauty-pageant-world-peace" kind of way. More in a "we need to learn to stay human in an increasingly digital world" deal. Much cooler.
Natalie brings a particularly unique insight into ethical marketing in the digital age and aims to focus on human-centred experiences with a tilt towards data privacy.
Having lived in four separate countries, Natalie's proved to be a legend in all of them. Today, she leads the global digital marketing team at Thoughtworks from their London office.
Join Natalie at this year's AntiConLX Global, where she'll be speaking on all things marketing, in a cookieless world.
We chatted to Natalie ahead of her session to get her tips, tricks and insights:
We want to hear about you, marketing legend. Give us a quick overview of what your company does and your roles and responsibilities there!
Thoughtworks is a premium global technology consultancy that integrates strategy, design and software engineering to enable enterprises and technology disruptors across the globe to thrive as modern digital businesses.
I joined Thoughtworks in 2011 when we were just about 1000 employees and held several marketing leadership positions. Most recently, I have been one of the founding members of the Marketing Operations function and led the company's digital marketing transformation in preparation for the IPO. The ability of my team to implement a complex portfolio of initiatives on time and on budget has directly impacted Thoughtworks' brand equity, reaching a $9bn valuation after the initial public offering that was priced well above range. Post the IPO, I am balancing between future thinking of our strategic digital and analytics direction while orchestrating a Digital Experience Platform (DXP) programme of work, aiming to standardise processes and data quality so we can scale operations.
What, in your opinion, makes a great AntiConLX Global presentation?
Short, sharp, includes a case study (even if not a rosy success story), and of course, must include some humour :)
What bull$hit industry advice do you hear too often?
Senior marketing leaders refer to advertising as a strategy instead of a tactic to support a business goal. I often hear marketing leaders wanting to increase advertising spend without a clear proposition or a good user journey to follow the ad. Also, there's usually a focus on the wrong metrics, favouring clicks and volume rather than an outcome that supports a business goal. The classic example of a retailer bidding over a keyword, then when you click on the ad, it takes you to a page that is not related to the product you were searching for. Such negative experiences damage brand perception, and it's important to use advertising wisely.
What's your biggest industry gripe? Don't hold back!
The fundamentals of marketing are about building trust with customers and exchanging value. With the rise of digital marketing and the ability to track users, marketers got addicted to the tools and tactics available to them instead of focusing on creating compelling experiences. If we were to mimic many of the online experiences users go through to a physical environment, these experiences wouldn't pass the 'human test'. We are now at an interesting time when marketers are forced to change due to data privacy legislation that makes it harder to track and collect user data as we did in the past. While this might feel like a barrier for marketers, I see this as an opportunity. Taking a privacy by design approach forces marketers to return to marketing fundamentals and focus on creating value.
What advice would you give for starting a career in the industry?
Get practical experience through a marketing internship programme. There's a gap between what you learn at university and what is expected from you in the market. Also, the market evolves much faster than the university curriculum. There might be roles out there that you haven't considered at all. My dream was to become a brand manager, and I ended up in martech. The same has happened to many of my interns, where I offered them permanent positions that they didn't necessarily think about before starting the internship. For example, one of my interns received an offer to join Thoughtworks retail practice in NYC, and a few years later he became an Experience Design Consultant. So keep an open mind and roll up your sleeves!
We've all read about Mark Wahlberg's insane 2:30am morning routine, filled with golf and cryo-chambers. What's your personal morning routine?
I aim to get out of bed before my 16 months old wakes up to have some me time, drink my coffee or matcha tea, have breakfast, and plan my goals for the day. I then take a break to prepare the baby for nursery, then go on my first calls for the day with colleagues in Australia and India around 7:30 am. When there's a break, I jump on my on-demand fitness streaming app to do a pilates or yoga class, then jump on calls again once my US-based colleagues wake up.
What up-and-coming trend or tech do you predict will take the industry by storm?
Marketing in a cookieless world. Cookie laws and the GDPR now require users to give consent for cookies to be dropped on a user's machine. The legislators are becoming more specific on the definition of compliant consent, which impacts the acceptance rate of cookies on websites. As web analytics platforms rely on cookies technology to gather data on users, companies need to assess the impact on their trackable traffic. The next step is to develop a strategy for marketing in a cookieless world, meaning a new paradigm where marketers have a lot less data on their users. This includes amendments to both the CX approach to encourage users to willingly give more data in exchange for value and to invest in a privacy-friendly martech stack.
What was your first job, and how did it help you develop in your industry?
My first corporate job after graduating was actually with Thoughtworks. At the time, Thoughtworks was a scaleup, and I got to be one of the founding members of the marketing department. I was promoted to leadership positions early on in my career and was the youngest member of the Australian Management team under 25. I became known for my ability to start new things, so I got to structure new functions and groups within the marketing department. Working in a hyper-growth environment has allowed me to be a trailblazer and continuously innovate. Thoughtworks has recently gone public, and it has been a fantastic experience playing a critical role in this journey of the company.
Who's a public speaker you admire, and what makes them good at what they do?
I have been following and engaged with the Speakers Institute that Sam Cawthron founded. The Speakers institute helped me early in my career, and I feel they do vital work to help people with great messages become compelling storytellers. https://www.speakersinstitute.com
If you could recommend one book, podcast, tv show, magazine, or piece of bathroom stall graffiti, what would it be?
https://www.cutthecrap.io. This venture was founded by one of my interns, Dan Pallozzi, whom I then hired as a Thoughtworker. It has a no-bullshit policy and is cutting through the noise in the industry so we can be better marketers.
What is your favourite marketing campaign of all time?
This is a tough question, so I will pick a project that I was personally involved in with Domino's Pizza Australia. They came up with the 'Pizza Mogul' concept, which turned Domino's customers into brand advocates. The platform allowed users to create their own pizza recipe, promote it to their friends and make a cut out of every pizza sold. Savvy moguls made more than 100K on the platform, resulting in an effective brand advocacy campaign for Domino's. https://youtu.be/1BbE0tCI6hc please note that the campaign has ended, and the app is no longer available.
Can our audience expect any future projects on the horizon, personal or professional?
As mentioned earlier, marketing lost its way and became obsessed with the arsenal of digital tactics and tools available to us instead of focusing on good marketing. I am currently designing marketing strategies that help teams consider the human element while operating in a digital world. My goal is to successfully bring design thinking methodologies into my department and see the impact through positive progress in our KPI scores. On the martech side, I am currently evaluating the analytics stack that relies on cookies and looking at changes we need to introduce in the medium-long term to ensure we have a stack that meets modern data-privacy standards.