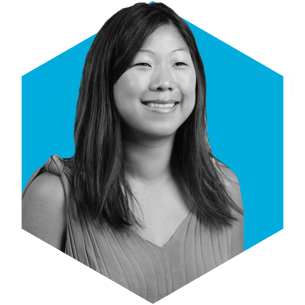 Elsa Coleaux, Marketing Technology Lead at Treatwell, and all round martech master. She speaks four languages; German, English, Spanish and French, so she can rock it in pretty much half of Europe. Previously, she's worked for TripAdvisor, and Secret Escapes, providing expertise and optimisation across the board. Her colleagues describe her as "c'est un véritable moteur dans une équipe de travail. Ce fut un plaisir de travailler avec elle au sein de Dynam'hit webradio", which translates as: She's great!
Jobs in Martech are always super layered and complex. Your position is no exception! So to make things a little bit clearer, could you describe your role in five words or less?
Understand, Connect, Build, Test & Measure
What is your biggest martech/ marketing ops gripe? Don't hold back!
Cross teamwork requires political agility. Not easy every day!
It's a bit 2008, but do you have a personal mantra?
Listen to your gut.
Have there been any women along the way, who have helped you out and supported you?
I've been supported by incredible women (as well as men) and I'm thankful for the trust and the support I received.
How do you see the martech scene in the Post-Covid days? Apart from everyone going straight to the pub, of course.
Martech is becoming more and more important with the third party cookies disappearance coming soon, iOS 14 restriction on tracking, and new behaviors and shopping habits post covid. Not only Martech but Marketing teams will need to be more technical in the near future to innovate and spend efficiently.
What are your own plans Post-Covid? Are you looking forward to being back out, or are you enjoying the Netflix binges?
I can't wait to be back out. I miss gigs, weekend trips, gym classes & pubs!
Do you have any advice for bouncing back from failure or difficulties, especially for young women within the industry?
- Take time to acknowledge that things are not always easy. - Breathe, take a break if you need to. - Learn from failures and difficulties. What should I have done differently? - Start again.
What career advice would you give to your younger self, on how to succeed in marketing and tech?
Be curious and never stop learning.
What are your plans for the future? By this I mean what are your upcoming projects, and what are you having for dinner?
it's a secret. For dinner, I'll have a Deliveroo ;-)
Click here to sign up for our Women in MarTech Web Sesh, to find out more about women in the industry!
AND want to hear from more the incredible women in martech? Then check out #MarTechFest Dial up!