#MarTechFest Dial Up is this month! So we thought we'd take this opportunity to introduce you to a few of our speakers. So without further ado it's time to meet Marc Geffen.
Introducing Marc Geffen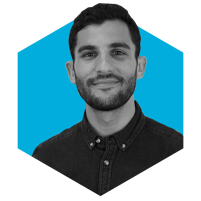 Marc Geffen is VP, Research & Strategy at Pulsar. He is a market researcher and design researcher with 10 years of experience in social data and digital strategy.

Pulsar is the leading AI-powered audience intelligence platform, combining conversational and behavioural signals from the world's leading digital destinations to help brands understand their audiences and create messages that matter to them. It is part of the AIM-listed Access Intelligence Group.


Let's start with you! Can you give us a quick overview of what your company does and your roles and responsibilities there?
Pulsar is an audience intelligence company. We combine conversational and behavioural data from the world's leading digital sources, with vertical AI and smart minds. We help organisations understand their audiences and anticipate shifts in consumer behaviour.
As VP, Strategy & Research, I work directly with our clients who tap us for custom research and consultancy. It's an exciting position to be in, combining SaaS with strategic thinking, working with top marketers to stretch the value of social & search data.
Now there's not an industry in the world that hasn't been impacted by Coronavirus in some way either positively or negatively – what have been the biggest changes and challenges at your business and day to day?
We're seeing, among some of our clients, budgets are temporarily frozen and personnel and priorities are being shifted around. There's a big awakening happening as many marketers realise that lagging indicators are not sufficient, certainly not in the current environment. Hindsight insight – via measurement and reporting – is not enough. While Pulsar can help with this, it's not the focus of our product, road map, or our services. As more of the public spends a higher percentage of time across new media and virtual spaces, we are well placed to help our clients surface audience insight and valuable behavioural signals from social data.
It's going to be a different world once we come out of this, do you have any Post Pandemic Predictions for the industry…or the world?
A general recession thought, not necessarily COVID related: The marketing stack will tighten up a bit, if not a lot. Each tool in the stack needs to prove its value – so, as a solution, you have to get really good at articulating the unique value you deliver.
In terms of consumer behaviour going forward, there will be many shifts, and some are already clearly happening. The trick is to judge which will be temporary (maybe many), which are happening now and will have staying power, and which will take effect in the long-term, so we're not seeing them just yet. We're tracking a whole bunch of "new normal" trends here
And one last very important question. If you had to choose…Twitter or LinkedIn?
Twitter. Why? I'll reference a quote from @vgr: "Very Online cognoscenti know that Twitter is where all the history-making, universe-denting social media action really is. It is as close to a pure ideas-commons / digital public as we'll ever get."
Catch Marc's session at #MarTechFest Dial Up

here