#MarTechFest Dial Up is this month! So we thought we'd take this opportunity to introduce you to a few of our speakers. So without further ado it's time to meet Jaime Lopez.
Introducing Jaime Lopez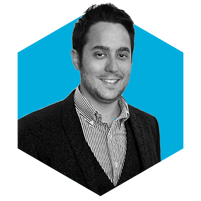 Meet Jaime Lopez, B2B marketing revolutionary & GM, Marketing Ops at Wärtsilä.
López is an expert in data-driven marketing, with an emphasis on B2B megadeals. Jaime has an international track record in creating value for innovative companies, from developing pricing optimisation algorithms for solar PV plants to a stint as CMO of a Silicon Valley drone firm. Jaime has spent the past 5 years at the Finnish industrial conglomerate Wärtsilä, where he currently heads the data-driven marketing practice. Recently, his team has leveraged machine learning to prove causality between measurable marketing and hundreds of millions of euros in revenue.

Jaime has been inducted into the founding class of Salesforce Marketing Champions as one of the top Pardot experts.
Let's start with you! Can you give us a quick overview of what your company does and your roles and responsibilities there?
Wärtsilä is a major player in the marine and energy businesses, with a bit over EUR 5bn in annual sales and 19000 employees. We mainly manufacture extremely large engines, and integrate them into both large vessels and power plants. Roughly every third vessel that sails the oceans is powered by us, while our power plants generate approximately 1% of the power needed worldwide.
We have fairly complex marketing operations worldwide with a huge Pardot instance, 300k+ prospects and EUR 1.5bn of revenue 'touched'. I am lucky to lead the Marketing Operations function where we implement all measurable marketing, we develop our capabilities and we measure the results of it all.
Now there's not an industry in the world that hasn't been impacted by Coronavirus in some way either positively or negatively – what have been the biggest changes and challenges at your business and day to day?
The biggest change has probably been the massive, lightning-fast move to online events. A huge chunk of our marketing budget was devoted to conferences and seminars, and now we're organising 2-3 webinars a week and focusing on delivering amazing CX through digital means.
The challenges lie in the fact that our Sales (and our business in general) is very traditional and reliant on face-to-face; so the data we have to work with is far from complete and reliable. NOW is when we are feeling the real pain of every time one of our Sales people thought that recording a customer contact in CRM was not worth their 2 minutes.
It's going to be a different world once we come out of this, do you have any Post Pandemic Predictions for the industry…or the world?
I generally think that people will consume less and live more. Probably we will start questioning whether infinite growth and extreme inequality is what we really want, and whether we should focus a bit more on doing good than on doing (financially) well. What are all those big bucks good for when you are locked down?
We're super excited to have you joining us as a speaker for our virtual event #MarTechFest Dial Up – what can our audience expect from your session, do you think you'll take a different approach to a virtual session vs a live session?
I love to be on stage and build a memorable experience for the audience that leaves them equal parts inspired and empowered, so I will adjust some details to better suit the virtual environment. In any case, you can count on an energetic, insightful session rather than Death by PowerPoint!
The events industry has pivoted very quickly to an online offering - obviously #MarTechFest Dial Up hasn't happened yet or that would be the obvious answer…but have there been any virtual events you've attended yet that have really wowed you?
I have not participated in any 'online-by-design' events so far, but I fully expect #MarTechFest Dial Up to set the bar really high for what I will demand from online events!
In regard to martech, can you list the three top tools you and your team could absolutely not live without?
I would say Pardot, Salesforce Sales Cloud and good old Excel! Excel is the shovel of the knowledge worker 😊
When we need an excavator rather than a shovel to build complex models, we often find ourselves in either Matlab or Python.
Who are the key martech influencers you think we should all be following…besides yourself obviously.
My personal MarTech Olympus is populated by Mike Creuzer, Andrea Tarrell, Jenna Molby, Sara McNamara, Emma Storbacka and Jakub Dabkowski. You'll have a hard time finding more talented folks in the B2B sphere!
That said, I'm always open to meeting new people and fully expect to leave #MarTechFest Dial Up with some new additions to the list.
And one last very important question. If you had to choose…Twitter or LinkedIn?
I'm a LinkedIn guy, but the lack of memes and cat videos is a big downside!
Catch Jaime's session at #MarTechFest Dial Up

here