#MarTechFest Dial Up is this month! So we thought we'd take this opportunity to introduce you to a few of our speakers. So without further ado it's time to meet Andrea Fryrear.
Introducing Andrea Fryrear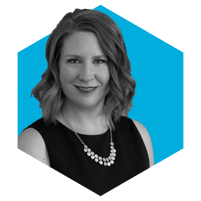 Andrea Fryrear is the world's leading authority on agile marketing and a co-founder of AgileSherpas. She is co-author of the ICAgile Certified Professional in Agile Marketing curriculum, author of Death of a Marketer, and an internationally sought-after speaker and trainer.

She holds numerous Agile certifications, including Advanced Certified Scrum Product Owner (A-CSPO), ICAgile Certified Instructor, Certified Professional in Agile Marketing (ICP-MKG), Certified Scrum Master (CSM), Certified Agile Leader (CAL-1), Certified Scrum@Scale Practitioner, and Certified Professional in Agile Coaching (ICP-ACC).
Let's start with you! Can you give us a quick overview of what your company does and your roles and responsibilities there?
AgileSherpas is an Agile marketing consulting, training, and coaching firm. We take marketing organisations, teams, and professionals from high stress to high performance by translating successful Agile practices to work inside the marketing profession.
As one of the co-founders of the organisation, I oversee enterprise Agile marketing transformations and lead our coaching team in developing and delivering our various courses. I'm also the head of all our content-creation efforts, including free resources on our website, thought leadership work, and other content marketing activities.
Now there's not an industry in the world that hasn't been impacted by Coronavirus in some way either positively or negatively – what have been the biggest changes and challenges at your business and day to day?
The biggest change has been abandoning all our in-person training work and moving it online. We're lucky we started that effort last year so it wasn't a mad scramble, but it was quite a big pivot to put EVERYTHING online. The biggest challenge now is simply the volume of work coming our way. Agility has become essential in a whole new way for marketers, and we're excited to be able to help so many people take advantage of it.
It's going to be a different world once we come out of this, do you have any Post Pandemic Predictions for the industry…or the world?
Marketers aren't going to be cut any slack. We'll need to tighten up our processes — eliminate the waste that's plagued our operations for years — and clearly be able to prove the impact of our activities on the bottom line. If our work isn't growing revenue, protecting revenue, reducing costs, or avoiding costs, we shouldn't be doing it.
We're super excited to have you joining us as a speaker for our virtual event #MarTechFest Dial Up – what can our audience expect from your session, do you think you'll take a different approach to a virtual session vs a live session?
I'm a super practical speaker — I like to make sure there's something tangible you can start using as soon as you leave my session. That doesn't change from live or virtual. The biggest difference for me with virtual is making sure people are staying engaged — that means extra storytelling and more time to stop and reflect, rather than talking non-stop over slides the whole time.
The events industry has pivoted very quickly to an online offering - obviously #MarTechFest Dial Up hasn't happened yet or that would be the obvious answer…but have there been any virtual events you've attended yet that have really wowed you?
Events that bring the attendees in — whether it's quizzes, exercises, or straightforward Q&A — are my favourite. Getting creative with pre-recorded content + audience interaction seems like the best balance being struck right now.
In regard to martech, can you list the three top tools you and your team could absolutely not live without?
Trello (kanban ftw!), Zoom, and Hubspot are probably the most essential on our list…but there are many more besides!
Who are the key martech influencers you think we should all be following…besides yourself obviously.
Scott Brinker is one of my favourites — a rare combination of super smart and super funny, which you need in the martech space.
And one last very important question. If you had to choose…Twitter or LinkedIn?
LinkedIn all the way.
Catch Andrea's session at #MarTechFest Dial Up

here