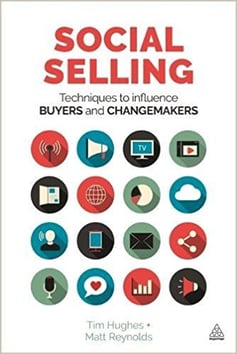 Seven years ago, Tim Hughes sent his very first tweet and jump-started his amazing journey with social media.
Since then, Tim has become one of the world's leading social selling experts and has gone to write a number of bestselling books on the subject: Social Selling and the recent, Smarketing.
Social Selling has been heralded as the blueprint for achieving the ultimate social selling success.
This means more than owning a Facebook/Twitter/Snapchat account, it means utilising these platforms to actually see a return on social efforts.
There are no annoying acronyms or sales talk in this book, and instead Tim Hughes provides readers with actionable strategies. This is a must-read for marketing technologists looking for a new technique, or those who are brand new to social media.
We chatted with Tim about his fantastic book as part of our Marketing & Technology Book Club
For this episode, we chatted to Tim Hughes about Social Selling, social media and the shift in influence from offline to online.
The alignment between sales and marketing is under constant debate. Tim insists that while sales and marketing are edging closer together, it should be all about creating the right content for the person. Whether a result is achieved through marketing or sales techniques, what is right for the customer should take priority.
Social Selling is jam-packed with sales tools and techniques to implement within your business and we couldn't resist asking Tim for the inside scoop.
He quickly provided us with some keen tools to use straight away, as well as highlighting how far buying and selling has come. Manuel processes- such as cold calling- have now been almost completely suppressed by sales navigators and CRMs.
Many individuals remain apprehensive about making the shift to online, but Tim insists that anyone can make that transition and benefit from the new business landscape.
Listen to the full interview below: