BROKEN NEWS: Gmail, Youtube and Google appear to be down. (See what we did there...)
---
Update: Services appear to be coming back online, however some are still experiencing slight glitches on gmail.
It looks as though the huge range of Google services went down for around an hour before things appeared to be back up and running. Google are still yet to acknowledge any issue.
---
Throughout this rollercoaster ride from hell that is otherwise known as the year 2020, there has been one reliable source for us all. Aah, sweet Google.
Checking on the latest Rona rates in your area? Google it. What do the latest lockdown rules mean again? Google it. But what happens when the 2020 $h!t show becomes even too much for our one reliable source of truth? AND YOU CAN'T EVEN GOOGLE WHY!?
In the last hour, the hashtag #GoogleDown has been trending on Twitter. As the world's largest search engine alongside it's platter of online services seem to be experiencing some series technical difficulties.
In the last hour, reported Google problems have peaked across the globe. Even Google services including Gmail and Youtube appear to be down. According to Downdetector, the most reported problems are for Logins, coming in at 92% followed by search coming in at 7%.
If you're lucky enough to have the privilege to Google whether Google is in fact down, prepare yourself for a straight-up, one-word answer and no explanation.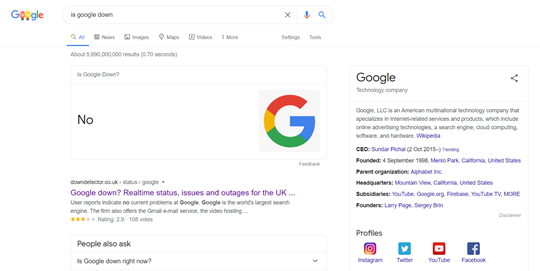 Does this mean that Google is refusing to acknowledge the issues? Which leaves us with no indication as to when these issues may be fixed, or is this Google's best attempt at covering a potential PR nightmare?
Since Google aren't offering any helpful insights, step aside and let MarTech Alliance come to the rescue: has everyone tried turning it on and off again?
Stay tuned for more updates.