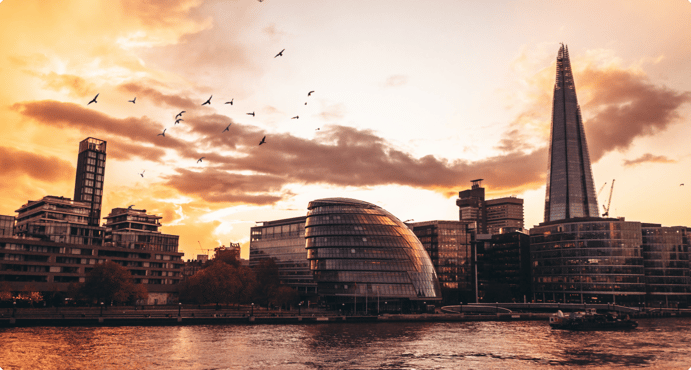 Partner Content
We recently caught up with Schroders' Bozena Ellis, Senior Brand Manager, and Farzana Ali, Creative Service Manager, to get a glimpse into their experiences with Bynder.
With both directly involved in branding and content production at multi-branded Schroders, they discussed how they've leveraged Bynder to scale and improve their overall creative operations and ensure better brand consistency—no mean feat for a business employing 5,000+ people in over 30 countries worldwide.
Schroders found in Bynder a way to automate and scale the production of creative assets beyond just the creative team; they can now focus on higher-value creative tasks while meeting the high demands of a marketing team totaling over 500 people. Not only that, but they also succeeded in centralizing and driving efficiencies during the day-to-day creative process—from briefing and feedback rounds to the eventual sign-off of assets.
Since implementing Bynder back in 2019, 1000+ users have been onboarded (and growing); they completed 1200+ projects in Creative Workflow; delivered a multi award-winning global campaign, and also won an award for Best Use of Social Media from Investment Week. And that's just the highlights!
Can you give us a little introduction into Schroders?
Bozena Ellis: Schroders is a global investment manager responsible for over 500 billion assets on behalf of our clients. We are based in 37 different locations and have over 5,000 employees globally, with around 550 people in the marketing team. Just to put that into perspective, the Branch team is just three people and we manage all brand and creative operations, advertising events, and are responsible for all in-house and external agency activities.
We're a multi-brand business with a complex brand architecture, and just like any brand with multiple external-facing brands, we create and manage branding activities for internal initiatives and divisions with each needing their own unique identity. From a brand and creativity perspective, it's always a challenge to keep all the stakeholders happy and ensure brand consistency.
What were the key requirements you needed from Bynder?
We did our first ever global rebrand in 2017, and that was the catalyst to optimize our resources, processes, and platforms. We knew we needed a set of tools to build all digital user experiences for creative operations and brand management. When it came to our brand assets and marketing content, we needed access, storing, and sharing to be quick and easy. We also needed digital brand guidelines, so no more outdated PDFs. When it came to the creative process, we were looking for an efficient, easy to use workflow to brief, collaborate, approve, and sign off on assets, so no more endless emails with random notes and conflicting feedback.
We also wanted to look at how we could optimize and really automate our creative production with a templating model, allowing for more self-sufficiency beyond the creative team, so we could have more time to be creative and to also ensure that everyone engaging with the creative services operations and team has the same user experience.
Can you tell us a little more about the responsibilities and previous challenges for the Schroders creative team?
Farzana Ali: We brought the creative team in-house back in June, 2018. We're a small team of eight people supporting all global teams across Schroders. We cover advertisement production, campaigning, content production, day-to-day creative production, events production, filming, photography, and podcasts. As you can imagine, it was really important that we built a process that enabled us to scale globally, maximize efficiency, and also allow our team to work flexibly with our stakeholders.
Working with Bynder really played a key role in helping to ensure our workflows ran efficiently, addressing the three main challenges that creative teams commonly face. In particular, creating content at scale while ensuring brand consistency across different markets; difficulty prioritizing incoming requests, and too much feedback from too many people.
Over the past year, we have found that Bynder's Creative Workflow has helped improve our operations through effective briefing, helping to ensure we have all the pertinent details required to start the job, including KPIs, target audience, basically everything you'd want in your dream brief.
This also helps to prioritize incoming requests, knowing exactly which department your brief is coming from, what the business values are, and why they are distributing this content. All of which are set as mandatory fields at the briefing stage to ensure we prioritize our incoming requests based on our overall business objectives.
We also get accurate forecasting, having an overview of which stage the projects are at and to easily review capacity for the coming months. We know exactly the amount of time spent at each stage of our workflow, how many iterations of copy changes there are, all the granular details which you can take to senior management or stakeholders to improve operations, not only within our team, but across teams.
We also get consistency and quality of work by ensuring that we have the QC stage embedded into every project, no matter how big or small, which helps us to maintain the brand consistency and quality of our work with accurate version control. We no longer have to sort through multiple emails with differing opinions. As you can imagine, this saves a huge amount of time.

Talking numbers: what's the impact and key results?
Since the launch Bynder, our team has successfully delivered 852 projects in 2019 and 432 projects in H1 of 2020. Now, we not only use the platform for our workflows, but we've now successfully onboarded a number of teams to utilize Bynder for their own work streams, including digital team, for content updates, the presentations team for pitch decks and proposals, our translation team for localization and external agencies for advertising production. We can easily deploy global campaigns which have complex work streams involving multiple teams.
What's the story behind your Global Investor Study campaign?
The Global Investor Study is a multi award-winning campaign, which surveys over 23,000 people from 32 locations around the world about their behavior and financial expectations for the year ahead. Running our workflows through Bynder has revolutionized the speed and structure of the production of assets for the Global Investor Study. The custom-built workflow has helped to seamlessly run production for the GIS campaign across marketing teams in 17 markets. This allows for localization of assets on 62 websites. The process also simplifies communication between the 17 markets and external agencies, as well as our translation, digital and creative teams.
What does your localization process look like?
The translation team will upload an Excel file with a translated copy, and depending on the asset type, an external agency or creative team will then design the asset and upload to Bynder's Creative Workflow. These assets are then sent to the local marketing teams for sign off before sending to the digital team to upload to the local website. The workflow provides flexibility to move across each stage of the workflow, accurate version control, as well as easy sign off and tracking, so you can really see the benefit and efficiency of running our global campaigns through Bynder.
How did Bynder help improve your social media content production?
We worked with Bynder to improve this process by implementing Bynder's Digital Brand Templates tool. The main aims were to have consistent branding, ready-made templates to improve the design of our social cards that locked specific branding elements, as well as a simple sign off process. Through the use of the Digital Brand Templates, the process worked seamlessly. Local marketing teams select one of the prebuilt templates, add in their content in their local language, submit to our central digital communications team for sign off, and then easily download their assets to use or store on our DAM.
This allows for our creative team to focus on designing the templates, empowering our employees across all markets to build localized content that is always on-brand. Using Digital Brand Templates really helped to improve the overall look of our social media pages. Through the improvements we made, we recently won the Best Use of Social Media from Investment Week at the Investment and Marketing Innovation Awards, which is a great demonstration of the value in Bynder's Digital Brand Templates.
How has Bynder enabled Schroders to scale your creative operations internally?
Since the launch in 2019, Bynder is being widely used across Schroders. We have over 1000 users, which is growing every day, as well as a huge amount of engagement on the tool via downloads, logins, shares, and a large number of projects being run through the portal.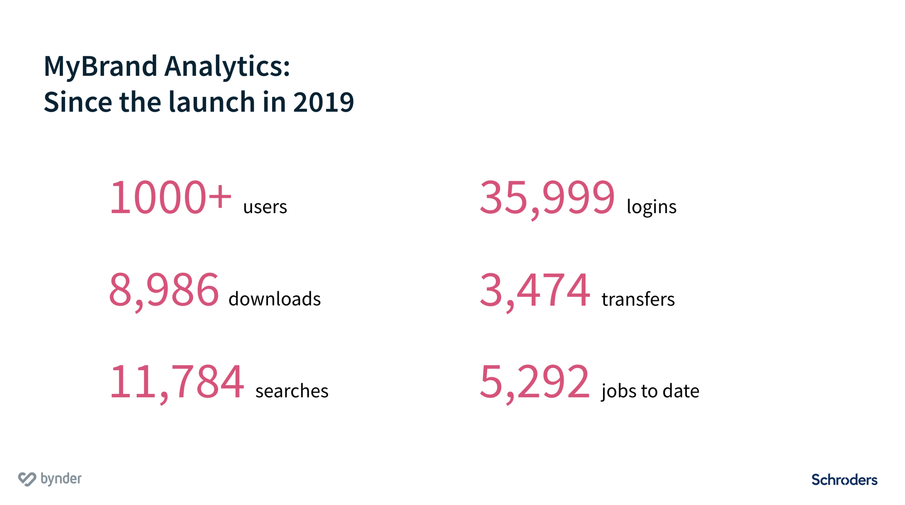 You can really see the scale at which Bynder is being used and how it has unified our processes across multiple countries. Definitely a smarter way of working across multiple teams, giving our designers the time they need to be creative.
Want to find out more? Click here for the latest Ebook - Brand Management Software for Dummies!