When was the last time you got distracted? Probably no more than 20 minutes ago if we're being really honest. Perhaps that's what you're doing right now... Got a spreadsheet to fill? Let's read a book review instead.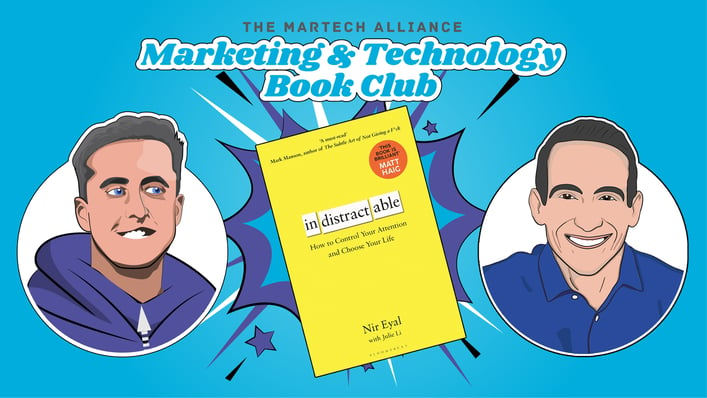 Well, our easily distracted friend, you may have just been distracted by the best thing possible to enable you to become more, wait for it... tracted.
In our latest episode of Marketing Technology Book Club, we're looking back on our chat with Nir Eyal on revealing the hidden psychology driving you to distraction.
Nir is no stranger to authoring bestsellers. Heard of a certain yellow book called 'Hooked'? That's right. Nir has smashed out a second behavioural bestseller with his latest release: 'Indistractable: How to Control Your Attention and Choose.'
Between the pages of Indistractable, Nir shares the secrets to tuning out distraction in your professional and personal life so you can focus your attention on the things that really matter.
You'll discover:
Why distraction's usual scape goat, technology and digital devices are merely a symptom rather than the cause of distraction
How to handle dysfunctional office cultures that prevent you from getting on with work
How to recognise and reflect on external and internal sources of distraction, in order to overcome them
We caught up with Nir last year for a first-hand fix on how to become more productive and reduce procrastination by unlocking our internal triggers to distraction. Take a listen...
Grab a copy of the book from our Marketing Book Club book list here
If you're on the hunt for more top marketing books to read to kick the year off with a bang, check out our Best Marketing Books 2021.