Why would I read, when I can watch a video of a panda sneezing, or see a gif of Jeff Goldblum dancing? Why would I read an email, when I can watch an email? I mean, there's a reason why post-it notes have gone AWOL, when Tiktoks are thriving.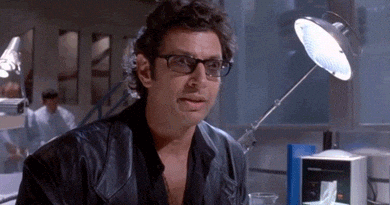 Email marketing leads to way more action being taken by readers. Research has shown that video-based email marketing can significantly increase conversions - that means click-through rates increasing by 200% to 300%.
Even just using the word video in subject likes has been found to increase open rates by 19%, and reduce unsubscribes by 25%.
So, before we go too much more into why it's great, let's figure out what it is. Right, then:
What is video email marketing?
Video email marketing is about including videos in emails. Okay, end of article.
Fine, fine, let's go into a little more detail.
Because video is a popular medium in marketing, with 83% of marketers believing its importance is still growing, including it in your emails can do a world of good. Sometimes text isn't enough to communicate your message, and this is when visuals come in.
A short, sweet video is highly effective. A recent study by Microsoft concluded that the human attention span has dropped to eight seconds – shrinking by nearly 25% in just a few years.
So, it doesn't have to be an extensive, or expensive, video. It could even be as simple as a gif, or a few words bumping around, even some streamers popping up on screen.
Something as simple as this West Elm example catches both the attention of the reader, whilst also giving a mini-demonstration of the product. They can now see how the lamps work, irl.
Let's talk more about email open rates, shall we?
Your email subject line is vital to a successful open rate. It can be your one chance to appeal to people before they click 'delete'. So, the subject is your way of communicating your intentions, in a single snappy catchphrase. And how do you do that? Well, research suggests video.
On average, including the word 'video' in a subject line increases open rates from 7% to 13% on average.
Why else should you use video in your email marketing campaigns? Well:
Using video can introduce subscribers to new services, products, or updates.
Video can create a warm, inviting welcome email, and introduce your brand identity
Let's take B2B software company Igloo for example. The firm decided to promote their workplace culture by creating 200 videos in three months, for future email content. And as a result, they doubled their click through rate. This is because video:
…Gets your point across easily. Video is more likely to make a quick, effective impact on viewers.
…Saves the time of both the readers and senders. Complex subjects are simplified, and information is quickly communicated.
…Has viral potential. Videos can go viral quickly and can be spread around your target audience. When's the last time people were excited to see a product description? Oh ha ha, this lamp is on sale and has a sturdy base. Revolutionary.
…Is SEOs best friend. Video email marketing has an improved Google search ranking. Video can draw in a bunch of attention, leading to sharing on social media, and a boost to your brand.
How Do You Make Your Video Email Marketing as Effective as Possible?
Use video for bonus content

This involves sending receivers bonus videos, content and information, to keep them interested. Email subscribers are likely to enjoy a variety of your content, so the audience is there. For example, if your email includes information about Artificial Intelligence, you might want to include a link to your webinar about AI and ML. So, with this you can build interest in the event, and keep people checking emails.



Let's look at Patagonia for an example, a company which is conscious about environmental impact and local businesses, so it made sense to include a video promoting these ideals. In a recent campaign focused on hemp-grown products, the company included a video about a hemp farm in Kentucky that regenerates damaged topsoil.






Use Video to Upsell Current Customers



We've talked a lot about potential customers. But what about current ones?


The probability of selling to a new prospect is between 5 and 20%, while the probability of selling to an existing customer is 60 to 70%.

So, it's important to keep the customers you have. Plus, with video email marketing, the customers who have been exposed to your brand are more likely to watch a video you've sent out, because they are familiar and invested in your company.

As a result, you might choose to segment your customer base, in terms of what products they have already purchased, which helps you to determine the highest potential upsell opportunities.

Think about where your current customers will get value, if they chose to reinvest in your brand. You could even include testimonials, or a promotional video, to get your message across.


Use a video landing page, with a powerful call-to-action



Embedding a video to watch right away isn't typically do-able, due to restraints put in place by many email providers.


But remember, your customer doesn't have to stay within the email, oh no. Plus, most emails are read on mobile, so you've got that to consider.

So, what's the easiest way to fix both of these issues? Well, think landing page.

Embed an email thumbnail into the email, which links to a landing page where that video is hosted, and you'll keep everything clean and clear. For example, clicking on the thumbnail in a Scorpion Legal Marketing email takes you to this page:






Share your video.




If you host your video on platforms like Youtube, you give it more sharing potential, and more visibility. Plus, the whole thing is absolutely free, and can drive traffic, generate leads, and build brand identity.
What Content Can You Use in Video Marketing?
We all love to talk. I mean, you've been listening to me rattle on for ages about emails. But wouldn't you prefer to hear from a person who has directly been impacted by an email, or made a purchase due to a really, really good gif? Say no, or I'll sulk.
It is way more effective to let happy customers do the promotion for you. And this can be achieved through video.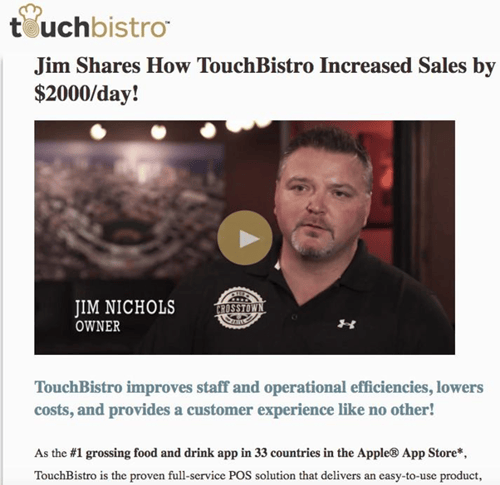 Videos might include customer stories, such as this example from TouchBistro, that demonstrate how the product has actually delivered on its promise.
Consider which seems less biased: you promoting your own product, or a customer explaining why the product benefitted them?
It makes sense, considering that 76% of people believe that content posted by consumers is more trustworthy than brand created content.
So, people tend to subscribe to emails because they are interested in your product or service, right?
It makes sense, then, to use a video in your email to promote your newest product launch, flash sale, or limited time offer. This is the kind of content people want! Plus, you can link to a social media site, in order to make your videos easy to share, putting the job of further promotion into the hands of your customer. As we've said above, word of mouth between customers is super impactful.
These videos will also retain customers, who will stay as they've been reminded of why they subscribed in the first place.

But remember: don't put promos in every email. They'll eventually lose the novelty, and might even be easy to ignore. Only send a promotional video when it's something really exciting.
It doesn't have to be a super obvious promotion of your product either. Try a little bit of subtly, such as showing your products within a display of company culture.
"Let's say you want to bring attention to that new advertising metrics tool you've just launched," says Hubspot
"You might consider asking your marketing team to film a short video of the product's daily value. Then, you can embed the product page in the video's thumbnail. (Consider giving employees a heads-up that their response might be part of a marketing email).
If your company hosts events, make sure you take videos in order to create a recap to send subscribers. This shows readers how your brand works in-action, and builds interest with the extent of your company's activities.
This might lead into a 'thank you' message, to make readers who attended feel appreciated, or even set up interest in the next event. Then, you can include a CTA for subscribers to learn more about the future event. It's about creating social proof that your services are appreciated and informative.