Video Marketing Tech Best Practice Guide
Your step-by-step guide to video marketing technology

Video is an effective marketing tactic for building brand awareness, educating potential customers about products and audience building.
The video content you create can be used all around the web, at every stage of the customer journey, and can help you extend your brand's reach beyond your website onto social platforms and beyond.
In this guide, we aim to help you understand some of the key elements of video marketing strategy, and the ways in which technology can help with each stage of the process.
For this guide, we look at some recent trends around video marketing, outline the business case for video technology, and look at some of the key features and factors to consider when choosing the video software that's right for your business goals.


The Growth of Video Marketing
Online video consumption has been growing for some time. Google recently announced that YouTube reaches more 18 to 34 and 18 to 49-year-olds than any US cable network. ( )
Datareportal's October Global Snapshot Report found that 92.1% of internet users watch video online every week. (1)
People are watching a wide range of videos, including product reviews (27.5%) and how-to videos (31.6%), which provides opportunities for businesses to create content relevant to their target audience. (1)
Video grabs users attention. For example, video posts on Meta (Facebook) achieve six times more engagement than photo or link posts while over at Twitter, video views increased by more than 160% in 2021. (2)
Businesses have long-embraced video as part of their digital marketing strategy. According to a consumer research study completed by HubSpot, consumers want to see video based content over other forms of content such as email and blog articles. (3)
According to Wyzowl's 2022 State of Video Marketing report, business video usage has been increasing year over year since 2016 (4)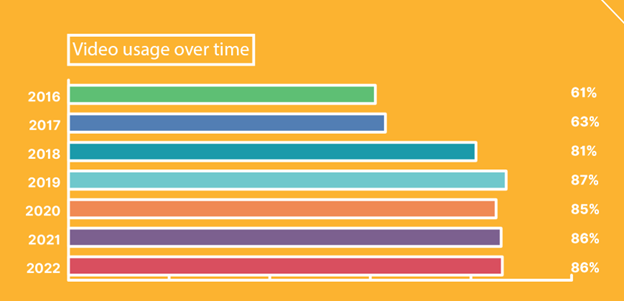 Business video usage over time as reported by Wyzowl
According to a HubSpot survey, marketers are more focused on video than ever before. Video is now the primary form of media used for content marketing, having overtaken blogs and infographics. (5)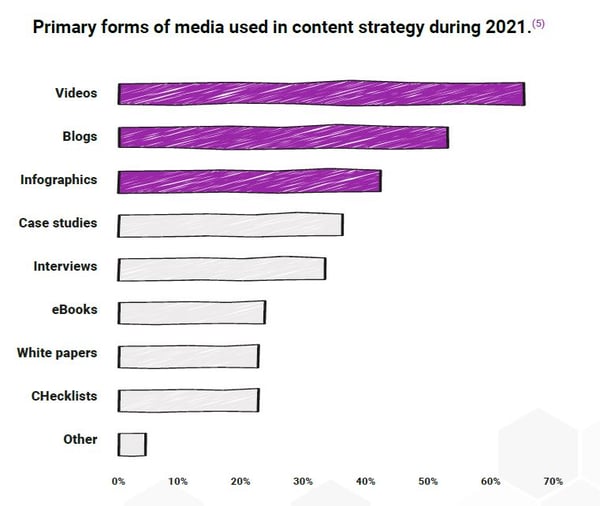 Primary forms of media used in content strategy during 2021. (5)


Video marketing encompasses a variety of different video types covering a wide variety of goals. For businesses, the most common are explainer videos, social videos, presentation videos, and video testimonials. (4)
Thanks to a proliferation of high-quality cameras inside smartphones as well as user-friendly video editing software, the barriers to high-quality video production have declined. The technology to create and distribute video is now more affordable and accessible to people, whatever their levels of skill and knowledge.


The business case for video marketing technology
Video-hosting platform Wistia surveyed more than 600 customers about video marketing strategy for its 2022 State of Video Report. While most respondents (72%) said they plan to create new videos this year, nearly 40% said that lack of time was the biggest obstacle to achieving this goal. (6)
The second biggest challenge cited was a lack of resources to devote to video marketing followed by cost, technical capabilities, and lack of ideas.
While technology can't help with ideas, it does address many of the other obstacles marketers face by automating key pieces of the video production process.
All-in-one video hosting and marketing platforms contain features that make it possible for businesses to create, edit, share, optimise, and store video. Meanwhile, standalone tools that focus on one aspect of video marketing (e.g., editing, social sharing, analytics) can help companies fill knowledge gaps or reduce production times.
Some of the key benefits and features of video marketing tech are:
Speeding up the process of video production by automating repetitive tasks. The most time-consuming aspects of video production can be automated - text overlays, font selection, logo placement, and other finishing touches can be easily integrated into captured video using drag and drop editors that speed up the final steps of production.


Making video creation scalable by enabling businesses to do more with less. Technology makes it much easier for marketers to repurpose existing video content in multiple ways, while hosting platforms enable easy sharing and embedding of video content.


Boosting client engagement by making video accessible. Video software can help boost client and customer engagement by optimising videos based on audience, platform, and channel. You can shorten longer clips or personalise elements in a video to make it more appealing for a given audience.


Increasing sales and conversion rates by integrating video with marketing and content initiatives. Video marketing software makes video assets more accessible and easier to deploy across all marketing initiatives. For example, video can be added to email, something that's been proven to increase email open and click-through rates.


Optimising video content delivery across devices, platforms, and touchpoints. Video software provides sharing features that push video to social websites and other platforms.


SEO optimisation. Video software can provide shortcuts for optimisation. This includes optimisation of titles and metadata, and automated generation of video transcripts that can be indexed by search engines.


Detailed video analytics enables understanding of video engagement and performance. Video analytics can go beyond high-level engagement metrics to give marketers a deeper understanding of how the video resonates with their audience (or specific audience segments).

Many video tools integrate with other CRM and marketing automation platforms so that video engagement data can be combined with customer and marketing data to create a more holistic understanding of customers and audiences.
Types of video used by marketers
It's important to think about the types of video you want to make, and which will best suit your brand, products and audience.
Here are 10 broad types of video to consider:
Demo videos. Product demonstrations are a great way to showcase your products and services. It should be viewed as an opportunity to demonstrate features, perks and
Explainer videos. This kind of video can be useful to explain products or services which are relatively complex, or not immediately understood.
How-to videos. Education videos like this can demonstrate ways to use your products, or address issues that your target customer may experience. For example, DIY retailers often produce videos explaining how to fix leaky taps or change door locks.
Case studies and testimonials. These videos, showing how satisfied other customers have been with a brand, can be a very persuasive form of marketing.
Company culture videos. These may demonstrate key values of your brand, environmental credentials for example. They can also help you appeal to potential employees.
Brand videos. These videos help to introduce your brand to your viewers, enabling you to explain the brand story, core values, and USPs.
Event videos. Videos of events are a great way to bring the value of events to an audience that didn't attend, but might be tempted next time. For example, social platforms provide a variety of formats, from live broadcasts to small snippets.
Webinars. Webinars are a great opportunity to host Q&As with clients, customers, or thought leaders in your industry. The content can also be reused in different formats and platforms.
Video ads. Video ads or commercials are all about your brand and products. They're promotional, and tend to be short to get the message across without stretching viewers' attention spans.


The elements of a digital video marketing strategy
As with any digital marketing strategy, video marketing requires you to understand your target audience, create relevant messaging, allocate a budget for video creation and paid ads, and select a channel strategy for distributing your video.
Part of your video marketing budget can (and should) be allocated to investments in video marketing software which might include platforms and tools for hosting, editing, managing, and distributing your video.
Before you can plan what technology to invest in, it's helpful to understand the steps that make up the video marketing process.
1. Ideation
A video marketing strategy begins with video ideation. This is the planning phase of video development and sets the stage for everything that comes next. Steps include:
Taking inventory of existing video, noting what can be revised and where there are gaps.
Deciding what videos to make and how to make them.
Planning your video placement strategy.
Creating a video development timeline/editorial calendar.
Deciding where your video will live (up next, hosting).
2. Hosting
Part of the ideation and planning stage should include specifics on where your videos will be hosted.
Options include your website, a third-party video hosting platform, social media platform (e.g., YouTube), or multiple locations. Steps include:
Make a list of where your existing video is currently hosted.
Create a forecast of video asset needs for scaling (e.g., do you plan to create 50 videos in 2022 or 5?)
Making a list of video hosting needs (this will include security, storage and management, better viewing experience, etc.)
Make a list of hosting providers that address your needs.
Understand what's included with video hosting (many video hosting platforms provide video creation, management, and editing features).
3. Development & Editing
Filming and post-production are part of the video development process, as is sourcing and repurposing video you don't create in-house (e.g., user-generated videos, client testimonials, etc.)
Video development could be in-house or outsourced to a video production company (or both). Steps include:
Recording video including promotional videos/explainers, video ads, live streams, webinars, and demos.
Discovering/curating external and/or user-generated video, which may also require editing.
Post-production/editing. This includes adding call-to-action buttons or text, and music.
Optimising video for SEO (tags, thumbnails, descriptions, transcripts, etc).
Repurposing existing video. (shortening long video clips, customising/personalising video for unique audiences).
4. Management/Launch
Video marketing management includes scheduling, collaboration and sharing, project workflow management, file storage, and distribution. Steps include:
Storing video to a central repository for ease of retrieval/sharing.
Creating and updating a video editorial calendar to track ideation through launch.
Sharing of video assets to distributed teams.
Uploading video for customer/audience viewing.
Distributing and amplifying video via digital channels. This may include embedding video on websites, sharing on social media, and promoting via email.
5. Analytics/Optimisation
Once your video is live and circulating, you'll need to monitor its performance, search engine ranking, and the video's impact on your campaign (or business) goals. Steps include:
Monitoring positioning on search engines and social platforms like YouTube.
Using A/B or multivariate testing to optimise your video's impact and video campaign performance.
Using analytics specific to videos to understand video performance (views, plays, comments, shares, time watched etc.).
Optimising and refining video market strategy based on data analysis and insights.
Many of the steps in the above process can be automated using video marketing and automation technology.
Technology can speed up and simplify the video creation, editing, and management process, making video marketing much more accessible to businesses of all sizes.


How do I choose the right video marketing tech?
When selecting video marketing software for your business, it's helpful to understand the different types of tools that exist in the market so you can align a specific technology with your video marketing goals.
There's a lot of duplication within the category of video marketing software so it can be confusing to know where one tool ends and another begins. We attempt to clarify the different types of tools by breaking them into three categories: automated video creative, video editing, and video promotion/marketing.
The caveat is that many platforms and software packages cover all three categories. But here's a breakdown of all three categories because it's a good starting point when researching a new tool.
Video creation and hosting. Platforms like Vidyard and Wistia offer a menu of features to help companies create, host, and market their videos. Ease of video capture is a key feature of these tools. Video creation tools typically eliminate (or augment) the need for expensive video recording equipment, enabling users to record their screen or webcam. Both Wistia and Vidyard have built-in video editing tools and embeddable players which simplify the process of storing, sharing, and playing video content.
Video editing. There's no shortage of editing tools available to creators. Most video recording and hosting platforms include some level of editing capabilities either built into the platform or via integrations.

Some tools are built for editing video and audio, going above and beyond simple editing features.
Video promotion and analytics. There are many ways to market and promote your video including standalone tools that focus on ranking well on Google and YouTube.

Tools such as Hippo Video and StoryTap bill themselves as video marketing platforms because they focus on using video to generate leads and provide video analytics to track and optimise video campaigns. Brightcove is a video platform that helps larger enterprise-sized companies publish, monetize, distribute, and scale their video on the web.
Many of the tools listed above are all-in-one platforms that provide some level of functionality for each category. That's why it's helpful to further break down tools into business size/type as follows:
B2B video creation and marketing. Tools like Brightcove and Vidyo have features that focus on B2B video This may include live streaming and recording sales meetings, interactive Q&As presented during webinars or group meetings, and high-quality broadcasting.

Recorded meetings and presentations can be turned into training videos and sales tools, then easily modified and shared. Price points tend to be on the higher end for these tools.
Product videos for ecommerce. For retailers, some tools exist specifically to create compelling product videos.
SMB vs Enterprise. The good news for businesses of all sizes is there's probably a video marketing technology that is within your budget. Tools like Animoto are aimed at SMBs with free and low-priced plans that include a selection of free music tracks, standard fonts, and images.

Brightcove, whose customers include Masterclass, Dunkin, and SXSW, is aimed at bigger companies. It's a platform that comes with many robust features to assist with enterprise video creation, hosting, and management including a corporate TV channel that's aimed at helping companies manage a dispersed workforce.
Standalone versus all-in-one tools. Some platforms bill themselves as an all-in-one video marketing solution while others are particularly good at one or two functions. If you have little or no experience editing videos, then something like WeVideo, a web-based video editor aimed specifically at non-technical users like teachers and artists.
You might need a hosting platform like Vimeo, which provides video storage, privacy control, player customisation, and support.
Once you've identified the type of video marketing technology you need and how it compliments your business type, goals, and video marketing strategy, it's time to review vendors and schedule demos.


Factors to consider when evaluating video marketing software
As you begin the process of researching video marketing software, make sure you involve all potential stakeholders from your internal teams (e.g., marketing, sales, development, etc.) You can then begin to identify and contact vendors to schedule demos. Here are some things to address on these sales calls.
Ease of use. Is the platform designed for inexperienced and/or non-technical users? Is there a sharp learning curve? How long is the typical time to onboard the new tool? Make sure you ask about vendor support and customer service approach.
Market appropriateness. What types of clients typically use the software? Is the tool appropriate for SMBs? Enterprises? Does the vendor understand your specific business type and/or marketing approach?
Key features: Does the tool or platform include your most-wanted features? If so, is the vendor reviewing the features during the demo and/or demonstrating how they can be leveraged within your company?
Since there is so much feature crossover and duplication among video marketing software vendors, it can be helpful to break down your questions by feature type.
Here's an example of how you can connect specific questions to a needed capability.
Need: video creation
Can we record video using the tool without the need for expensive recording equipment?
What kind of video recording is supported (screen recording, webcam, mobile video, etc)?
Do you have an embeddable/customisable video player?
Can we upload existing videos for editing?
Need: video editing
Do you provide video templates and, if so, are there templates that address my business type? Are they customisable?
What kind of editing tools do you have? List some specific features you're looking for, if possible, such as the ability to embed a call-to-action button.
Can we add video, text, music, and other features to our videos?
What other kinds of video features do you offer (clickable video, embedded buttons etc.)?
Need: video hosting/management
Do you offer video hosting?
Is there a central video library where videos can be uploaded, shared, and managed?
Can we do bulk video uploads and, if so, how? (e.g., app, browser, FTP, etc.)
How fast is video playback? How is this handled? (e.g., global CDNs)
How do you handle playback for viewers with slower connections?
Need: video marketing and distribution
Does the platform include SEO features (fast embeds, Schema.org markup, video transcript, etc.)
Does the tool integrate with my existing marketing automation or CRM software (by syncing email subscribers with existing lists).
Can the tool make recommendations based on audience preferences and engagement?
Need: video distribution
Can the platform facilitate video sharing to social channels?
Where else can I share my video?
Need: video analytics
Do you provide video analytics native to the platform and/or integrate with our existing analytics tools?
Do you provide dashboard reporting tools?
If video analytics are available, what kind of metrics can we track (unique video views, plays, and interactions)?
Do you provide engagement metrics (length of time watched, drop-offs, rewatches, etc.)?
Can video content be targeted to audience segments using channels, tags, location, or other parameters?
Need: integration
What marketing automation platforms and tools do you integrate with?
Are there APIs available so we can integrate custom systems that aren't included with your existing integrations?
Need: pricing and support
What are the pricing packages/features you recommend for our business/use case?
What are the various limits we need to consider? Storage/User/Email Subscriber, etc?
Is there a required contract length and/or an "out" clause?
Will we get a dedicated support rep or team and, if not, is there phone, email, and/or chat support available?
How long is the typical onboarding process from launch to regular usage?


Making the most of your video marketing software
You can make your sales demos more relatable to vendors by telling a meaningful story, as follows.
Sam, our Chief Engagement Manager, relies on design teams to create and edit the many videos needed for our in-app promotional, social media, and email campaigns.
Sam needs video technology that can help reduce lead times for new videos, which can take two weeks to a month when going through the design team. Specifically, his team needs more flexibility with video editing and repurposing without having to go through the design team for every new campaign (he wants his team to easily change video formats, shorten videos, customise messaging, and repurpose videos for new initiatives).
Sam also wants to keep better track of the many videos his team creates and uses for campaigns. Sam is looking for an all-in-one video hosting, editing, and managing platform that simplifies the process of creating, sharing, editing, and storing company videos. A helpful feature would also be the ability to record video using a browser, webcam, or mobile device.
Sam needs something aimed at a mid-to-enterprise-size business that can support multiple users distributed across different locations. He's looking for a provider that offers a high level of tech support and has a deep understanding of his business category (home services).
Defining your use cases is key to your RFI/RFP documents proving meaningful to video technology vendors. This will allow them to understand your exact requirements and showcase how their solution can play out when they demo their platform or tool vs providing a generic overview of capabilities.
Creating a vendor scorecard to mark each vendor is the next step.
You may assess your business use case(s) against:
Key functionality in the scenario demonstrated
Ease of implementation
Alternative approaches demonstrated/ explained
Ease of use - Admin experience for managing the use case
Positive impact on end-users
Goals are met
Beyond your business use case, you also want to assess technical architecture fit as well as areas such as product roadmap, training and support, partnership network etc.
We've created this basic scorecard with suggested weightings to get you started. It doesn't cover everything but our Essentials of Marketing Technology contains a much more detailed worksheet to help you evaluate vendors as well as a comprehensive guide to help you with the process of vendor selection.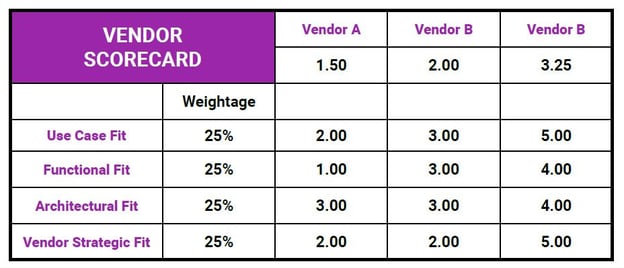 With your use cases documented, vendor scorecard defined, and RFI/RFP created, it's time to start connecting with vendors.
Creating a shortlist based on your company profile and preference is a good starting point; vendor capabilities and ratings, B2B or B2C focus, functional specialism, industry and company size match.
As you progress to chatting with vendors, we would recommend you:
Take your time & prepare. Don't rush the process. Make sure you have done your research to better understand the video marketing software space. Ensure you have details of your video marketing needs available and your vendor scorecard and questions.
Run accustom demo. Make sure vendors have your business use cases and business background weeks before your demo so they can sufficiently prepare and tailor what they present so you can make a fair assessment.
Get into the detail of your expectations around video marketing and how that influences your business goals. Get into the nuts and bolts of your needs/goals.
Be clear about details around the ease, speed and cost of getting a video marketing solution in place.
Review vendor case studies. Ask for customer case studies showing key results of their platform.
Assess direct and indirect vendor costs. Ensure you get all costs from vendors from data hygiene and onboarding, custom integrations, consulting, training and any other area beyond the platform licensing itself. If the vendor doesn't cover all areas, ensure you forecast any additional investment that is needed. This could be consultancy to manage your video assets and development or an internal new hire such as a lead content manager to be the platform
Get vendor customer references. Ideally, ask for access to chat with some of their clients.
Summing Up
People are watching more videos online than ever. In the past four years, online video viewership nearly doubled with consumers continuing to integrate and embrace video as part of their buying journeys. (4)
Video marketing software can not only help businesses create high-quality video, but integrations with social media platforms, marketing automation tools, CRMs, and content management technology are making it easier than ever to repurpose video across multiple touchpoints.


Citations
1 Source: Simon Kemp, 'Digital 2021 October Global Statshot Report', DataReportal, October, 2021. (https://datareportal.com/reports/digital-2021-october-global-statshot)
2 Source: David Cullinan, '7 Marketing Trends That Will Define Success in 2022', Entrepreneur, December 13, 2021. (https://www.entrepreneur.com/article/394483)
3 Source: Mimi An, 'Content Trends: Global Preferences' Hubspot, 2018. (https://blog.hubspot.com/marketing/content-trends-global-preferences)
4 Source: wyzowl, 'Video Marketing Statistics 2022', wyzowl, 2021. (https://www.wyzowl.com/video-marketing-statistics/)
5 Source: Kirsty Daniel, 'The State of Content Marketing in 2021', Hubspot, 2021. (https://blog.hubspot.com/marketing/state-of-content-marketing-infographic)
6 Source: Wistia, '2022 State of Video Report', Wistia, 2022. (https://wistia.com/about/state-of-video)